Hawaii… what a nice place. They grow nuts, fruit, and coffee. The coffee is expensive. It is mild (sometimes too mild). It can be terrible and flat, or it can be wonderful! The best coffees cost a lot and the worst cost way too much. So the goal with Hawaiians is to quit thinking that all Hawaiian coffee is good, and to realize that only a handful of coffees deserve the high price in terms of cup quality (you can easily argue that all deserve a high price in terms of the care and labor expended in producing them). And frankly, you must pay quite a bit for the truly great small-farm KonaKona coffee comes from farms along the Kona Coast on the Big Island of Hawaii: Kona coffee comes from farms along the Kona Coast on the Big Island of Hawaii. Coffee is grown at elevations.
Beyond Kona
We had occasionally offered coffees from Maui, Molokai, and Kauai. But these are not usually grown like true small farm EstateA "coffee estate" is used to imply a farm that has its own processing facility, a wet-mill. In Spanish this is called an Hacienda. A Finca (farm) does not necessarily have a mill. (And Finca grade coffees from the Big Island, nor do they taste like them. Kona isn't grown at impressive altitudes compared to other coffee origins, but on Maui and Kauai coffee is grown at exceptionally low elevations, sometimes near tide pool level! Also, much Kona is an older coffee variety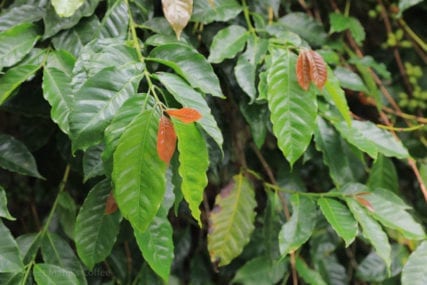 Hibrido de Timor abbreviated HdT is the interspecies hybrid of C. Arabica and C. Canephora (Robusta) that was found in Timor Leste in the 1940s. It has been the bases of plant breeding for disease, TypicaA coffee cultivar; a cross between Typica and Bourbon, originally grown in Brazil: Mundo Novo is a commercial coffee cultivar; a natural hybrid between "Sumatra" and Red Bourbon, originally grown in Brazil. It was developed, a traditional type that cannot be grown at the lowest elevations. Recently, we found out that Ka'u coffees have come a long way, and can be excellent. So Ka'u is a region with credible quality potential.
In a historical sense, coffees like Kona are the pinnacle of a particular definition of what "good coffee" is: clean, pleasant, mild, good aftertasteAftertaste refers to lingering residual sensations in the mouth after coffee has swallowed. It might be distinguished from "finish" which is the final sensations of the coffee while it leaves the mouth. Also see Afternose.. This is a notion of "good coffee" handed down from a time when low-grade coffee was called BrazilBrazil is a coffee giant . As Frank Sinatra sang, "they grow an awful lot of coffee in Brazil".: Brazil is a coffee giant . As Frank Sinatra sang, "they grow an awful lot of Rio and it had a seriously foul, dirty taste (so distinctly awful it is still called RioyA defect term referring to harsh, acrid, medicine flavors from Brazilian coffees of the lowest order; named for Rio de Janeiro. Result of continued enzyme activity when coffee beans remain in the fruit and the in defective coffee terminology). The best coffees were considered the polar opposite; island coffees — mild, delicate and clean.
Certain exotic coffee origins we appreciate as intense and unusual flavor profiles, such as Yemeni coffees, Ethiopian Harar, and wet-hulled Sumatras for example, would be considered defective in this definition. If you love those intense coffees, Kona may seem too timid, too simple, too mild. With scores in the mid-80s, they don't rate like the best Kenyas or Ethiopias, but the descriptors indicate balanceSuggests a harmony and proportion of qualities, and implies mildness since no one quality dominates.: Balance is both an obvious and slippery taste term. It implies a harmony and proportion of qualities, and perhaps a and clean cupClean cup refers to a coffee free of taints and defects. It does not imply sanitary cleanliness, or that coffees that are not clean (which are dirty) are unsanitary. It refers to the flavors, specifically quality. Consider this when you taste good Hawaiian coffees.
HawaiiThe Kona district on the big island of Hawaii produces the best coffee from this state - clean, sweet and mild. : Ah, Hawaii... what a nice place. They grow nuts, fruit, and coffee. The Coffee Pricing
The famously fragile ecology of Hawaii has been shattered; along with other invasive species and insects, the recent appearance of Broca, the Coffee Berry Borer insect, has had a huge negative effect on the farms of Hawaii. Coffee is being downgraded before export, and can't fetch the prices it used to as an Extra Fancy grade when it gets knocked down to Kona No. 1 Grade. The affected beans do affect cup quality, but can be sorted out. Yet this takes labor, and in an expensive market that is just not feasible. Still, we are landing some really nice small-farm coffees, and paying prices to offset the losses the farms are experiencing from this latest crisis.
A Whole Lot More About Hawaii Coffee
–