Honduras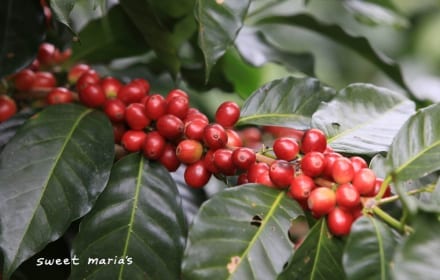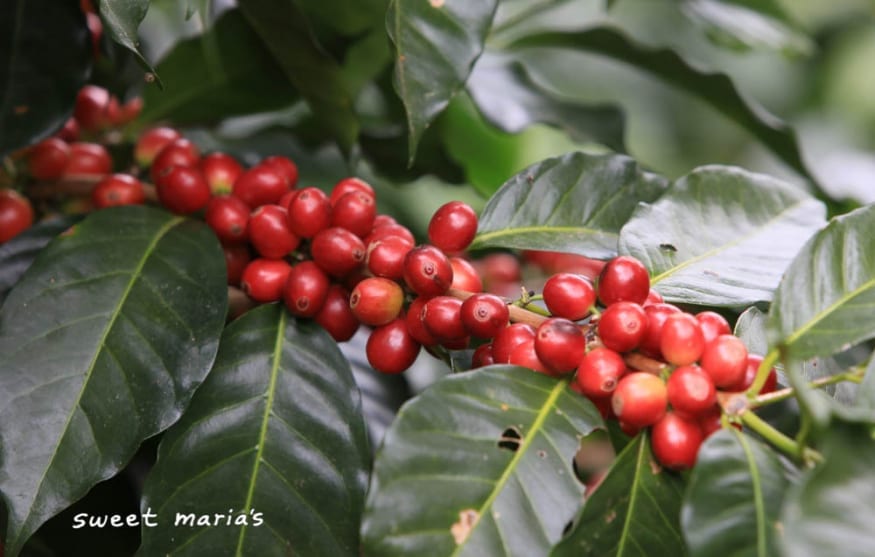 Honduran coffee was absent from the top ranks of the Specialty market, but that has changed. It has all the environmental factors on its side: soil, altitude, climate. All it's neighbors have sophisticated coffee production: coffee quality spans a huge range, from a lower-cost Central American blender coffee to high-grown lots that rival good GuatemalaGuatemalan coffee is considered a top quality coffee producer in Central America. Due to our proximity to Guatemala, some of the nicest coffees from this origin come to the United States. : Guatemalan growing regions coffees in acidity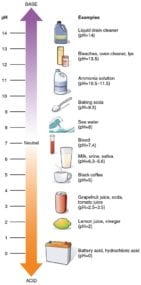 Acidity is a positive flavor attribute in coffee, also referred to as brightness or liveliness. It adds a brilliance to the cup, whereas low acid coffees can seem flat. Acidity can sound unattractive. People may and flavor. The areas of Marcala, Copan and Santa Barbara, Ocotopeque, and others can produce high-quality coffees. And Honduras is one of the few countries with a capacity to grow their production, whereas nations like Costa RicaCosta Rican coffee is typically very clean, sweet, with lots of floral accents. hey are prized for their high notes: bright citrus or berry-like flavors in the acidity, with distinct nut-to-chocolate roasty flavors.: Can a and PanamaPanama coffee ranges from medium quality lower altitude farms to those at 1600 - 1800 meters centered in the area of Boquete in the Chirqui district near the border with Costa Rica. Some farms feature are experiencing land pressure from other demands, and producing less and less coffee each harvest. Honduran coffees can range from bright, acidic flavor profiles, lightly fruitedIn some coffee taster's lexicon, "fruity" means the coffee is tainted with fruit, and "fruited" means a coffee is graced by positive fruit notes. We don't exactly see the difference in terms of these two and with strong cane sugar

A refined sugar, that has a no rustic sweetness. This was called "refined sugar" but has been rebranded as "cane sugar" thanks perhaps to C and H brand. Previously though, cane sugar referred to a sweetnessSweetness is an important positive quality in fine coffees, and is one of five basic tastes: Sour, Sweet, Salty, Bitter, Savory (Umami). In coffee, sweetness is a highly desirable quality, and the green bean has, to more caramel-like, lower acidity coffees that are nice in espressoA small coffee beverage, about 20 ml, prepared on an espresso machine where pressurized hot water extracted through compressed coffee.: In its most stripped-down, basic form, this is a working definition for espresso: A small.
Challenges
For many years there was little talk of Honduran coffee in the specialty coffee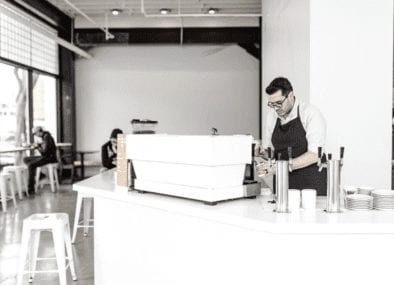 Specialty coffee was a term devised to mean higher levels of green coffee quality than average "industrial coffee" or "commercial coffee". At this point, the term is of limited use, since every multi-national coffee broker market. I participated in some early cupping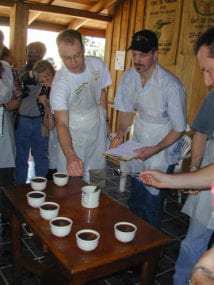 Cupping is a method of tasting coffee by steeping grounds in separate cups for discrete amounts of ground coffee, to reveal good flavors and defects to their fullest. It has formal elements and methodology in events, before Cup of ExcellenceThe Cup of Excellence is a competition held yearly in many coffee-producing countries, designed to highlight the very best coffees from each origin.: The Cup of Excellence (COE) is a competition held more-or-less yearly in came to this nation, and saw great potential in cup quality but technical problems in the wet-processing of lots and in drying the coffee. While farmer education has increased greatly in Honduras, the new challenges are plant diseases like Roya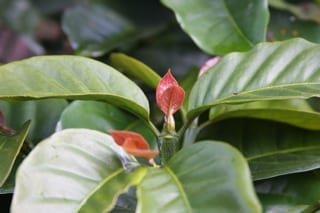 Castillo is a selection of the Colombia cultivar that has become the most commonly grown coffee in Colombia. It is preferred to the older resistant variety, Variedad Colombia in some regards. Cenicafe developed this variety, which greatly affect the small farmer who lacks resources to combat this and other fungi.
Honduras has all the environmental factors on its side: soil, altitude, climate, and farmers who are increasingly better trained in agricultural practices. All its neighbors have sophisticated coffee production: Guatemala, El SalvadorEl Salvador coffee had an undeservingly poor reputation for years, marred mostly by the inability to deliver coffee of high quality in an unstable political climate. Unfortunately, agriculture is the first to suffer in revolution,, and, to some degree, Nicaragua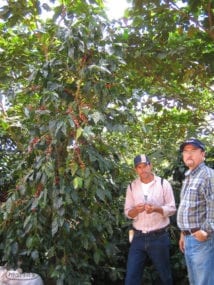 Nicaraguan coffees from the Segovia, Jinotega, Ocotal and Matagalpa regions are nice balanced cups. They often possess interesting cup character along with body and balance, outperforming many other balanced Central American and South American high-grown. But what has been lacking is quality coffee processingThe removal of the cherry and parchment from the coffee seed.: Coffee is either wet-processed (also called washed or wet-milled) or dry-processed (also called wild, natural or natural dry, and we abbreviate it DP sometimes)., capital to modernize the dry mills, and a distinct "name" in the consumer market. Honduras has been known mostly as a source for commercial coffee, not specialty grade. It is still a major source for lower-priced arabicaArabica refers to Coffea Arabica, the taxonomic species name of the genus responsible for around 75% of the worlds commercial coffee crop.: Arabica refers to Coffea Arabica, the taxonomic species name of the genus responsible coffees headed to large roasting companies. This means that even a high-quality Honduran does not always fetch a good price, and in fact, many from Copan and Santa Barbara districts are smuggled into Guatemala and sold as such. Without a premium price for quality, the farmer, the mill, and the exporter have no incentive to incur the added expense that would help realize the coffee's quality potential. So Honduran coffee ends up as a mild blender and not as a single-origin or farm-specific coffee. It is a vicious cycle.
We have offered lots from the Santa Barbara and Copan areas that rival great Guatemalan coffees, as well as finding great quality in Ocotopeque and the areas in the south, near Nicaragua. A problem in Honduras is proper drying of the coffee after it is wet-processed. Some areas are wet and humid, and the coffees can be ruined when drenched by rain showers. Marcala area in the South has an advantage of a drier climate, although the coffees do not have the searing brightnessA euphemistic term we use often to describe acidity in coffee. A bright coffee has more high, acidic notes. : A euphemistic term to describe acidity in coffee. A bright coffee has more high, acidic of the Northern zones.
Finding Quality and Variety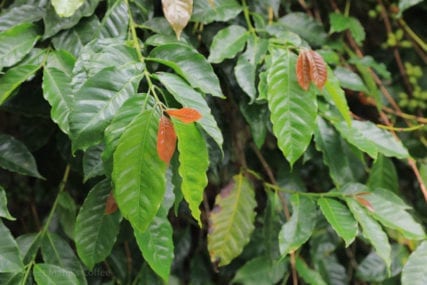 Hibrido de Timor abbreviated HdT is the interspecies hybrid of C. Arabica and C. Canephora (Robusta) that was found in Timor Leste in the 1940s. It has been the bases of plant breeding for disease
We started going to Honduras to look for coffee in 2003 and I was able to judge at the first Honduras Specialty Coffee Competition held in San Pedro Sula. That event was the precursor of the Cup of Excellence competitions, which have been held each year since then, and has helped to uncover high-quality coffees in Honduras. My ulterior motive on this trip was to find some truly special Honduran coffees for Sweet Maria's. And I met Chris Schooley there. For our part, we are buying really good coffees and paying way over standard prices.
Honduras, like other countries, is varied, so I can't speak about it as a single entity: coffees from Copan or Santa Barbara or El Paraiso or Ocotepeque are all different. The largest growing region is Santa Barbara, coffees are also grown in Copan, Ocotepeque, Lempira, La Paz and El Paraiso in the South. Coffee grown between 1500 and 2000 meters is given the highest designation of SHG; Strictly High GrownA classification used in some countries in Central America, indicating the coffee was grown at an altitude above 1200 feet/4000 meters. Beans grown at a higher altitude, have a greater density, and thus a better. The overall cup character is less acidic than other Central Americans, with distinct sweet caramel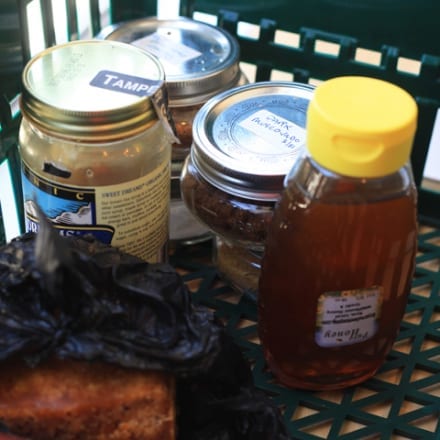 Caramel is a desirable form of sweetness found in the flavor and aroma of coffee, and is an extension of roast taste. Extremely light or dark coffees will lose potential caramel sweetness, as it exists flavors in the cup.
Some Instagram posts from our 2016 trip
Podcast: Coffee Rust Fungus and Organic Production in Honduras
Coffee originIn coffee talk, it refers to a coffee-producing region or country; such as, "I was just at origin." Of course "Origin" for most product we use is not a beautiful farm in a temperate climate, pages