An affordable and easy choice for those looking to roast quickly with a compact machine.
Air roasters are affordable, have a small footprint and give you access to all the sights, sounds and smells of coffee roasting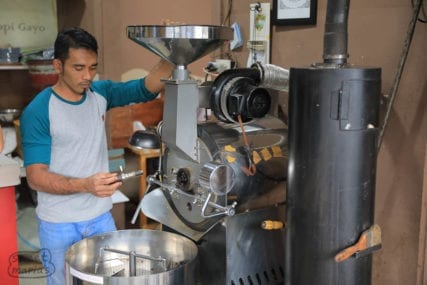 The application of heat to green coffee seeds (beans) to create palatable material for brewing a great cup!: Coffee roasting is a chemical process induced by heat, by... ...more.The cons: they can be a little loud and the batch sizes could be too small for a coffee guzzling household. The silver lining of small batch sizes is being able to roast different coffees in a short amount of time so you always have a coffee buffet to choose from.
---
Nostalgia Popcorn Popper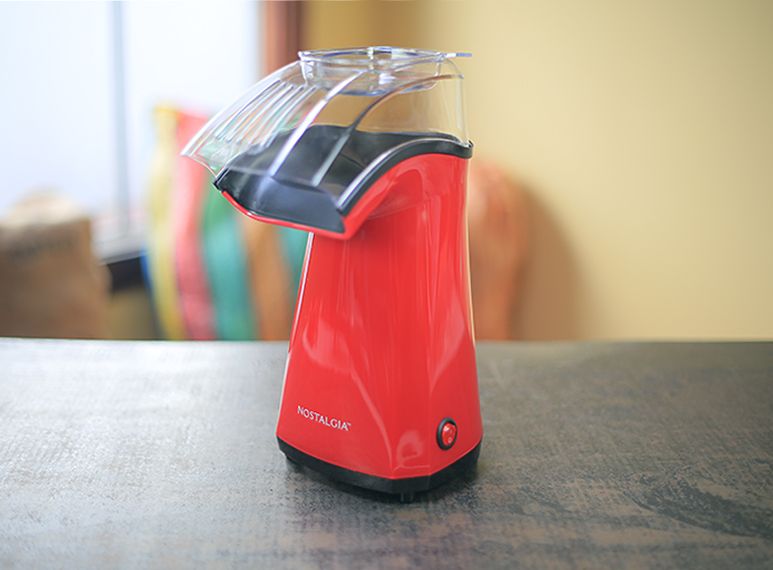 If you have done your research on home roasting, you may have heard that electric popcorn poppers are a fun and easy way to get started roasting with little investment. We did a lot of research on our end and found the best popper for our customers to re-purpose into a roaster. Since then, the Nostalgia has been a top seller. Choose one of our discounted green coffee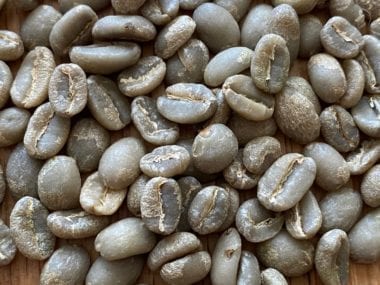 Green coffee refers to the processed seed of the coffee tree fruit. Coffee is a flowering shrub that produces fruit. The seeds of the fruit are processed, roasted,... ...more samplers and you will be roasting in no time. For the low price of $24, you can't beat it but keep in mind, the batch sizes are about 3oz and you will have to use DIY techniques when dealing with chaffChaff is paper-like skin that comes off the coffee in the roasting process. Chaff from roasting is part of the innermost skin (the silverskin) of the coffee fruit... ...more and smoke. Click here to learn more about the Nostalgia Popper.
---
Fresh Roast SR540 and SR800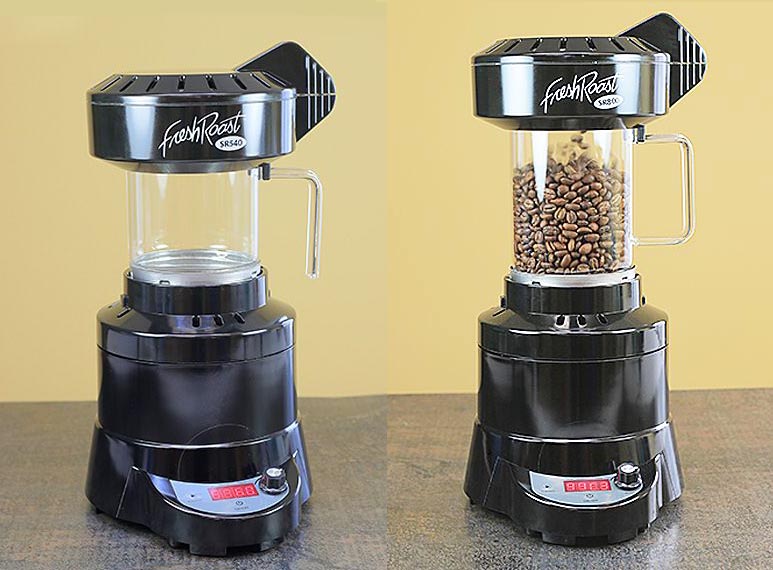 Fresh Roasts are similar to popcorn poppers but are offer more durability, present an awesome view of the roasting coffee and give you full control over heat and fan speed. The chaff collector works great and the smoke exits slowly right out of the lid so you can roast indoors under your stove fan.
The SR540 gives you real time temperature, nine heat adjustment levels and fan speed options. It has a 5oz batch size.
The SR800 roasts 8oz of coffee and offers the same features as the SR540 but comes with beefed up internals to keep the larger batch size moving.
---
Popper is a Coffee Roaster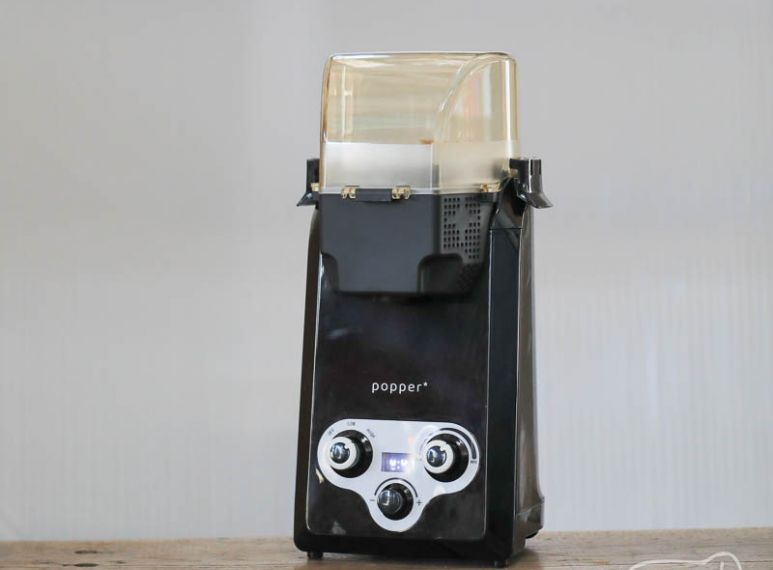 Even though these are currently out of stock, we couldn't leave Popper off this list. We'll let everyone know when we have more. Popper is a simple machine based on the concept of an electric popcorn popper but with controls and a chaff collector. 3.5oz is the batch size and the three knobs give you control over time, temperature and fan speed. Sign up for a back in stock email notification on the Popper product page and we'll keep you in the loop when they are available again.
---
Air Roasting Starter Kit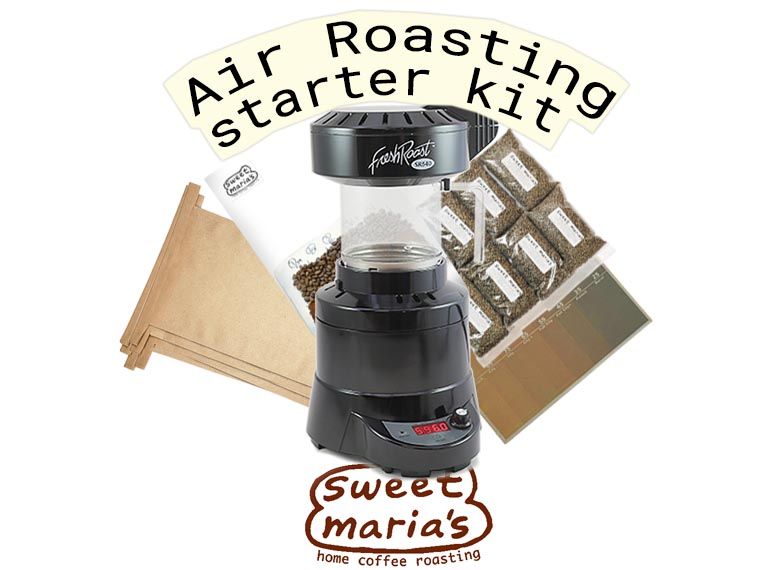 So you have logged in hours of internetting and are ready to pull trigger on a Fresh Roast roaster. Consider our Air Roasting Starter Kit. It comes with your choice of a Fresh Roast SR540 or SR800, a green coffee sample set, tin-tie coffee bags, a Sweet Maria's Roast Log and a Sweet Maria's Roasted Color Card. Check out this starter kit and all the other kits we sell.
---
Air Roasting Accessories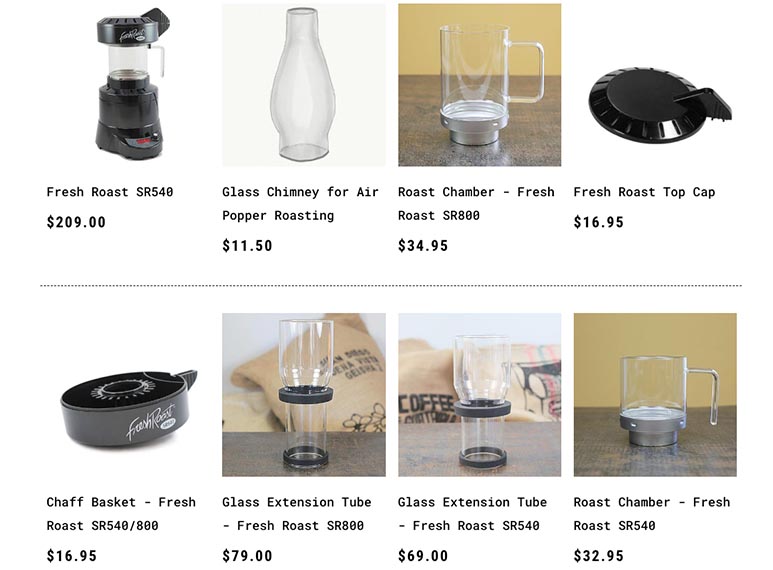 Looking for Fresh Roast parts or a glass chimney to modify your old school popper? We have it all on our Air Roasting page.