Because your high quality roasts deserve high quality grinding and brewing.
Every stage from bean to cup is important and although you have no control over what happens at the farm and processingThe removal of the cherry and parchment from the coffee seed.: Coffee is either wet-processed (also called washed or wet-milled) or dry-processed (also called wild, natural or natural... ...more facility, you do have control over how your coffee is roasted, ground and brewed. We carry a lot of brewers and grinders so shopping for the ones that fit your needs can be time consuming. To help you out, we put them all in one place…in categories…to help you find the best ones for your needs.
---
Electric Brewers
Technivorms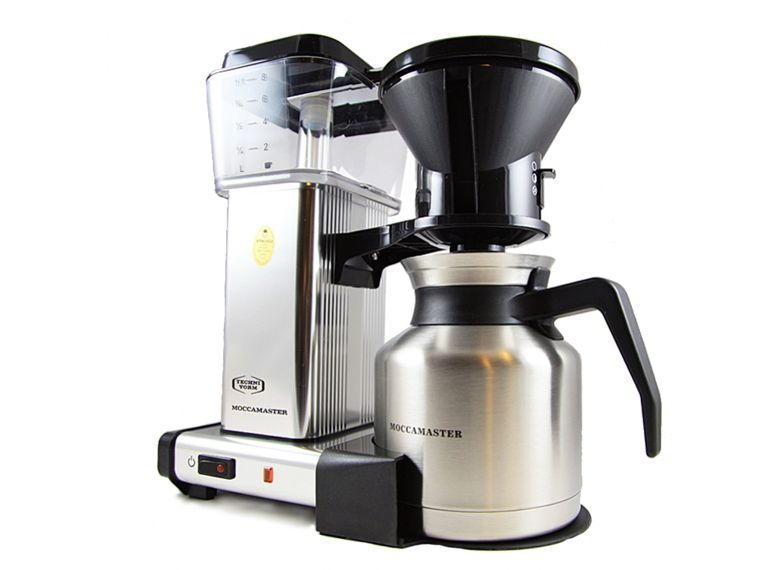 Technivorms are made right, brew right and are made to last. We like how the water has to boil before it flows upward and drips onto your ground coffee. Flashback… we chose a TechnivormThe Technivorm is a Dutch-made electric drip brewer for the home that is known for it's good design, and good results. You can find them for sale on... ...more as our office coffee maker at our last warehouse and it cranked out about 20 carafes a week for about a decade before we laid it to rest…a true testament to Technivorm's durability. Click Here to learn more about our Technivorm brewers. Click Here to learn more about Technivorms.
---
Behmor Brazen Plus 3.0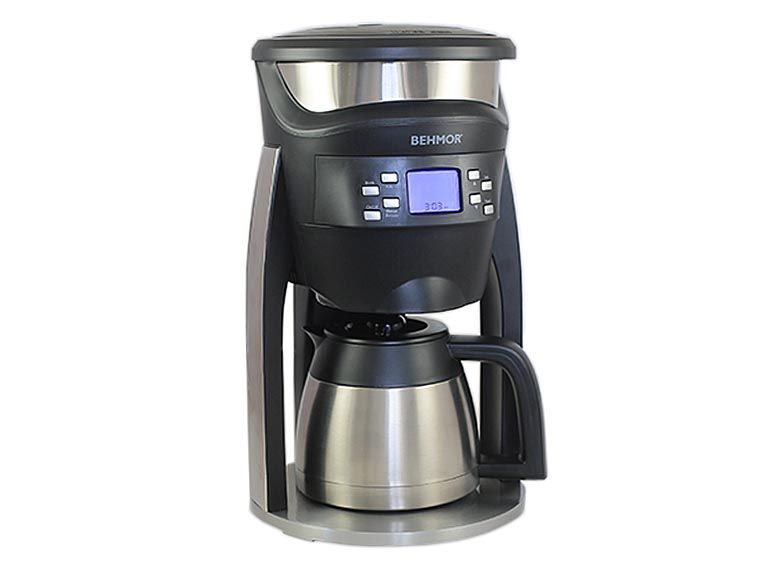 BehmorA popular electric drum roaster designed for home use, with variable batch sizes (from 1/4 pound to 1 pound) and a smoke-reduction system. It has been modified and... ...more is famous for making drum roasters and they deserve the same spotlight for their Brazen 8-cup Coffee Brewer. The controls: 8 buttons and a screen but it serves up a ton of customizable features. You can adjust brewing parameters such as brew temperature and altitude compensation (the altitude at which you brew your coffee…it doesn't fly). It has an auto timer and when you find settings that you like, the Brazen saves them to use later. The pre-soak function allows a small amount of hot water into the brew basket to pre-wet the coffee grounds. It comes with a gold mesh filter basket and can also be used with paper filters. Click Here to learn more about the Behmor Brazen Plus.
---
Pour Over Brewers
Clever Coffee Drippers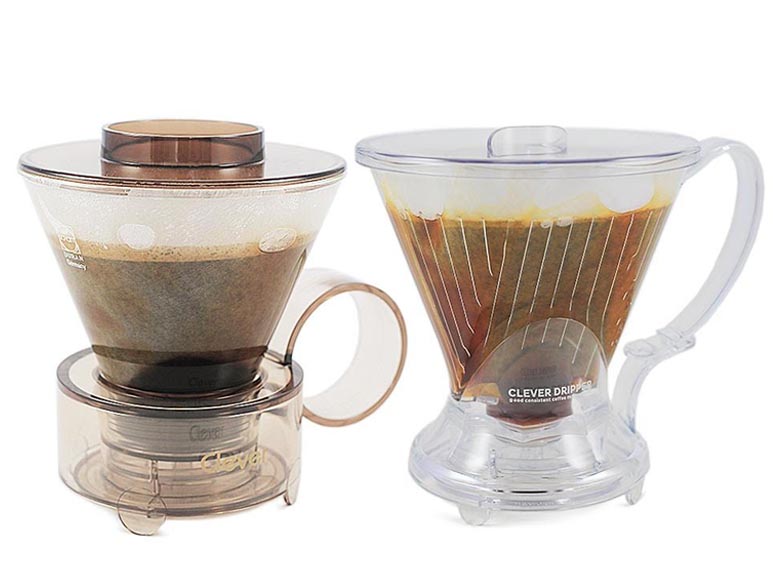 Our favorite filterconeFiltercones, as the name implies, are simply cones that hold a coffee filter. The cone fits on to the top of a coffee cup, grounds and a filter... ...more comes in both plastic and glass. We are big fans of them because of their impact resistance and their truly clever method of brewing. The silicone stopper allows for a filter drip brew while still maintaining control over the steep time. When ready to brew it's as simple as inserting a filter, your ground coffee and hot water. Place the Clever Coffee Dripper on to your cup to release your brewed coffeeBrewed Coffee refers to all coffee preparations produced by adding non-pressurized water to coffee grounds. Contrasted with espresso coffee, which is produced under pressure, brewed coffee is primarily... ...more for a great cup. They brew up to 18oz and the included lid helps stabilize temperature while brewing. Both plastic and glass units ship with filters. Click Here to learn more about Clever Coffee Drippers.
---
Chemex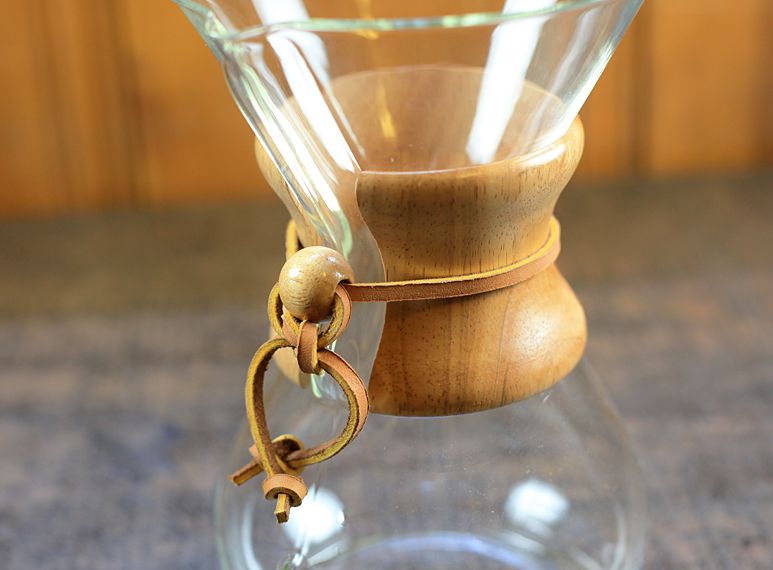 Chemex brewers are so simple, minimal and elegant. The brewer is basically a one-piece glass hourglass shaped form with a wood collar handle and leather tie. When brewing with one, you gain full control over infusion time based upon the fineness of your grind and pouring technique. We currently carry them in 10, 6, 8 and 3 cup models.
---
Kalita Drippers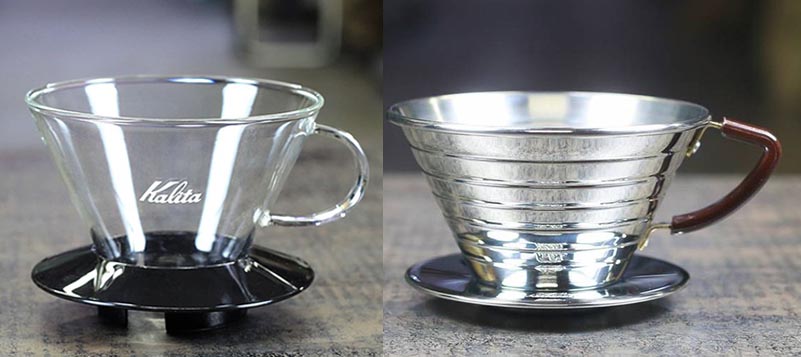 The Stainless Steel Kalita Wave ($40) has a durable stainless steel construction that is great for travel. The three drain holes in the base allow for good flow while being restrictive enough to give you good extractionRefers to the process of infusing coffee with hot water. Hot water releases or "extracts" the flavor from the roasted, ground coffee. The term is used mostly with... ...more.
The Glass Kalita Wave (also $36) is easy to use, easy to clean, and sure looks nice. The glass exterior lets you view the brewing process and it makes a really good cup of coffee. It also has three holes giving you great extraction rates.
---
Origami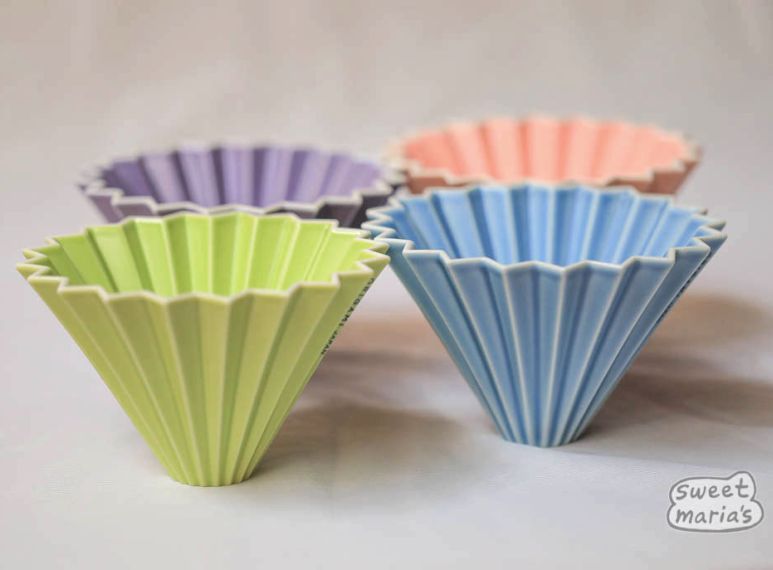 The Origami coffee dripper is made in Japan and is is great for making 1-4 cups of coffee. Both Hario V60 type conical filters and flat bottom Kalita wave type filters will work with it. Add a collar in acacia wood or clear resin to the dripper for more brewing fun.
---
Hario V60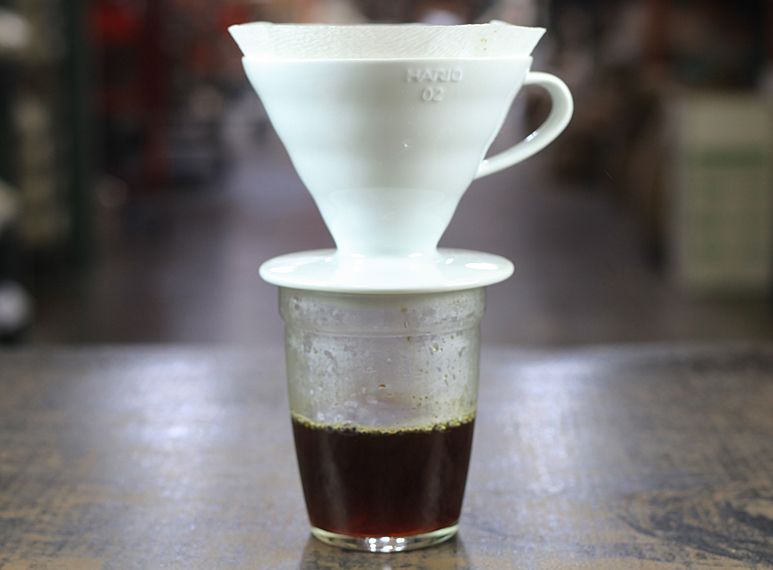 The Hario V60 ($25) is a classic brewer and can usually be spotted in the wild at your local fancy cafe. The gaping hole at the bottom allows brewed coffee to exit faster than brewers with a small hole, which means you need slower, more careful pour. With a little practice, you will figure out the correct pour pace and appreciate the control you can achieve with a V60.
---
Electric Grinders
Baratza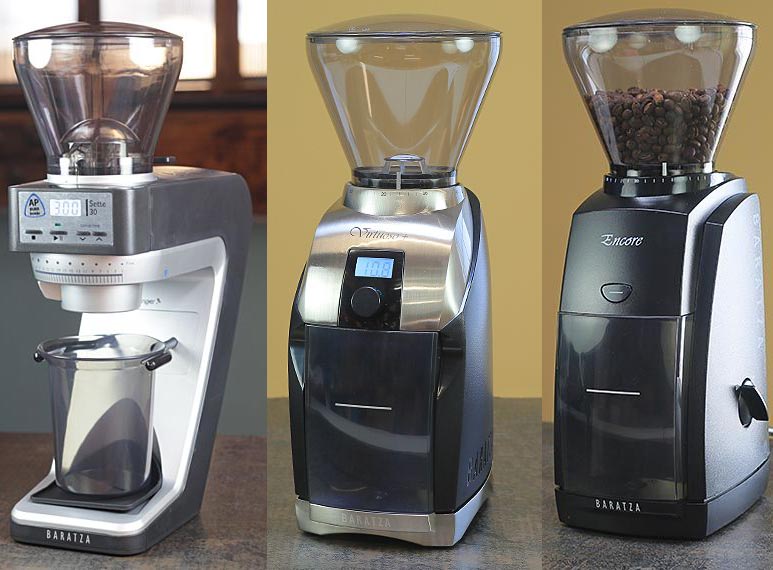 We are big fans of Baratza. As a brand, they have been producing, updating and supporting a full line of home coffee grinders for over twenty years. Their build quality is excellent and so is their customer support.
Virtuoso+ ($249) – What a great all-around mill and a good choice for espressoA small coffee beverage, about 20 ml, prepared on an espresso machine where pressurized hot water extracted through compressed coffee.: In its most stripped-down, basic form, this is... ...more too! The Virtuoso+ commercial grade 40 mm conical burr set, grinds very fast and the timer knob allows for repeatable dosing.
Sette 30 AP ($299)- The Sette brings innovative changes to the table. It features 30 steps of grind adjustment, a unique burr set and a direct pathway from burr to receptacle that retains almost no grounds after dosing. Sette 30 is a great entry-level espresso grinder at a really competitive price.
Encore – Unfortunately, we sold out of these. We'll let everyone know when they are back in stock since they are an awesome workhorse for anyone needing a basic grinder that gets the job done today, tomorrow, next year and beyond.
---
Capresso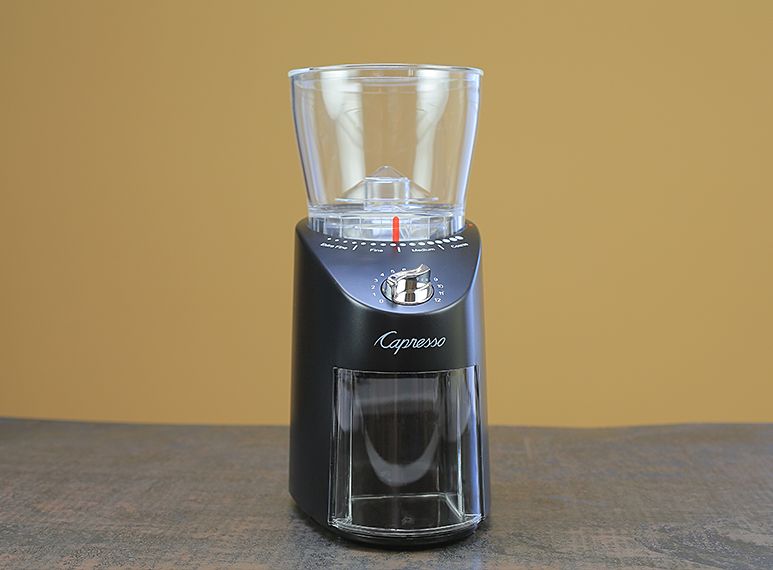 Capresso Infinity ($99.99)- Spinning blade grinders are usually a no-no if you are looking for a uniform, low temperature grind but some are better than others. After some searching, we found the Capresso does a pretty good job, even in comparison to higher priced grinders. We found the uniformity of the grind particle size was impressive, maybe not impressive enough for espresso but impressive enough for a blade grinderA coffee grinder that works by way of a high-speed rotating blade.: The standard home coffee grinder, which works by way of a high-speed rotating blade. Blade grinders... ...more
---
Rancilio Rocky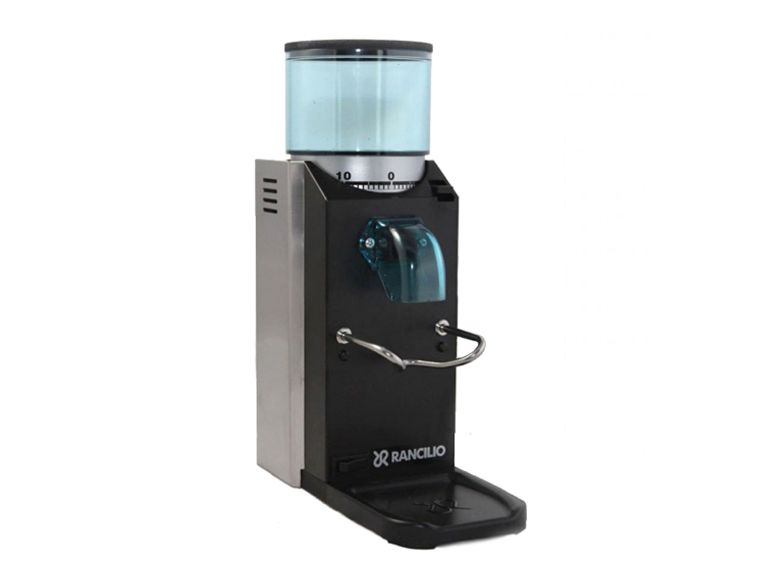 Rancilio Rocky ($425) – Adriannn!! Rancilio's Rocky grinder is a top-grade, Italian-made mill. Straight forward adjustments, powerful motor, commercial grade 50mm flat burrs, quiet operation and 55 grinding steps will make you a pro barista in your own kitchen.
---
Manual Grinders
Timemore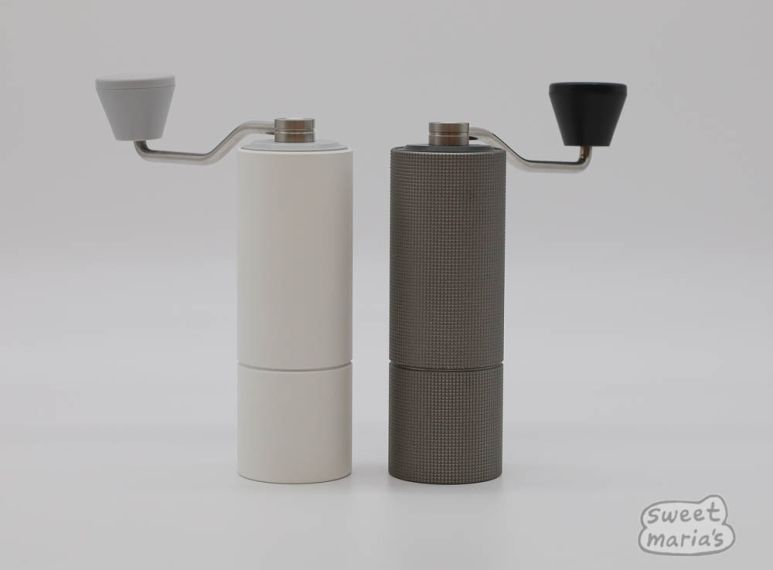 Timemore Manual Grinder ($58.50) – Available in gunmetal gray or matte white, this compact hand mill has a 25-30 gram capacity, an aluminum bodyAssociated with and sensed by mouthfeel, body is sense of weight and thickness of the brew, caused by the percentage of soluble solids in the cup, including all... ...more with stainless steel burrs and can grind from very fine espresso through pour over drip levels.
---
Ningbo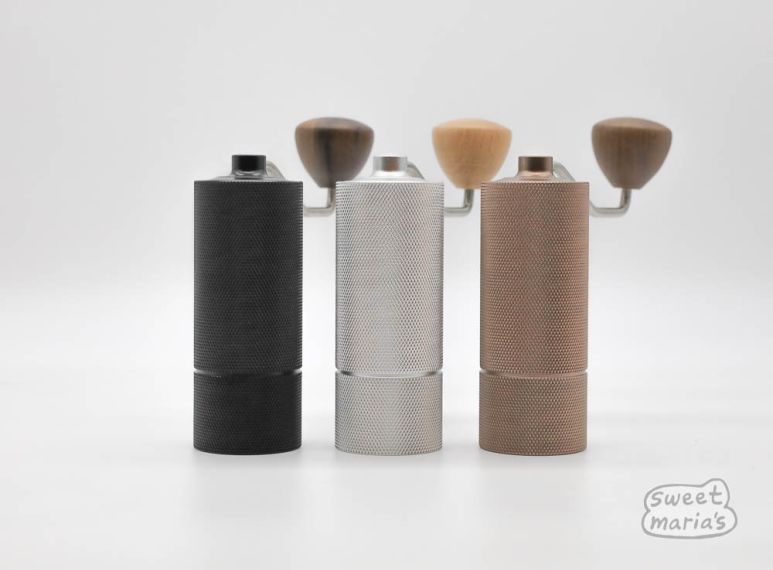 Ningbo Manual Grinder ($64.50 ) – This aluminum manual grinderA burr grinder powered by hand-turning a crank. Manual grinders can be cheaper than their electric counterparts, and they produce comparable quality grinds, but since they require a... ...more features stainless steel burrs, a comfortable, ergonomic hardwood knob and smooth bearing action. This hand mill is built to last!
---
Hario Skerton Pro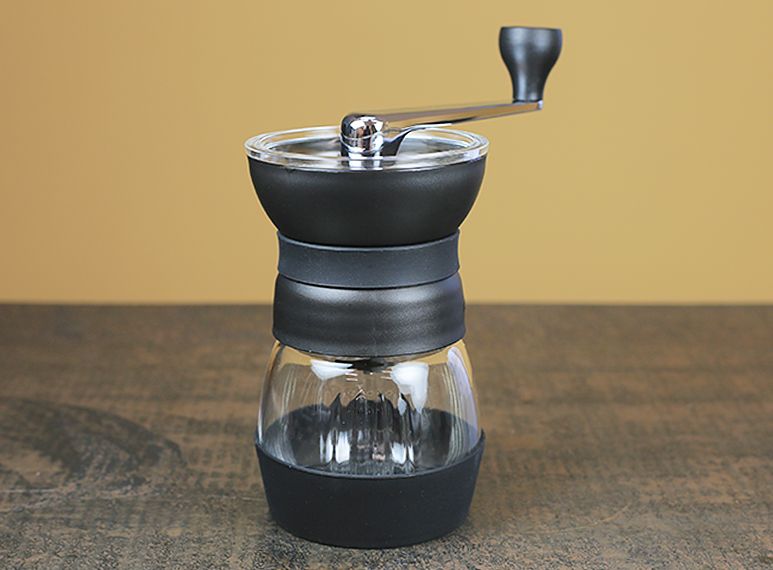 The Hario Skerton Pro ($57.50) has a burr stabilizer plate, ceramic burrs and a sturdy construction. The grind quality is really good and the mill grinds efficiently andhttps://www.sweetmarias.com/hario-skerton-pro-coffee-mill.html fairly quick. Like any human-powered mill it takes some elbow grease to crank out a grind, but the workout is worth it!
---
Espresso Machines
Flair PRO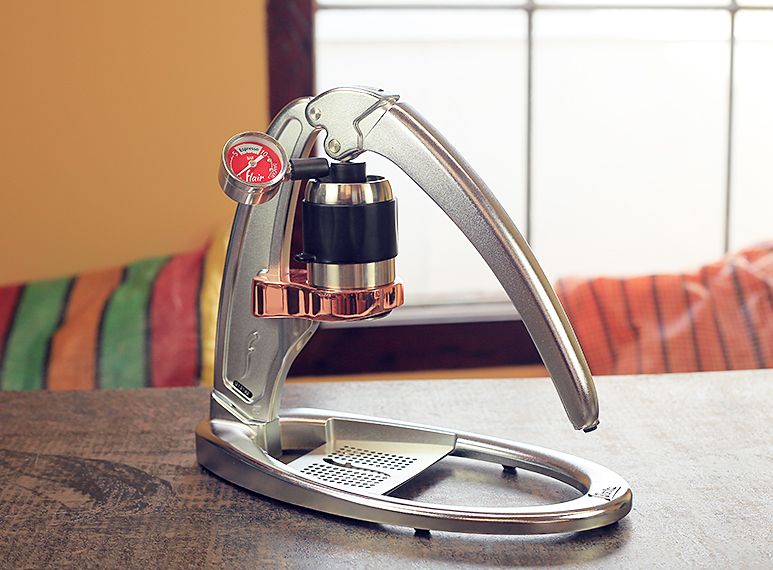 The Flair PRO ($325) takes non-electric manual espresso up to the next level. It has simple, sturdy construction and is easy to use and clean. We appreciate the pressure gauge, bottomless portafilterAn espresso portafilter with the bottom machined off so the bottom of the filter basket is exposed. Bottomless portafilters allow you to view distribution problems and channeling: if... ...more and brew ratio/capacity. We think the Flair PRO can pull shots of equal quality to any commercial espresso maker.
---
Rancilio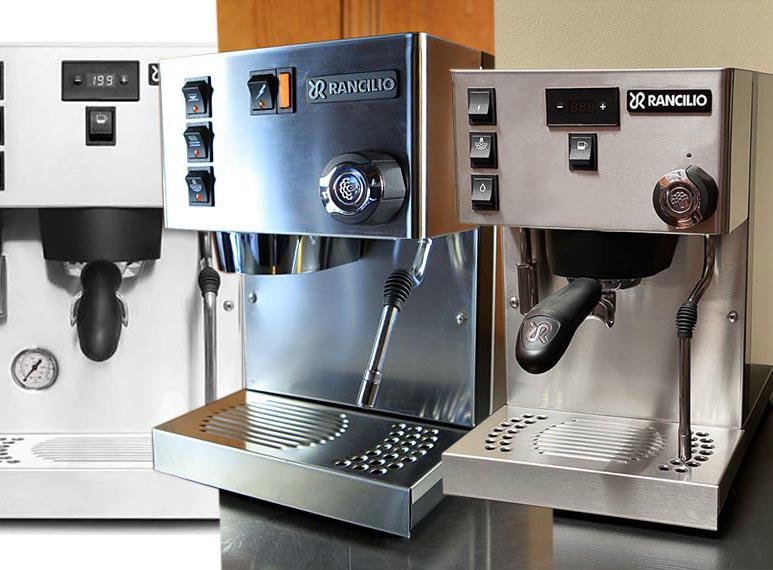 Silvia M ($830)- This awesome machine ships with a free steaming pitcher, cleaning tool and 1 pound of roasted espresso. The Silvia is very popular because of its straightforward design. No crema-enhancing filters, no pre-sets, no siphon milk frothing system and no automated functions…just simple espresso making.
Silvia Pro X ($1940)- A significant upgrade from the Silvia M model. The variable soft infusion, redesigned portafilterThe part of an espresso machine which holds the filter basket, into which coffee grounds are placed.: The part of an espresso machine which holds the filter basket,... ...more, 18 gram basket and brewing pressure gauge make this an awesome home espresso machine that's also easy to clean and maintain. The dual boiler setup enables simultaneous brewing and steaming without temperature loss. The 2 liter reservoir refills from the top and has a low water alert.
Silvia Pro – SALE ($1690 $1590)- We shaved $100 of the original price and are throwing in a pound of roasted espresso along with a 12oz frothing pitcher. It features a single group, saturated head made of brass, has two separate PIDs, one for the steam boiler and the other for the coffee boiler.
---
Andreja Premium Evo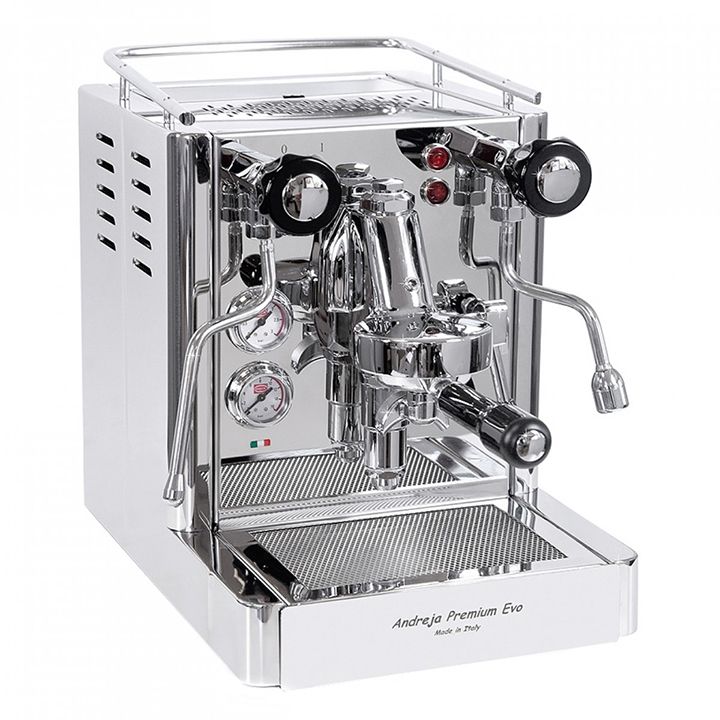 The Andreja Premium Evo ($1850) – This machine has all the essential components needed to effortlessly make great espresso with tons of power from an Ulka 52 watt vibratory pump. It has the E-61 brew head separate gauges for boiler and group head pressure. It's a commercial-quality machine perfect for use in the home.