Whether you're roasting tail ends of a coffee bag, or green coffee samples for cupping, tiny batches are totally possible in Popper.
"Roasting small batches of coffee in the Popper" may sound like an oxymoron, seeing that Popper's 100 gram maximum batch size is small to to begin with. But I often find myself with really small amounts of green at the end of a bag, and it's impossible to roast them well using the standard roast settings we've outlined in other posts that's based on a 100 gram batch size.
You may also be using Popper at your coffee shop or roastery to evaluate green coffee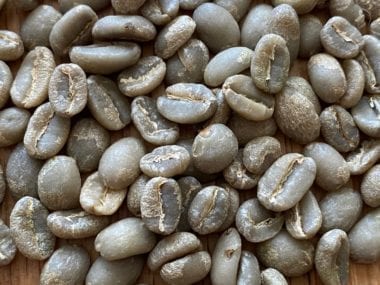 Green coffee refers to the processed seed of the coffee tree fruit. Coffee is a flowering shrub that produces fruit. The seeds of the fruit are processed, roasted,... samples from farms and importers. If that's the case, getting a handle on roasting 50 grams comes in handy when you need a couple cracks at a coffee but only have a limited amount of green to work with.
The main issue I've had with roasting <70 grams is that my roast takes off very fast from the outset, and continues to cruise right on through 1st CrackAn audible popping sound heard during roasting. In coffee, one refers to "first crack" and "second crack," which come from two different classes of chemical reactions.: An audible.... To keep this from happening, you need to take a gentler approach up front, starting off with a lower heat setting, gradually increasing the Heat Dial settings to to the finishSimilar to aftertaste, but it refers to the impression as the coffee leaves the palate. Aftertaste is the sensations gathered after the coffee has left the mouth. We....
A video demonstration of roasting 50 grams of coffee for the more visually-oriented learners.
Our approach to roasting 50 gram batches in three easy steps:
Start the roast off at a low heat dial setting of around 12.1 for the first two minutes of your roast, and high fan setting.

You should absolutely adhere one of the paper dial guides

that came with your roaster so that you can pinpoint these positions with some degree of accuracy! (or print a new one here).
Increase the heat to 12.4 at the 2 minute mark (8:00 displayed on the timer…remember, the it's counting DOWN!). Your roast chamber temperature will be around 320 F at this point, and won't get much hotter without increasing the heat input. 12.4 should cause the rate of temperature rise to increase to a steady clip, climbing to about 350-375 F, where it will then start to plateau.
Increase the heat one last time to 1.1 on the dial guide at 4 minutes into your roast. I usually hit 1st Crack around 5-6 minutes into the roast (5:00 – 4:00 on the LED timer respectively), and am able to let it roll to my desired end point without having to pull back on heat in order to avoid the over-temp safety feature.
The biggest difference I noticed between roasting small and large batches is your ability to create a holding pattern once you've made the final Heat Dial adjustment to 1.1. With 50 grams, the rate that the hot air temperature increases slows down at around 415 F. In my experience, I don't need to pull back on my heat settings to avoid hitting the over-temp safety feature that kicks in between 435 to 445 F, and causes your roaster to enter an involuntary cooling cycle. That's not the case with 100 grams of coffee, and I find myself having to modulate the Heat Dial settings after the onset of 1st Crack in order to keep the roast chamber at a safe temperature.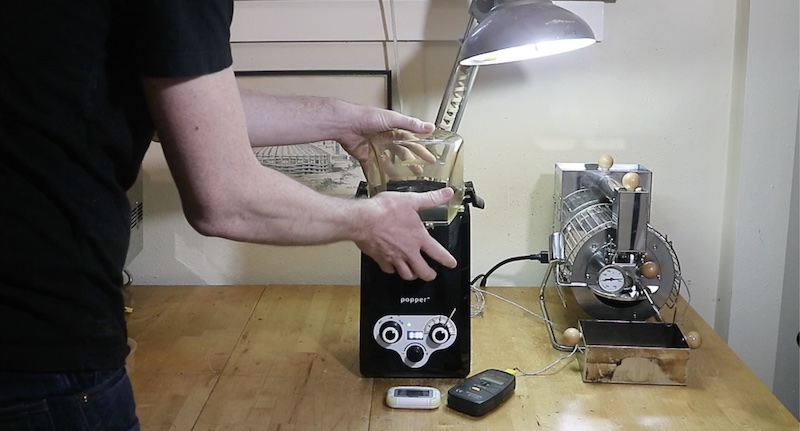 I think the main reason for this lies in how the air flow is interrupted by bean mass. 50 grams of coffee is fairly buoyant in the cyclonic air stream, and that extra movement, plus smaller bean mass, allows the air to flow through the coffee more freely. The denser bean mass from 100 grams of coffee traps the hot air to some degree, causing the temperature in the roast chamber to increase, especially after the beans become exothermicA term applied to thermal reactions, referring to one that releases energy. A classic example is burning. Most parts of the coffee roasting process are endothermic, but first....
In no way are we recommending you switch to 50 gram batches. That will only make your roasting regimen twice as long! But if you do find yourself wanting to roast a smaller batch, the baseline provided here should get you well on your way to a nice, gentle roast curve.
More information on Popper is a Coffee Roaster:
Here's our Popper FAQ on the in's and out's, do's and don'ts, and all that's in-between
Or peruse the Popper info page, where you'll find links to all our Popper-related material!