(08/09/13)
Coffee Shrub Sourcerer Aleco Chigounis came out to Colorado to visit Shrub Mtn last week and we had a 3 day whirlwind tour of northern Colorado visiting roasters in Thornton, Denver, Boulder and Fort Collins. I get the opportunity to spend a lot of time with many of the roasters in the area, but it was a treat to get the chance to introduce Aleco to the crowd and for them to get the chance to talk to Aleco a little more in depth about our sourcing in particular areas. We got to swing by Allegro Coffee and spend some time with one of the industry's strongest coffee buyers Christy Thorns. We also made stops through Huckleberry Roasters, Boxcar Coffee, and Bean Cycle, as well as a couple other shops that carry multi-roaster offerings such as Harbinger the Coffee Spot in Fort Collins and CremaCrema is a dense foam that floats on top of a shot of espresso. It ranges in color from blond to reddish-brown to black. Blond crema may be evidence of under-extraction or old coffee, while in Denver.
On August 6th, Ozo Coffee in Boulder, CO. was kind enough to open up the cupping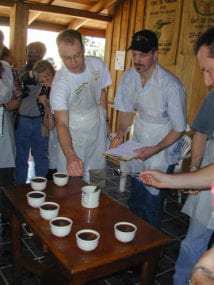 Cupping is a method of tasting coffee by steeping grounds in separate cups for discrete amounts of ground coffee, to reveal good flavors and defects to their fullest. It has formal elements and methodology in lab in their roasting works to let us host a Shrub cupping for Colorado area roasters. Tuesday evening at rush hour might not have been the ideal time to schedule a cupping with all roads into Boulder being under construction, and there was another coffee event in Denver, CO. the same night – a thank you party to people who contributed to Public Coffee's Kickstarter campaign. Public Coffee is going to be doing some really great things here in Colorado, so definitely keep your eyes open for what's coming up from them – http://publiccoffee.org.
Despite the challenges of the scheduling, we had an excellent turn out of folks from all over Colorado. We had roasters from Castle Rock, Denver, Frederick, Boulder, Loveland/Greeley, and Fort Collins, so a great representation of what folks are up to all along Front Range. Craft coffee along the Front Range has had a big push in the last 5 or so years and there's been so much community enrichment in that time that I was happy to be able to put together an interesting cupping for a receptive and eager audience.
I decided that cupping the shrub offerings blind in order to get some interesting comments on them perhaps without preconceived notions. I did however group and order the coffees in a very specific way in order to try to highlight each coffee in a supported way by where it was on the table. For comments on these coffees I collected some of the attendees' notes, please follow these links to the comments sections of the coffees' pages:
– http://www.coffeeshrub.com/shrub/coffee/guatemala-huehuetenango-eswin-ca…
– http://www.coffeeshrub.com/shrub/coffee/guatemala-acatenango-finca-el-ca…
– http://www.coffeeshrub.com/shrub/coffee/rwanda-gitesi#comment-1512
– http://www.coffeeshrub.com/shrub/coffee/kenya-kirinyaga-karimikui-peaber…
– http://www.coffeeshrub.com/shrub/coffee/guatemala-acatenango-gesha#comme…
– http://www.coffeeshrub.com/shrub/coffee/ethiopia-illubabor-baaroo-0#comm…
– http://coffeeshrub.com/shrub/coffee/ethiopia-illubabor-baaroo-swp-decaf#…
Thanks everyone for coming!