How to roast smaller batches in the Bullet roaster: An approach to sample roasting
The Aillio Bullet R1 is a great home roaster that roasts up to a relatively large batch size of 2.2 pounds but can also roast smaller amounts which makes it a great if you are a professional coffee roasterA machine for roasting coffee. Or the person operating it! The basic requirements for a coffee roaster are a heating element that gets suitably hot and a mechanism for agitating the beans.: A mechanism for and you need to roast sample batches for cupping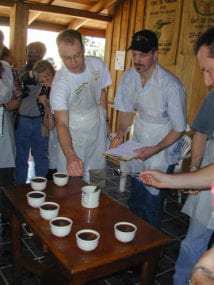 Cupping is a method of tasting coffee by steeping grounds in separate cups for discrete amounts of ground coffee, to reveal good flavors and defects to their fullest. It has formal elements and methodology in.
The new IR sensor in the most recent Bullets makes roasting 150g (4.8oz) easy. This video is about the settings for roasting repeatable batches. There's a fair amount of repetition because it was commentary made over several sample roasts.
The roast starts off with a low temperature charge of 225°F to achieve even yellowing. The goal here is to create a baseline roast profileRoast Profile refers to the relationship between time and temperature in coffee roasting, with the endpoint being the "degree of roast". Roast profiling is the active manipulation of the "roast curve" or graphed plot of with the least amount of adjustments along the way, similar to how we roast with our 3 barrel sample roaster. The Bullet does a good job of creating an even roast color in the interior and on the exterior of the beans so coffee roasted in a Bullet might actually be darker than it appears.
Also see: Behmor 2000 AB Plus -New Model for 2020