The Eat Real Festival here in Oakland, CA gets bigger and better each year. This is why we are always so excited to get invited back to share our love of coffee roasting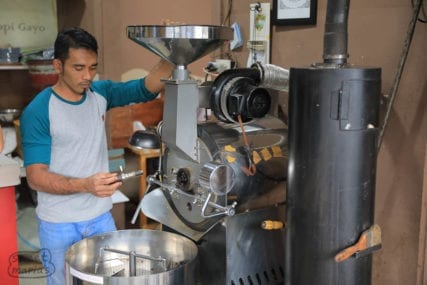 The application of heat to green coffee seeds (beans) to create palatable material for brewing a great cup!: Coffee roasting is a chemical process induced by heat, by which aromatics, acids, and other flavor components with curious folks. We sent a lot of future home roasters home with samples of our very chocolate-y and mellowA general primary-to-secondary post gustatory flavor characterization, often called "rich" or alternately "smooth" Coffee that has been hanging out in the warehouse, but not really helping out with the work, just relaxing over in the Brazil Fazenda Sao Benedito. The folks at Eat Real really stepped it up this year and created an area just for coffee vendors so it was a blast being around the thing we love.
A big "Thank You" goes out to the organizers at Eat Real and to Bloom Coffee for facilitating such a great event. Stay tuned. We have a few more fun demos coming up. Sinful Science will be at the Chabot Space Center in Oakland and will be an exploration of foods that make us feel good when we are feeling bad. Also in Oakland, sometime in early 2014, we will be presenting at Nerd Nite, a very non-traditional lecture series.