Choosing the right roaster for you can be tough: Here are some of the common questions we here and advice we give on home roasters!
Over the years we have received countless emails from folks who want to start home roasting and are not sure where to begin. We've also fielded countless messages from folks frustrated with their roaster. So we thought we would put forth some thoughts on both topics to help people choose a roaster that works for them.
There are many ways to roast coffee. The method you choose should be influenced by
1) How light or dark you want to roast

2) How much coffee you drink

3) How much money you want to spend
---
Q: Why would anyone want to roast their own coffee?
A: Freshness is a huge issue with store-bought coffee because the quality of the coffee declines quickly after roasting. After 5 days, the aromatics of the coffee are fading and after 10 days, there is a drop in overall cup quality. When you roast your own coffee, it's always fresh. Lord knows how old the big-brand coffees sold in supermarkets actually is. Home roasting also lets you control the roast level, so you can customize the coffee to your liking, as well as choose from a vast array of green coffees. Unlike roasted coffee, green coffee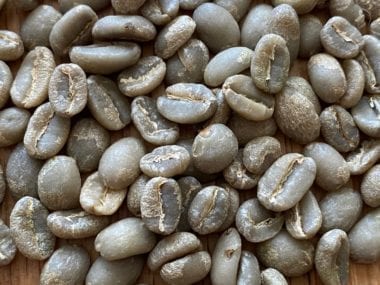 Green coffee refers to the processed seed of the coffee tree fruit. Coffee is a flowering shrub that produces fruit. The seeds of the fruit are processed, roasted,... ...more is quite stable and will not have a drop-in cup quality for about 6 months up to 1 year from arrival date (every coffee we sell has an arrival date in the review). Home roasting is also often cheaper than buying roasted coffee: most of our coffees sell for under $7/pound.
---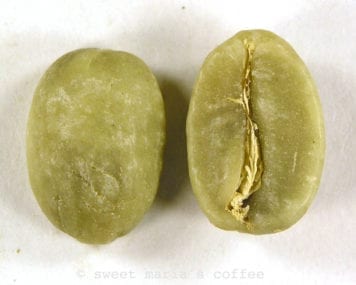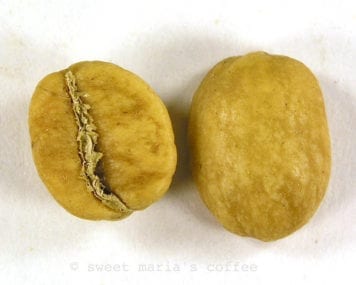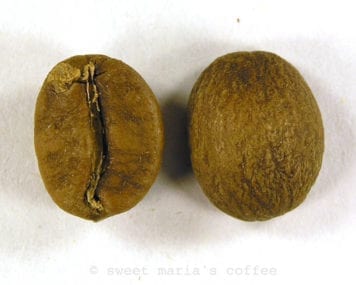 ---
Q: I do want to start home roasting. Do I buy a machine or is there another way? What is the best home roaster?
A: In general there is not one BEST machine or the BEST way to roast – only a lot of different options that you ought to consider before picking one that seems to fit. There are many ways to roast coffee, from home appliances made specifically for this purpose to simple pan roasting. Most methods are simple and the results are excellent!
The fundamental choice in home roasting is between manual and more automated methods. In both cases the most important thing is to look at the roast itself, and that process is illustrated in our page Using Sight to Determine Degree of RoastDegree of Roast simply means the roast level of a coffee, how dark it has been roasted.: Degree of Roast simply means the roast level of a coffee,... ...more. Timing, settings and temperature readings are signposts along the way but the most important thing is to watch the coffee itself and develop a sense of where the roast is by color, smell, sound and, most importantly, how the roast tastes after it's done. Even the fanciest, most expensive roaster in the world won't help if you do not know how to judge the coffee itself. Roasting, like cooking, is both a science and an art, and developing a feel for the process is key.
Manual home roast methods using an oven, stovetop popper, skillet or wok (even a heat gun and a dog bowl) are just that – manual. You control the temperature, time and movement of the beans entirely by hand. These all result in a slower, more full-bodied roast but can be very uneven. Roast times will be in the range of 10 to 20 minutes and you can roast up to a full pound, although a half-pound batch is easier to keep moving.
Q: I think I want a machine – what should I consider?
A: The main considerations when choosing any roaster are how dark you want to roast, how much coffee you generally drink and how much you want to spend. Some roasters work better than others at a dark roast level. If you like your beans dark and oily, consider an air roaster or Gene Café.
Batch size can range from about 4 ounces up to 16 ounces, depending on the machine. 4 ounces of green coffee gives you about 5.25 scoops of ground coffee – that is just over 26 ounces to 42 ounces brewed coffeeBrewed Coffee refers to all coffee preparations produced by adding non-pressurized water to coffee grounds. Contrasted with espresso coffee, which is produced under pressure, brewed coffee is primarily... ...more depending on how strong you like your coffee. A HottopA home drum roaster with a 9oz capacity, adjustable heat and airflow profiling, and an external cooling tray.: A home drum roaster with a 9oz capacity, adjustable heat... ...more or Gene Café gives you twice as much – 10.5 scoops of coffee – about 52 to 84 ounces of brewed coffee. A BehmorA popular electric drum roaster designed for home use, with variable batch sizes (from 1/4 pound to 1 pound) and a smoke-reduction system. It has been modified and... ...more 1600AB can produce 1/4, 1/2 or full 1-pound light roasts.
Ideally, you want to get a machine that roasts no more than 3 days supply of coffee – unless your schedule is such that you must roast less often. You can use a home roaster more than once a day generally, but that's not recommended. Home machines are not production roasters and using them to crank out more coffee than they are designed for will not only void the warranty but also burn out the machine quickly.
---
Q: What is the difference between air roasters and drum roasters?
A: The smaller home roasters, such as the Fresh Roast units, are primarily based on the air popcorn popper design. (You can even repurpose a hot air popcorn popper for roasting!) These machines are fluid bed roasters, which use hot air to roast and move the coffee. The ideal time range for an air roast is 8 to 12 minutes. A too-fast roast can underdevelop some of the coffee's flavors, while an overly long roast will dull the flavor. Air roasts tend to develop the brightnessA euphemistic term we use often to describe acidity in coffee. A bright coffee has more high, acidic notes. : A euphemistic term to describe acidity in coffee.... ...more of a coffee; drum roasts tend to develop the bodyAssociated with and sensed by mouthfeel, body is sense of weight and thickness of the brew, caused by the percentage of soluble solids in the cup, including all... ...more more.
The larger machines like the Behmor 1600AB, Hottop and Gene Café are drum roasters, which means they use a rotating drum to move the beans around. This gives a slower roast, in the range of 14 to 20 minutes. You can use the compare feature in the shopping cart to look at the details on each model.
---
Q: I want to roast outside – will this affect the roaster and the roast times?
A: Ambient air temperature will affect how hot the machine gets so, if you roast outdoors, the air temperature may affect your roast times. A very low ambient temperatureThe temperature in a given room or space.: This term is used to describe the overall temperature in a given environment. It can potentially affect the way home... ...more will require the machine to work harder to reach roasting temperatures. As a result, the roast times might be longer than ideal and may cause the roaster to burn out faster than usual.
Another key factor that impacts every machine is line voltage, which can vary 105v to 125v from house to house and can even fluctuate on the same outlet, depending on what else is on that circuit.
---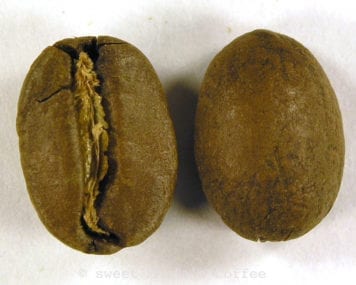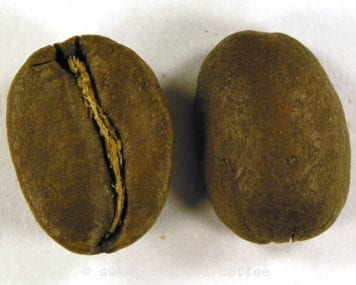 ---
Q: How long will a home roaster last?
In our experience, all the small roasters generally last an average of two years. They'll last longer if you use the machine less, roast lighter and clean the unit regularly; shorter if you use the machine heavily, roast very dark (the coffee oils tend to build up and clog the machines) and don't keep the screens clean. Drum roasters can last longer because parts are available; you can replace a heating element or fan, for example, when that part goes bad.
I generally consider the issue of durability in terms of the value you receive from the machine – both tangibly in terms of the cost of green coffee vs. roasted coffee, and intangibly in terms of how much you enjoy it, share coffee with friends, etc. If durability is paramount, use a cast-iron skillet.
All the machines have design issues that can creep up and lead either to excessive maintenance or inconsistency and early failure. We don't want to over-represent possible problems, but it is safe to say that none of the machines are 100% perfect.
More details on the pros and cons of each machine are detailed in the product page and tip sheet for each roaster – remember, ALL OF THE MACHINES have pros and cons. Again, based on our experience, some roasting methods are a better fit for some folks than others.
---
Q: Do I need a more complicated (more expensive) machine?
A: "Need" is a funny term. As previously stated, in choosing any roaster the main issues are how dark you like your coffee, how much coffee you generally drink and how much you want to spend. It is also good to know how you typically approach projects, whether you like a more simple and intuitive approach or prefer a machine with more bells and whistles and things to play with.
The simplest machines are fine and do a good job. The Fresh Roast can roast very fast and is affordable for most folks, a good entry-level machine. The SR540 is small enough for home roasters who don't need that much coffee and the SR800 is the perfect upgrade for people who can only roast once or twice a week. Both models also allow for easy profiling, with control overheat and airflow. The Gene Café is very intuitive and easy to use but has limited profiling ability. Some first-time roasters want to dive right in and get a big machine, like a Hottop, which always seems risky to us since the large batch size also means that if you misjudge a roast, you have wasted a lot of coffee. But spending money on a smaller machine first only to find it too small can also be expensive.
The more expensive drum roasters, Behmor, Hottop, and Aillio, tend to have larger batch sizes and additional built-in features. The Hottop has a programmable control board, which gives you an incredible amount of control over the roast and allows you to use roast profiling software like Artisan. More and more machines are allowing some programming of the roast since it is best to tailor the roast to the beans when possible – and it also allows you to compensate for low or high voltage and low or high ambient temperature.
---
Q: Is there much smoke when roasting? I live in a small apartment, what roaster should I choose?
A: There is always smoke when roasting; less if you roast small batches to a light or medium roast, more with larger batches and/or a darker roast. If you don't have much ventilation where you plan to roast, your options are somewhat limited. You can roast near your stove's hood fan if you have one, or near an open window with a fan to blow out the smoke.
Some machines have ways to deal with smoke. The Behmor 1600AB has a catalytic converter to help with smoke reduction and thus has very little visible smoke (unless you are roasting a large batch or roasting very dark). The Gene Café has an exit air pipe on which you can fit a length of clothes dryer hosing to direct smoke out a door or window.
---
Q: How long does it take to roast coffee?
A: Air roasts ideally take 8 to 12 minutes and drum roasts about 14 to 20 minutes.
---
Q: I'm afraid of screwing up and/or burning down my house.
A: Brave the smoke! Fire is a risk with any type of cooking – and with coffee, there is a risk that the chaffChaff is paper-like skin that comes off the coffee in the roasting process. Chaff from roasting is part of the innermost skin (the silverskin) of the coffee fruit... ...more will ignite. If you have ever read the warnings that come on a toaster, the warnings on home roasters are the same. You NEVER want to leave a roaster unattended!
---
Q: Should everybody home roast?
A: In our opinion, no. Home roasting is fun and easy and takes very little time or effort, but it needs to be something you are willing to do and will enjoy doing each week. So start small! We try to discourage newcomers from buying an expensive Aillio Bullet R1 or such when they haven't even tried home roasting yet. You can get a few pounds of green coffee and just get a feel for it by using something you have around the house like a hot air popcorn popper or a skillet. There will be smoke and a bit of mess as the chaff is loosened from the beans during roasting, so be prepared.
---
Q: I have a good local roaster near me, and buy fresh coffee each week. Will home roasting be better?
A: If you like the roasted coffee you get, that's great. Support your local roaster! Many people don't have this option, or they simply don't like the style of roasts available in their area. Remember that home roasting is essentially an "adventure in flavors" in which you find the coffees, the degree of roast, and the technique you like. If that character already exists in what you're buying, why home roast? If you are not happy with what you can find, or want a bit more varietyA botanical variety is a rank in the taxonomic hierarchy below the rank of species and subspecies and above the rank of form (form / variety / subspecies... ...more – that is a great reason to home roast.