Much of the labor in a wet mill is done at night, as the day's coffee harvest is received.
Here the coffee is pushed down the washing channel with wooden rakes after the coffee has been fermentedAs a defect flavor, a fruit quality in a coffee that is excessively ripe, toward rotten. Fermented flavor can be the result of poor wet-processing, over-ripe cherry, or..., making room in the concrete tanks for freshly pulped coffee fruit. While coffee is picked in the light of day, it is often processed in the dark of night.
This was shot by Thompson in the Guji area of Southern Ethiopia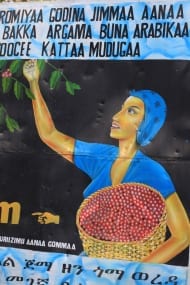 Ethiopia is the birthplace of coffee: it is in the forests of the Kaffa region that coffee arabica grew wild. Coffee is "Bun" or "Buna" in Ethiopia, so....