Dec. 7, 2017
It's the holiday season and we are busy around here…like really busy. This is the time of year when we fulfull almost two times the normal amount of coffee and merchandise orders so our warehouse crew is working at full speed. This means, something needs to be pretty darn important to break our focus…something as important as a helpless bird in a very dire situation.
Yesterday our crew noticed a hummingbird trapped under one of our warehouse's skylights. Sometime during the day, it had hovered in, ended up under the skylight and could't figure out how to escape. As if being trapped, exhausted and confused wasn't bad enough, it had eventually fallen and become trapped in spiderwebs. Those spiders were probably licking their fangs…until Noah came to the rescue.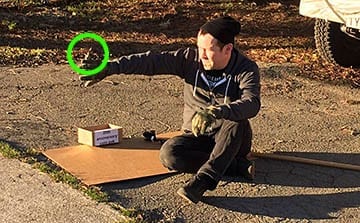 It's hard to see but that's a hummingbird on Noah's glove.
One of our operations managers, Noah hopped onto our scissor lift and was elevated about 30ft to the ceiling and retrieved the bird from the web. Once down, he went to the backyard with his new patient and carefully removed the spiderwebs. Luckily, for this bird, Noah had watched a documentary on hummingbirds some time ago and learned about a powder-like substance that shouldn't be wiped off their feathers. After some web-removal, this hummingbird was good to go and flew off.
Good luck bird. We'll see you around the yard.