Starter kits are an excellent way to get started roasting once you are ready to get that Whirley Pop, Fresh Roast or BehmorA popular electric drum roaster designed for home use, with variable batch sizes (from 1/4 pound to 1 pound) and a smoke-reduction system. It has been modified and upgraded in refining the base model over the years. you have been stalking online for the past few weeks.
Stovetop Roasting Starter Kit
This is a rewarding method for folks that enjoy the DIY way of doing things. There's nothing automated about this…you have to supply your own heat source and manually crank the Whirley Pop throughout the entire process.  There will be smoke so it's better to roast with your Whirley Pop outdoors, near a window or under a hood vent. Because we are able to discount our sample sets that come with our starter kits, you get one heckava deal when you compare the price of a Stovetop Starter Kit to just the price of an 8lb Sample Set.
Here's what's included:
a Whirley Pop 6-quart Aluminum popper (roaster)
an 8 Pound regular Green Coffee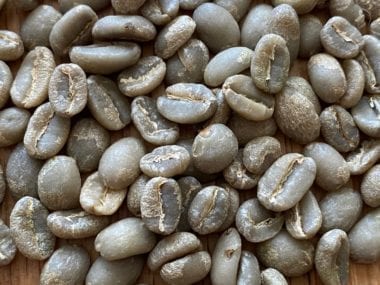 Green coffee refers to the processed seed of the coffee tree fruit. Coffee is a flowering shrub that produces fruit. The seeds of the fruit are processed, roasted, ground and prepared as an infusion.: Coffee Sampler
ten 1lb valve bags for storing your roasted coffee
a thermometer
a Sweet Maria's Roast Log for recording your roasts
Air Roasting Starter Kit
The FreshRoast SR500 has been a crowd favorite for years. If you have ever roasted coffee with a hot air popcorn popper,  If you think 1/4lb batches are way to small, think about the fun of roasting a few small batches on the same day and having a selection of different coffees in your kitchen cabinet before considering a larger roaster.
Here's what's included:
a Fresh Roast SR500
an 8 Pound Green Coffee Sampler
ten 1/4 pound valve bags for storing your roasted coffee
a Sweet Maria's Roast Log to record your roasts
Drum Roasting
The Behmor 1600 Plus is currently the only roaster on the market that does what it does…it roasts up to a pound of coffee at a time and it burns off most of the smoke. The downsides: keeping it clean can be a bit of drag. There's also a safety feature that requires you press a button about 75% into the roast that drives some Behmor users crazy (but a kitchen fire would be a lot worse)
Here's what's included:
a Behmor 1600 Plus Drum Coffee Roaster

A machine for roasting coffee. Or the person operating it! The basic requirements for a coffee roaster are a heating element that gets suitably hot and a mechanism for agitating the beans.: A mechanism for

an 8 Pound Green Coffee Sampler
ten 8oz valve bags for storing your roasted coffee
an Escali L600 Scale
a Sweet Maria's Roast Log for recording your roasts