I have always had mixed feelings about the SCAA Symposium. And in my inimitable style, I have had them in absence of any actual experience: I never went to Symposium. It is the 2 day event before the SCAA Exposition that is billed as a meeting of Industry Leaders, and features a stacked bill of various personalities, consultants, a couple scientists, market researchers, financial experts, and interpretive dance. Okay, strike the last one.
In any case, it is an orchestrated series of presentations and panel discussions that comes with a high price tag (over $1k to come), but also high value. I had always thought it drew away from the general show,; it represented a retreat from investing in the quality of the educational discussions at the low-cost weekend event. I might still feel this way, but having just sat through my first day of Symposium, it undoubtedly has great value. And I am not just saying that because I got in free, in exchange for blogging it. There, full disclosure.
The core members of SCAA that plunge their hands into green coffee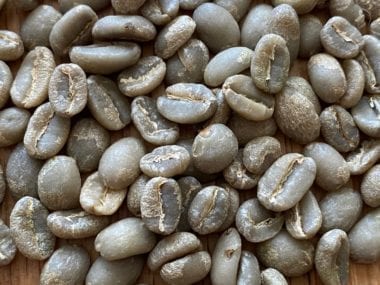 Green coffee refers to the processed seed of the coffee tree fruit. Coffee is a flowering shrub that produces fruit. The seeds of the fruit are processed, roasted, ground and prepared as an infusion.: Coffee every day, the roasters, don't get to poke their heads out of the backroom often enough. Along with the Roaster's Guild Retreat, Symposium definitely offers a rube like myself who is always absorbed intensely in the issues of my own business to consider the broader picture … how the same issues are affecting everyone else. Even if the discussion isn't speaking directly to me and my struggles in coffee, the benefit of Symposium can be experience tangentially. Just allowing myself to absorb the information, let it wash over me, and consider how I address whatever the speaker's topic may be, has a certain distinct value.
We have had a lot of alternative names for Symposium, and I think some of them are pretty expressive. To a yokel like me, much of the lingo sounds like somebody went and got themselves one too many MBAs. And the results can be a bit comical too. "Where are the hotspots in your supply chain?" Or "How can we blow apart our assumptions, and make money in a whole new way?" Sounds like revolution-talk to me.
But when do you get to hear multiple perspectives on what is driving instability in the commodity market from people who focus entirely on that? How about some solid criticism of romantic notions about coffee varietals and cultivation from people with 40 years experience in a producing country? How can that not be enriching? When I consider my paltry experience with market watching, hedging coffee contracts, or on the other hand, a week or two in a producing country trying to understand all the complexities of quality and production, can that meager experience not benefit from listening to the folks on stage? Hell yeah.
So that's part of Symposium, seeing the value in listening to other perspectives, whether you agree or not, whether you think they are relevant to your daily experience in coffee or not. We all know coffee is incredibly complicated. We all know we can't "do it all" nor can we "know it all". Coming together is a good humble admission of this fact. Plus, people say some hilarious things. -Tom