February 9, 2015
Ethiopia Dry Process Yirga Cheffe Cheleba is a nice later arrival Ethiopia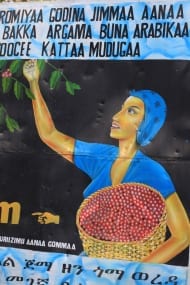 Ethiopia is the birthplace of coffee: it is in the forests of the Kaffa region that coffee arabica grew wild. Coffee is "Bun" or "Buna" in Ethiopia, so Coffee Bean is quite possibly a poor new to our list. With actual "new crop" Ethiopias still a few months out, this fruit-forward cup rounds out our Ethiopia offers nicely. The profile is loaded with berry and fruit punch flavors, pectin sweetnessSweetness is an important positive quality in fine coffees, and is one of five basic tastes: Sour, Sweet, Salty, Bitter, Savory (Umami). In coffee, sweetness is a highly desirable quality, and the green bean has, and a nice cocoa finishSimilar to aftertaste, but it refers to the impression as the coffee leaves the palate. Aftertaste is the sensations gathered after the coffee has left the mouth. We combine these to form the "final flavor.
Brazil Fazenda IP Yellow Bourbon is pulp naturalPulp natural is a hybrid method of processing coffee to transform it from the tree fruit to a green bean, ready for export. Specifically, it involves the removal of the skin from the coffee, like processed coffee, so while fruit flavors do show in the profile (especially when cool), it is much more oriented around flavors of burned sugar and cocoa.
Nicaragua La Bastilla Llamada is a mild coffee, toffee-sweet, and with roasted nut and tea flavors.
Both the BrazilBrazil is a coffee giant . As Frank Sinatra sang, "they grow an awful lot of coffee in Brazil".: Brazil is a coffee giant . As Frank Sinatra sang, "they grow an awful lot of and the Nicaragua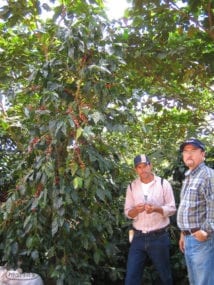 Nicaraguan coffees from the Segovia, Jinotega, Ocotal and Matagalpa regions are nice balanced cups. They often possess interesting cup character along with body and balance, outperforming many other balanced Central American and South American high-grown are "coffee" coffees, crowd pleasers, if you will, and taste great in the middle roast range. Full City – Full City+City+ roast is an ideal roast level that occurs roughly between 425 and 435 degrees Fahrenheit in many coffee roasters with a responsive bean probe where First Crack starts in the 395 to 405 degree is a great level for espressoA small coffee beverage, about 20 ml, prepared on an espresso machine where pressurized hot water extracted through compressed coffee.: In its most stripped-down, basic form, this is a working definition for espresso: A small.