(04/25/10)
Back from the SCAA Expo and the Anaheim Wizard World ComicCon, a few final thoughts:
I really enjoy taking part in the roasting labs each year. Most of the material covered in the lectures is pretty basic, but it's really meant just to create some context for the exercises. These exercises are really fun challenges even for the most seasoned roasters and are great opportunities for knowledge sharing. Having access to multiple different roaster models and some top notch coffees to play with is a pretty unique experience the most roasters don't have the time or resources to take part in.
As far as the knowledge sharing goes, the biggest personal reason for me to attend the Expo is the venue to meet other roasters and coffee folks and to see old friends and discuss coffee and/or comics related issues. This is the same with the RG retreat, but the retreat is even more geared towards this while the Expo has a lot of other diversions. I guess that what I left with after this Expo is that it would be fun to set up an interesting cupping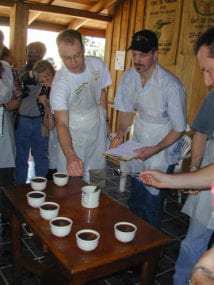 Cupping is a method of tasting coffee by steeping grounds in separate cups for discrete amounts of ground coffee, to reveal good flavors and defects to their fullest.... ...more in an equally interesting location (far away from the show floor which can be mind-numbing, and perhaps with an obstacles course).
This is the third year in a row where the convention next door to the SCAA Expo was way cooler. Last year there was the Junior Robotics competition, and in Minnesota it was the Star Power Dance Competition. I won both, in case you were wondering.
Here are some images from the show.