Earlier this summer we were invited to the Oakland Museum of California's weekly food truck party to demonstrate coffee roasting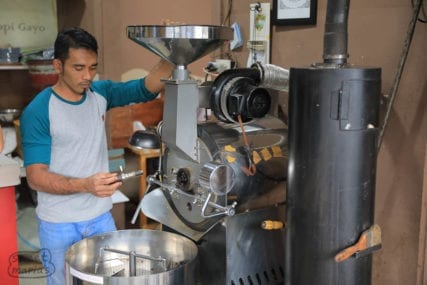 The application of heat to green coffee seeds (beans) to create palatable material for brewing a great cup!: Coffee roasting is a chemical process induced by heat, by which aromatics, acids, and other flavor components. We didn't set off any smoke alarms or leave too much chaffChaff is paper-like skin that comes off the coffee in the roasting process. Chaff from roasting is part of the innermost skin (the silverskin) of the coffee fruit that still cling to the beans after so they invited us back for another night of demos. We brought a Fresh Roast SR500 along with a very durable WestBend AirCrazy popper that we have been torturting at demos for the past 3 years. We roasted countless batches of Guatemala Finca Candelaria Lote Cedro in front of about 200 curious folks that were drawn into our area throughout the night. Those who wanted to give it a try on their own, went home with a sample of the same coffee to throw into their own poppper or skillet. Thank you to everyone that came out and to the wonderful folks at the Oakland Museum of California. We had a blast.
If you weren't able to drop by, we have a another event in the works at the Chabot Space Center in Oakland on Saturday, Oct. 25th. Stay tuned.