Moving on up…the Street
We did it! We've moved! We are back shipping orders again after being closed last week for our big warehouse move. We are getting caught up so it may take a few more days to process and ship your order. Thank you for your patience!
8/29/2016
We finally moved into our new office/warehouse space. Coffee has been moved onto pallet racks and merchandise is on it's way to being organized on shelves. Our retail space is just a "space" at this point but we plan on making it a place for local customers and visitors to shop in the near future. We are shooting to start shipping orders today but please bear with us as we get caught up. It may take us a few more days to catch up and ship your order.
8/26/2016
Our crew is doing an amazing job at assembling the racks that we will store our coffee and merchandise on. The new place still feels very spacious but that will probably change once we get the coffee pallets off of the ground and onto the racks.
8/22/2016
Here's the current sign on our warehouse gate. It feels kinda weird to be shift gears from a coffee company to a moving company. It's an enormous task to keep the online store running, pack our stuff, move our stuff and continually prepare the new building but our crew and managers are the best in the business. If anyone can make it happen, they can.
8/16/2016
From our Instagram…
8/06/2016
It's coming along. We are locking in the details and final touches. We are enjoying the view while we can because everyone knows all that space will soon be filled with stacks of coffee and boxes of merchandise.
7/26/2016
If you haven't heard, we are moving…a few blocks away from our current location…to a bigger warehouse. Over the past year, we have been posting photos of plywood, cement, windows, etc. to show you the progress of our new location's construction. The only thing we haven't shared is when we are actually moving. Well, we now have an official date.
Seismic upgrade, new roof, electrical re-wiring and renovation of the office space is nearly complete on our beautiful and spacious new home for the business near 28th and Adeline St. right here in West Oakland. Our plan is to close for the week of August 22nd for re-location and start shipping orders as soon as possible after that. We will be closed for walk-ins and pick up orders during that time and will re-open on alt="Moving on up…the Street"alt="Moving on up…the Street"August 29th. Consider placing any orders you have planned in advance to avoid any delays. It may take more time to fully flush out the retail space and paint the facade, but expect those projects to be complete before the warehouse-warming party later this fall.
Here's our current signage with a chicken piloting a robot and an airplane with marine animal flippers.
Our UPS driver and forklift-driving employees are looking forward to using the loading dock.
Behind the retail area.
This office will be home to where all the super-exciting stuff like logistics, marketing and order processingThe removal of the cherry and parchment from the coffee seed.: Coffee is either wet-processed (also called washed or wet-milled) or dry-processed (also called wild, natural or natural dry, and we abbreviate it DP sometimes). will happen.
5/25/2016
Construction on our new location is coming along and we expect to move in sometime early this summer. Concrete flooring is in. Walls are in (mostly) and we are enjoying how expansive the warehouse space looks for now. Once we move in our storage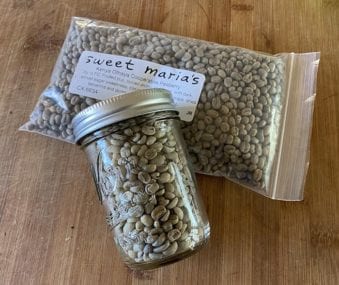 Green coffee can be stored much longer than roasted coffee: Roasted coffee starts to lose its aromatics in 10 days after roasting. Green coffee can be stored months without degrading quality.  Very often the type racks and thousands of pounds of coffee it won't feel as spacious.
We will be sure to let you know in advance when we have an actual moving date so you can have all our new contact info. We will only be a few blocks away from our current location in West Oakland.
4/16/2016
As you may know, Sweet Maria's Coffee is moving locations. We look forward to a larger warehouse, more space to hold events and an actual retail environment. We aren't moving far away…just a few blocks up the street . We aren't sure exactly when it will take place but we are hoping to start hauling coffees bags and plugging in our computers some time this summer.
In the meantime, construction is coming along. We are excited today because our new concrete floors are looking like floors and soon the walls will look like walls and so forth. We'll keep you in the loop with the construction and especially when we expect our address to change. Stay tuned.
10/21/2015
A few months ago we mentioned that we were moving to a new warehouse. It's still under construction and we plan on settling into our new spot sometime next spring. In the meantime, it's business as usual here and we haven't even started packing for the big move yet.
Our new warehouse will be only a few blocks away from where we are now and will provide more room for more coffee, safer/more efficient packing areas, an employee break area and an actual retail space. We are also looking forward to being able to turn our forklift around instead of backing it in and out of our narrow driveway a few times each day. There will also be space for a demonstration area where we hope to hold classes and other coffee events.
We'll make sure to let you know way in advance of our new location as the move date gets closer.
9/24/2015
The Sweet Maria's crew…checking out our future location. We will let you know when we move…way in advance.