(04/19/11)
New wet processed Ethiopia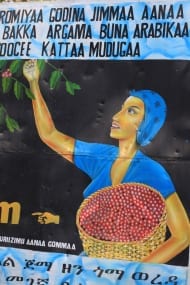 Ethiopia is the birthplace of coffee: it is in the forests of the Kaffa region that coffee arabica grew wild. Coffee is "Bun" or "Buna" in Ethiopia, so Coffee Bean is quite possibly a poor makes its way on to shrub today. This coffee is part of a program that coordinates agronomists and managers for each of the coops they work with, but also has a business adviser assigned that helps the cooperative manage their debt, re-invest in quality improvements at the mill, and verifies distribution of income to all members.
Ethiopia Wet ProcessWet-processing starts by removing the outer skin of the coffee cherry with a machine called a pulper, then fermenting the remaining fruit (with green bean inside) in water for 8-36 hours. The fermentation breaks down Gera Jimma
http://www.coffeeshrub.com/shrub/coffee/ethiopia-wet-process-gera-jimma
"…The cup is juicy and sweet, particularly in the light roasts. City to City+City+ roast is an ideal roast level that occurs roughly between 425 and 435 degrees Fahrenheit in many coffee roasters with a responsive bean probe where First Crack starts in the 395 to 405 degree roasts have a red currant fruit, that shifts toward darker plum and black tea notes at Full City roastA coffee that has been roasted to the brink of second crack.: A coffee that has been roasted to the brink of second crack. The internal bean temperature that second crack normally occurs at is level. It has hawthorn flower, but seems more violet-like as the cup cools. MouthfeelHow a coffee feels in the mouth or its apparent texture, a tactile sensation : A major component in the flavor profile of a coffee, it is a tactile sensation in the mouth used in is light and juicy. The cup has a bracing brightnessA euphemistic term we use often to describe acidity in coffee. A bright coffee has more high, acidic notes. : A euphemistic term to describe acidity in coffee. A bright coffee has more high, acidic especially in the light roasts, and a very well-structured character overall. It's no fruit-bomb Ethiopia coffee, but a retrained and clean cupClean cup refers to a coffee free of taints and defects. It does not imply sanitary cleanliness, or that coffees that are not clean (which are dirty) are unsanitary. It refers to the flavors, specifically. If lighter roast SO espressoShort for Single Origin espresso, meaning using one origin specific coffee to make espresso, as opposed to using a blended coffee. is your thing, I think this coffee is amazing. No, I mean AMAZING. Really."
Really?
No, Really.