It might seem silly, but I am really excited about this kettle,  the PINO Digital Kettle Pro. I need a lot of hot water for cupping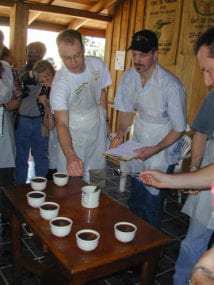 Cupping is a method of tasting coffee by steeping grounds in separate cups for discrete amounts of ground coffee, to reveal good flavors and defects to their fullest.... ...more and brewing so having a kettle that works as well as this does makes a big difference in my day-to-day life.   I  have the bad habit of forgetting that I am heating water.  On the stove, I will evaporate a full pan of water before I remember I had it on the burner … which led me to use the Bodum Ibis kettle.  It's a fine kettle, but I also forget about it, and then my water is cool and I need to heat it again.
So here is the pretty sleek the Pino Digital Kettle Pro, an electric kettle that will heat water to a temperature that I preset, and hold it there until I am ready for it, or remember it, whichever comes first. It has a 50 oz (~1.5 Liter capacity), and the electric base is separate from the kettle top. It is 1000 watts, a bit lower than some other electric kettles, but will heat a full 1.5 liters from tap temperature to 205 in 9 minutes, and will heat 16 ounces of water in 2 minutes. It is pricey, but this paired with a Clever Coffee Dripper makes a great brewing set-up.