After months of congestion due to a nearly yearlong labor dispute the Port of Oakland is on its way back to normal operations. As of yesterday, all the container ships that had been sitting idly for weeks have finally been unloaded and the turn-around time for trucks to pick up containers is now just a few hours instead of several weeks. It will still be a while before everything is moving as quickly as before the strike, since the Port of LA still has a line of ships waiting to dock, but the overall situation has vastly improved.
This is great news for us, since our first containers from Ethiopia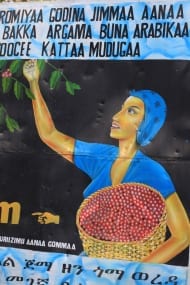 Ethiopia is the birthplace of coffee: it is in the forests of the Kaffa region that coffee arabica grew wild. Coffee is "Bun" or "Buna" in Ethiopia, so Coffee Bean is quite possibly a poor are en route to us right now. The next few months will be busy with new arrivals rolling in, so stay tuned!