Dec. 16, 2015
Our main focus is green coffee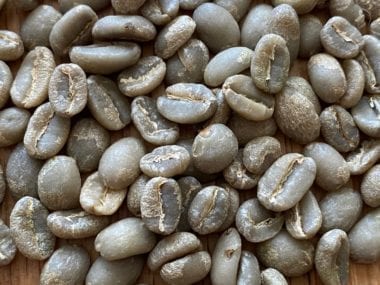 Green coffee refers to the processed seed of the coffee tree fruit. Coffee is a flowering shrub that produces fruit. The seeds of the fruit are processed, roasted, ground and prepared as an infusion.: Coffee but that doesn't mean we can't have a little fun designing items that we like to wear. We hope you think our apparel is attractive too.
Some of the the Sweet Maria's crew members have been asking for these for a while and now their wish (and hopefully your wish) has been answered with these American Apparel hooded sweatshirts. They are very soft, comfy and screen printed right here in Oakland, CA by one of our favorite printers. Throw one on, zip it up and get ready to field questions about "that branch on the back of of your sweatshirt"
Some of our shirt designs come and go and some have stuck around for years. We try and keep our designs fun and take care in selecting the type of shirts we print on since we really appreciate T-shirts that have a nice fit and soft feel.  Choose from our Logo, Vintage Roasters, Coffee Leaves or EspressoA small coffee beverage, about 20 ml, prepared on an espresso machine where pressurized hot water extracted through compressed coffee.: In its most stripped-down, basic form, this is a working definition for espresso: A small Monkey shirts.
These enamel pins come in the shape of our hand-drawn bubble logo in 3 pastel colors or a "So Much for Coffee" cup pin. They are just waiting for you to make a little space on your denim jacket for a fresh Sweet Maria's pin. The "So Much for Coffee" pins relay a message from your inner voice whispering from that cynical, sarcastic corner of your mind that scoffs at the hype and overboard nature of the 3rd wave coffee world. Wear one with pride as you walk in to your local, over-hyped, expensive cafe' after realizing you ran out of home-roasted coffee.
Knit caps, beanie hats, stocking hats or toques…call 'em what you want. All we care about is that they look cool and keep your head warm.  They are all made in Wisconsin.
Do you like coffee? Do you hate the idea of being a walking corporate billboard? Are your ears cold? If you said "yes" to any of these, we think you will enjoy our Black Coffee hat. You won't find our name or logo anywhere on it. Black Coffee…what you see is what you get.

If you are insecure about roasting such small amounts of coffee at a time, maybe a hat from our wholesale company, Coffee Shrub, will help you compensate and give you a little confidence boost. OK, we are just kidding…about the confidence thing, but not about the hat. They are green, they are warm and they have "Coffee Shrub" knitted into them.
We hope you can appreciate the funky color combo as much as we do. Blue, orange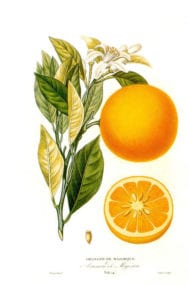 Orange aromatics and flavors are prized in coffee, whether they take the form of sweet orange flesh and pulp, or orange peel. Orange flavors or aromatics can range in degrees of ripeness, which also involves with a white and red pom on top. It is very warm and comfy.
These are the same patches that are ironed onto our Sweet Maria's sweatshirts. We sell them separately so you can iron them onto your vest, jacket, bag or whatever. The stitch quality is great. Note: the background is white and the highlights on the leaves are silver.