Nov. 24, 2015
Travel mugs are everywhere. So why does Sweet Maria's even bother selling products that you can find at departmentA Department is the term used in some Latin American countries for a State or County. For example, Huila Department is the state in the South of Colombia. stores, convenient stores, and gas stations?  If you travel or commute a lot, a high quality, durable mug is important. Those cheap-o coffee vessels with leaky lids, thin walls and plastic interiors walls are bad news when it comes to serious daily usage.
All the travel mugs we carry are ones we use ourselves. They are vetted by our personal experience with them. They are durable, easy to clean and have a variety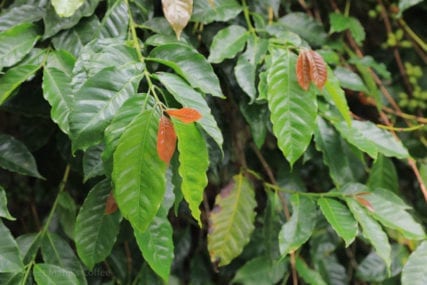 Hibrido de Timor abbreviated HdT is the interspecies hybrid of C. Arabica and C. Canephora (Robusta) that was found in Timor Leste in the 1940s. It has been the bases of plant breeding for disease of capacities. Yes these brands may be a little more expensive but we have come to trust them based on experience: we trust their performance and durability.
A good travel mug or bottle needs to be easy to use too. We stay away from offering mugs with complicated levers and tight crevices. Mechanized flip tops and fancy lids are cool but after a few months, develop goop and residue (yuck) that is hard to clean, even in a dishwasher.
We have been selling this mug for years and it's still an employee favorite because of it's simplicity and durability. It's made to take a beating, keeps your coffee hot and is comfortable to drink from. The handle may seem cumbersome but after using it for the first time, you will find that it doesn't get in the way at all.  The carabiner is great for hanging your mug from a backpack. You can always remove it if it bugs you.Double-wall stainless steel construction and heavy-duty plastics will give this mug a long life. Have your local barista serve your coffee into this instead of the usual paper cup to cut down on waste. It has a 14oz capacity.
The name says it all. Feel free to throw one full of coffee into your bag and you won't have to worry about it leaking. It's very sleek and nice to drink from. The only complaint…it can keep your coffee too hot. There's not much room for heat to escape so your coffee will stay hot for a long time after brewing which can be kind of a bummer if you are eager to sip right away and not eager to burn your tounge. It has a 16oz capacity.
This is one of the newer additions to our line of travel bottles. It's about as minimal as you can get …twist the cap a bit to open …twist it back to close. The cap is sealed with a single removable gasket. The mechanism and bottle itself are very easy to clean. The cap and handle are made in the USA. It has a capacity of 21 fl oz. This is the one Tom uses every day, and has traveled with (and battered and dinged up) all around the world while visiting coffee regions. He is on his second one, only because a car backed over the first one. And it didn't even damage the bottle really, it cracked the lid. (It sorta shot out from under the tire)!
It looks like a mini-Nissan Backpack Bottle but it's what's on the inside that really sets it apart. There's a french pressA simple coffee brewer also called a Press Pot: grounds and hot water are added to a carafe, allowed to sit for several minutes, and then a filter is pushed down to hold the grounds filter built in that keeps your coffee from brewing after the filter is pressed to the bottom of the bottle. If you are alway running around in the morning, trying to buy as much time as possible, not having to deal with a separate brewing device is a big plus. It brews about 10oz/300ml of coffee.
This is awesome for a day trip, if you know you won't have access to good coffee, but could get some hot water. We even pre-grind and load the coffee (yes, not perfect practice, but saves carrying a grinder) for that easy after-lunch brew. We think its great for hikes and bike rides where you might pass a convenience store or (ahem) a coffee franchise where you can get their water without their coffee. Then bring it home to clean at night.
A glass interior suggests that it's fragile, but as long as you don't drop it, you should be OK. One of our employees has used his Handypot on camping trips for a couple years and it's still holding up.It's a good decanter for dinner guests since it has a nice looking handle and spout. It has a 1L capacity and works great with the #6 dripper.
This is the Handypot's robust relative. It has all the elements that make a great travel bottle. The cap doubles as a cup. It very easy to clean…and steel won't shatter if you drop it. The mouth is 2 1/8″ wide so you can drop big ice cubes into it. It's also compatible with the #6 dripper that we carry. The mechanism that opens and closes the lid works great and can be easily figured out with one hand in the passenger seat of a dark car or before sunrise at wherever you are, awake at that time of day.It was designed to decant from, but if you removed the pouring cap, you could drink your 1 liter of coffee, water, juice or whatever beverage directly from the mouth of the bottle (you barbarian, you)!
If your goal is to travel with almost 2 liters of coffee, consider getting this Nissan vaccum bottle. This serves the same purpose as the Zojirushi Handypot but the double-wall stainless steel interior means that it can take a little more abuse and is designed with portability in mind.It has a removable carrying strap and retracting handle.  It can hold up to 1.8L (61oz).