How do I keep coffee fresh?
What are the options for storing your roasted coffee? And how should you be storing your green coffeeThe processed seed of the coffee tree fruit. Coffee is a flowering shrub that produces fruit. The seeds of the fruit are processed, roasted, ground and prepared as an infusion.: Coffee is a flowering shrub More to maximize life span and quality?
After roasting your coffee, you have to put it somewhere! You can just use a ziploc bag or a mason jar…it's up to you, but there are some nice containers available that are made specifically for coffee storageGreen coffee in general can be stored quite a while with little loss in quality, when compared to roasted coffee which loses freshness much sooner . Bright, delicate coffees can seem to fade faster; earthy More and others that are great for helping you share your roasted creation.
Regardless, it's best to keep roasted coffee away from sunlight, oxygen, extreme temperatures and humidity (elements that will make your coffee stale). If you are gifting coffee or storing it untouched for a few days, you will want to use a bag or container with a one-way valve. A valve allows for C02 to escape and keeps oxygen out.
If you are accessing your coffee often, a valve isn't totally necessary since you will be exposing it to oxygen on a daily basis but it will help a bit if you are storing larger batches. Freshly roasted coffee should be treated like fresh produce since it's flavor will start to degrade after a week or so. The aroma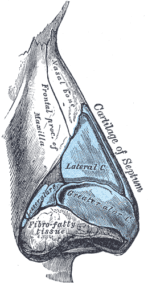 Aroma refers to sensations perceived by the olfactory bulb and conveyed to the brain; whether through the nose or "retro-nasally": The aromatics of a coffee greatly influence its flavor profile and come from the perception More will degrade first and the "cup quality" will follow.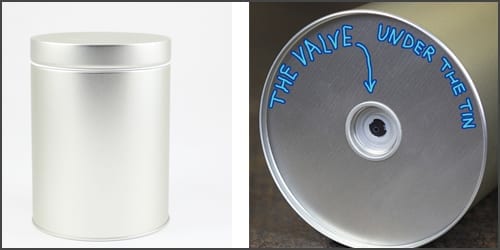 These tins are very popular, affordable and work well. They store up to a pound of roasted coffee and there's a one-way valve underneath. The sidewalls are a bit thin so it will dent easy if you are clumsy but will last for years if it just lives on your counter or in your cabinet.
If you are looking for a more robust coffee tin that also holds up to a pound, the Airscape is really impressive. One issue with large storage containers is the amount of oxygen that sits with your coffee once your stash starts to get low. The Airscape presses all that air out, leaving only coffee and the space between the beans.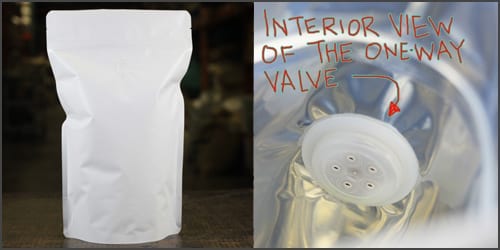 1 Pound and ½ Pound Valve Bags

These are the same bags we use to ship our roasted coffee in. They are extremely strong, with a thick foil barrier that keeps oxygen and light out. The one-way valve allows C02 a way out and you can use an iron to create a permanent seal above the zipper. Here's a video showing how.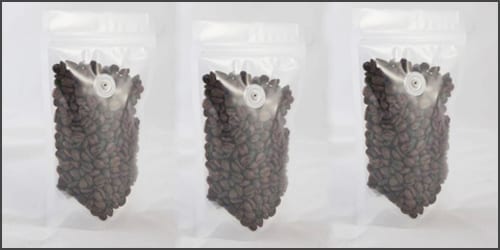 We say light is an enemy of freshness so why do we offer clear valve bags? A ¼ pound of coffee is only good for a few servings so we imagine a day or two of sunlight won't have a chance to do noticible damage to your coffee's flavor. We don't recommend these for long term storage. They are mainly for sharing and gifting.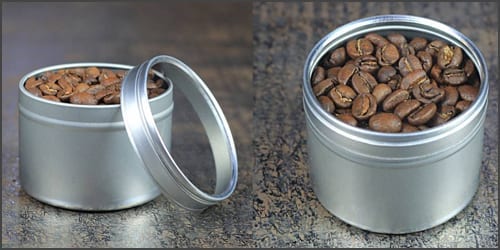 These are very handy if you like to weigh your coffee before brewing. You can pre-weigh your doses into a few of these put your scale away for a couple days. Aside from home use, they are great for travel or the office.
These are great for gifting as long as your coffee isn't planning an extended stay in the bag. They are affordable and look great but don't have much of a barrier to keep oxygen away from your coffee. Make sure whomever receives your gift of fresh roasted coffee, brews it before they attempt to finishSimilar to aftertaste, but it refers to the impression as the coffee leaves the palate. Aftertaste is the sensations gathered after the coffee has left the mouth. We combine these to form the "final flavor More off their oily tub of "Dark Roast Supreme Bold Holiday Breakfast Blend". A lot roasteries sell their coffee in paper bags just like this so using these bags are your opportunity to live out your professional roaster fantasies (unless they are already a reality). They are compostable minus the tin tie and come in two sizes.
---
Green Coffee StorageGreen coffee is the dried seed from the fruit of a tree. In the past it was shipped in jute or sisal bags, which prevented coffee from becoming mouldy, but also exposed it to the More
Green coffee is tough, dense, hard and resilient, but nothing lasts forever. You can expect green coffee to remain fresh for about 6 months (some say up to a year). We ship green coffee to you in plastic bags with holes punched in them. The plastic provides a protective barrier and the holes allow the coffee to breathe a little. We recommend storing your coffee in these bags if you plan on roasting within a few weeks after receiving your coffee.
So the short answer here is that the plastic poly bag we ship you the coffee in is fine for storage. Keep it in a nice cool dark place.
Cloth or jute is desirable in a temperate climate, but not in an excessively dry or humid environment. In that case you want a high barrier bag or other package. Glass is great for small amounts of green coffee in this case.
Consider that now we at Sweet Maria's now import our coffee in typical jute or sisal woven bags but every single bag we bring in from all over the world has a high barrier inner liner. This is often referred to by the trade name of one brand, Grain Pro, because it was created to keep grain safe. But now it is a standard with high quality green coffee beans. We often use the brand Ecotact as well as GrainProA multi-layer plastic bag with a gas barrier. The bags have been shown to extend the flavor life of the coffee significantly over storage in jute or burlap bags.: A multi-layer plastic bag with a More.
You can also use the various types of barrier packaging detailed for roasted coffee in the section above for green coffee too! That is recommended over using cloth or burlap…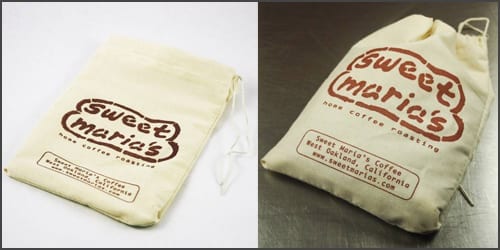 We still offer these in 1 pound, 2 pound, 5 pound and 20 pound sizes with our logo on them. They look nice but as you can see they are more for decoration now as we use a barrier liner inside all our green coffee.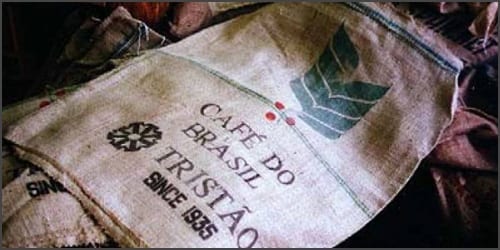 These are the same bags we receive green coffee in from around the world. They are probably too big for you to store coffee in but our customers really like them for projects, decor, etc.
Also see our article about Green Coffee, Defined !
What is the best way to store roasted coffee?
The right answer is anything with a high barrier value! What does that mean? A good barrier for coffee packaging is something that does not allow aromatics to escape, and does not allow oxygen to enter.
What is the cheapest way to keep roasted coffee fresh?
Glass! A mason jar or any resealable type used for food – provided you cleaned it really well and it has no smells!
How soon can I drink the coffee I just roasted?
Well, right away, but it will better if you can wait 12-24 hours. Even then you will see super fresh coffee emits so much natural carbon dioxide that water can't fully saturate it. So use a "full immersion" brew method if that is the case: French PressA simple coffee brewer also called a Press Pot: grounds and hot water are added to a carafe, allowed to sit for several minutes, and then a filter is pushed down to hold the grounds More, Clever Dripper, perhaps an Aeropress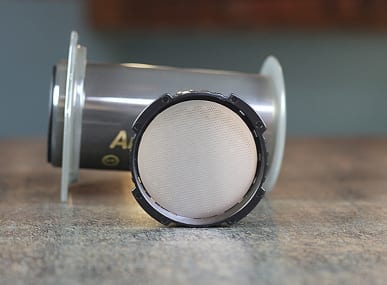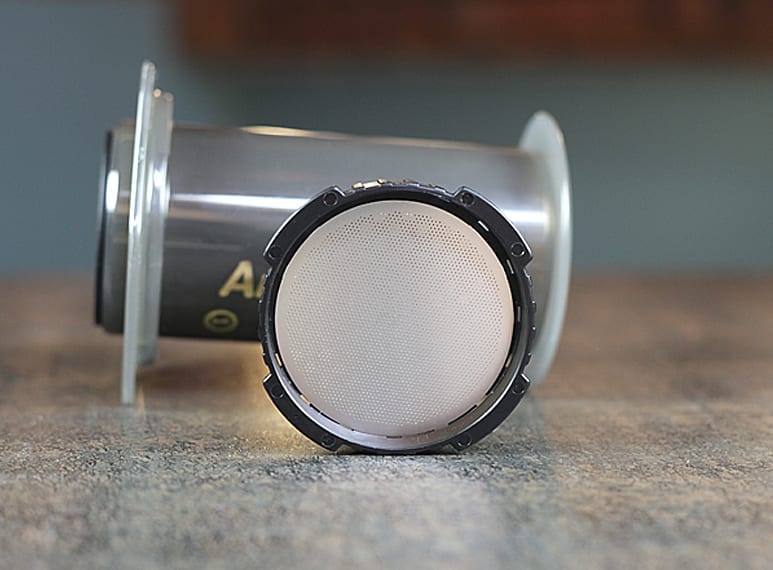 A portable coffee brewer that makes a unique dense brew, somewhat similar to an Americano.: The Aeropress looks like a giant syringe: coffee grounds are in the bottom, and when you depress the syringe it More. For pourover drip of super fresh coffee, pre-soak the grinds for a long time.
In 2020 what is the best way to store green coffee?
We used to recommend cloth or jute bags. Now these are just for decoration. Green coffee that we sell is ideally stored in the plastic zip bags we ship it to you in, some other type of plastic bin (free of odor of course!) or glass containers.
Where should I keep my coffee?
In a cool dark place, without excessive humidity, dryness, or heat!