The first device shown in the video is a hot air popper, the Nostalgia Electric Popper.
Air Popper – Additional Links:
– Nostalgia Product Page: https://www.sweetmarias.com/product/n…
– Air Popper Method Details Page: https://www.sweetmarias.com/air-poppe…
We've carried several different popcorn poppers for roasting coffee over the years, but our all-time favorite models keep getting discontinued! We don't let that deter us though, and after a lot of searching and testing we found the Nostalgia popper, and we think it works well at a very reasonable price. This method of roasting uses the movement of hot air to heat the coffee and agitate it enough to achieve an even roast. This method is also referred to as fluid bed roasting. In the Nostalgia popper you can roast 3-4 ounces of coffee at a time, and it can take anywhere from 5-10 minutes depending on desired roast level. We think this is a good entry level roaster for several reasons: not only does it not break the bank, but it's small, light, and simple in design without a lot of moving parts. It's just on or off. Not a huge commitment here both in terms of price as well as counter space. Despite its simplicity, when you get the hang of this thing it's possible to achieve a wide range of roast levels. Since you will be using the popper for a purpose other than what it was designed for, we cannot offer a warranty, so no returns or exchanges on these unless they are DOA and don't work out of the box. We have a details page for this method of roasting that, well, details the process and has some troubleshooting information as well.
The second device shown is the FreshRoast SR500, another fluid bed/hot air roaster.
FreshRoast SR500 – Additional Links
– Product Page: https://www.sweetmarias.com/product/f…
– sr500 Details Page: https://www.sweetmarias.com/fresh-roa…
 This is a real life coffee roasterA machine for roasting coffee. Or the person operating it! The basic requirements for a coffee roaster are a heating element that gets suitably hot and a mechanism... ...more though, and has increased control capabilities over the popper. This also has a capacity of 3-4 ounces and takes from 5-10 minutes per roast, similar to the popcorn popper. You are able to adjust and control the heat, fan speed, and roast time. In addition to these controls there is also the added feature of a cooling cycle. We like this machine because of its compact and simple design, the controls it offers, and the cooling cycle. We appreciate the general design concept because it doesn't try to automate anything and allows direct user control. The company that makes this machine only manufactures FreshRoast coffee roasters, so it's very easy to get in touch with them if need be. The SR500 details page is a great resource for tips and tricks.
The third machine is a drum roasterA roaster with a rotating drum that provides agitation to the beans, while a heating element (typically either electric or gas) provides heat. The metal drum conducts heat... ...more, the BehmorA popular electric drum roaster designed for home use, with variable batch sizes (from 1/4 pound to 1 pound) and a smoke-reduction system. It has been modified and... ...more 1600 Plus.
Behmor 1600 Plus – Additional Links
– Product Page: https://www.sweetmarias.com/product/b…
– Behmor Details Page: http://legacy.sweetmarias.com/prod.de…
With this method of coffee roasting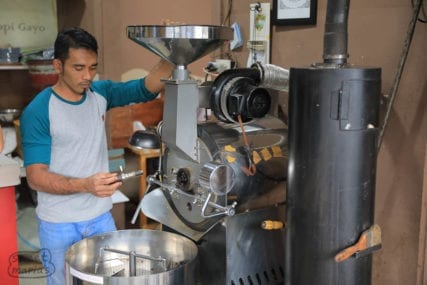 The application of heat to green coffee seeds (beans) to create palatable material for brewing a great cup!: Coffee roasting is a chemical process induced by heat, by... ...more, the beans are held in a cylindrical drum that turns and exposes them to a heating element. The turning creates enough agitation to get a nice even roast.  Drum roasters more closely mimic the action of large commercial roasters. The Behmor is a great machine backed by great customer service. This roaster has a catalytic converter which means it offers excellent smoke suppression, it can roast up to 1lb of coffee at a time, and it's nice and quiet so you can hear 1st crackAn audible popping sound heard during roasting. In coffee, one refers to "first crack" and "second crack," which come from two different classes of chemical reactions.: An audible... ...more. It comes with some pre-programmed roast profiles, or you can override these and roast fully manually. It also has a thermometer that reads the temperature inside the drum. Roast times can creep up into the 20 minute range depending on desired profile and the amount of beans you're roasting. For this reason, the Behmor isn't recommended for darker roasts. In fact, you will void the warranty if you roast past the first few snaps of 2nd crack. All that said, we think this is a great jumping off point into drum roasting. All Behmors ship with our tip sheet and a full user manual. Check out the Behmor details page for some more information, as well as video.