I do my best to answer your coffee questions within 5 minutes. It's hard!
(See this episode as a video or listen as a podcast below)
We asked for questions for this project, and you sent them …hard ones! Thanks! In this first Episode 1, there are 4 questions :
Here are the coffee questions I try to answer in the first Episode
1: How to find the right coffee … but are they talking about the green beans or how it's brewed? I'm not sure
2: Anaerobic fermentationA key part of the wet process of coffee fruit is overnight fermentation, to break down the fruit (mucilage) layer that tenaciously clings to the coffee seed, so it can be washed off. Fermentation must More: Why don't we offer this coffee? We will soon … but its complicated, and is this basically a way to flavor coffee? Especially coffee that isn't that great as is? Just asking!
3: My air popper won't roast dark, and I bought it from you! Popper's aren't 100% reliable to roast coffee due to the internal overheat switch, which shuts off the heat coil. It can be fixed, and there are some poppers that work better than others. Do we over-promise on the one we sell though?
4: I want to roast a blend like Peets Major Dickenson: Clone brewing exists in beer making, can we replicate coffees we like in home coffee roasting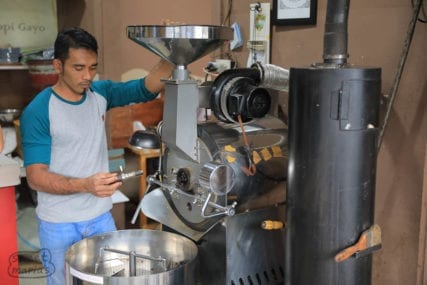 The application of heat to green coffee seeds (beans) to create palatable material for brewing a great cup!: Coffee roasting is a chemical process induced by heat, by which aromatics, acids, and other flavor components More? Maybe – it's about the roast and the blend, and I try to share what I know about Peets techniques. -Tom
(Note: this is also available as an audio-only podcast … You can also listen to this episode on Apple Podcasts, Spotify and Google Podcasts, or the embedded audio below)
Podcast Version:
Click on the embed image below: You can also listen to this episode on Apple Podcasts, Spotify and Google Podcasts