Home coffee roasting is as simple (or as technical), as you want to make it.
You can roast in your oven, re-purpose a popcorn popper, use a skillet or buy an actual coffee roasting appliance. Whatever method you use, you will be on your way to drinking much better coffee.
The basic process is simple: use heat to turn green unroasted coffee into brown roasted coffee. Roasting times vary, depending on the method and batch size, but you can expect the process to last about 10 minutes for smaller batches and about 16 minutes for larger batches.

There are many ways to roast coffee. The method you choose should be influenced by how much roasted coffee you need and how much money you want to spend. Whether you choose a D.I.Y. approach or a small appliance depends mostly on if you want more or less automation.
D.I.Y methods are affordable and accessible.
We think using an electric popcorn popper is the best of the DIY methods. You can also use a skillet, a stovetop popcorn popper or a cookie sheet in your oven – while these methods are popular among home roasters, we think it requires a bit of experience to achieve good results.
Hot Air Popcorn Popper Instructions (Recommended)
Stovetop Instructions
Oven Roasting Instructions
Home Coffee Roasting appliances offer coffee specific features.
Depending on the model, machines made for home coffee roasting may offer chaff collection, smoke reduction, timers, temperature control, airflow regulation and digital automation. There is no "best" roaster per se, but there is a best one for you depending on how much coffee you want to roast per batch and how large of a machine you want to have sitting on your counter. Air roasters are generally smaller, roast evenly without scorching, and are better for smaller batches. While drum roasters often roast more, these machines are typically larger, require more attention and generate more smoke.
See our Home Roasting FAQ for more help finding the right roaster for you.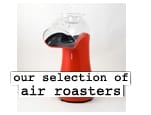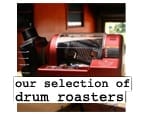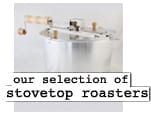 We always have a few dozen coffees to choose from so you shouldn't have a problem finding beans that make your taste buds happy.
We suggest purchasing a Sweet Maria's Sample Set to get started. Sample sets include 1lb bags of pre-selected coffees from the different growing regions we offer. Starting off with a sample set is an economical way to start roasting and become familiar with origin flavor characteristics. From there, your palate will have an idea of which ones are more delicious. This will help you narrow down which coffees you want to buy next.
Our Green Coffee FAQ will help take the mystery out of selecting.

Understanding the different stages of the roast will help you control the flavor of your cup and appreciate how different roasts result in different cup flavors.
Here's an image that provides an overview of the process: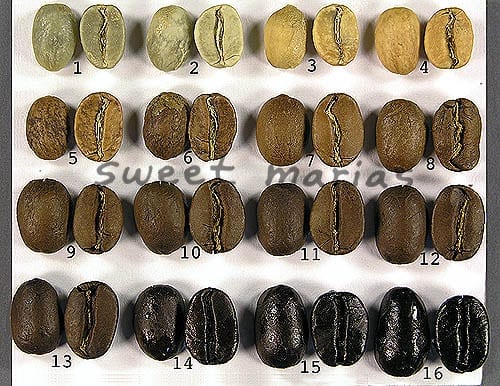 ---
Yellowing: For the first few minutes the bean remains greenish, then turns lighter yellowish and emits a grassy smell.
Steam: The beans start to steam as their internal water content dissipates. This is also known as the drying stage.
---
First Crack: The steam becomes fragrant. Soon you will hear the first crack, an audible cracking sound as the real roasting starts to occur: sugars begin to caramelize, bound-up water escapes, the structure of the bean breaks down and oils migrate from their little pockets outward.
---
First Roasted Stage: After the first crack, the roast can be considered complete any time according to your taste. The cracking is an audible cue, and, along with sight and smell, tells you what stage the roast is at. This is what is called a City roast.
---
Caramelization: Caramelization continues, oils migrate, and the bean expands in size as the roast becomes dark. As the roast progresses, this is a City + roast. Most of our roast recommendations stop at this point. When you are on the verge of second crack, that is a Full City roast.
---
Second Crack: At this point a second crack can be heard, often more volatile than the first. The roast character starts to eclipse the origin character of the beans at this point and is also known as a Vienna roast. A few pops into second crack is a Full City + roast. Roasting all the way through second crack may result in small pieces of bean being blown away like shrapnel!
---
Darkening Roast: As the roast becomes very dark, the smoke is more pungent as sugars burn completely, and the bean structure breaks down more and more. As the end of second crack approaches, you will achieve a French roast.
---
Ack!! Too Late!: Eventually, the sugars burn completely, and the roast will only result in a thin-bodied cup of "charcoal water."
---
---
Check out our Use All Five Senses to Determine Roast Level and Using Sight to Determine Degree of Roast pages for more detailed information.
And for basics on the coffee aspect, see out Green Coffee FAQ