I was just asked about our current selection of Central America being slim. We are actually adding a Guatemala  and a MexicoMexican coffee originates from South-central to Southern regions of the country. For that reason, coffees from Coatepec and Veracruz are much different from Oaxacan Plumas, which are in turn much different from the Southernmost region coffee late this week, but it is too early for many new cropRefers to fresh shipments of green coffee within the first month or two of the earliest arrivals ... not quite the same as Current Crop, which means the most recent harvest. As a stable dried Centrals still. We had a fantastic delivery of Costa RicaCosta Rican coffee is typically very clean, sweet, with lots of floral accents. hey are prized for their high notes: bright citrus or berry-like flavors in the acidity, with distinct nut-to-chocolate roasty flavors.: Can a coffees, but we are still a month away from the bulk of the microlot arrivals.
A few general comments on SM and our coffees. We sell through many of our lots rapidly and it's really important to us that the green coffee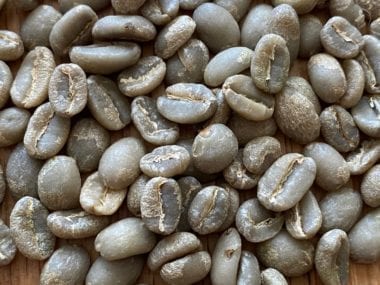 Green coffee refers to the processed seed of the coffee tree fruit. Coffee is a flowering shrub that produces fruit. The seeds of the fruit are processed, roasted, ground and prepared as an infusion.: Coffee is new crop. All our Centrals now are new crop. Arrival dates are posted on every review! This is critical, because if we had a Central from 2010 crop now, even stored in Vac Pack or the special Grain Pro bags we use, chances are the flavor profileFlavor Profile implies a graphical impression of a particular coffee, whether it be an artistic portrait or data graph of the perception of flavor compounds. In the case of our spider graph charts in each and cupping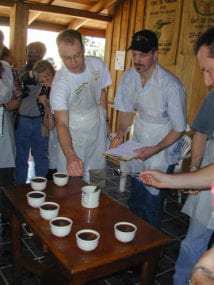 Cupping is a method of tasting coffee by steeping grounds in separate cups for discrete amounts of ground coffee, to reveal good flavors and defects to their fullest. It has formal elements and methodology in score we originally assigned to it would no longer apply; the coffee would be fadedA general characterization that cup flavors are diminishing in quality due to age of the green coffee, and loss of organic compounds. Before the use of inner lining barrier bags such as Grainpro or Ecotact, in flavor. We know that home roasters buy green coffee to store for some time before using. And I try to take that into account on all the coffees we review and ship.
Freshness and seasonality are not terms you can apply to coffee in the same sense as produce like peaches and avocado! And yet they are not irrelevant to coffee either. After all, it's not like stocking soda pop on a shelf; it doesn't last forever, and when it's gone we can't just go make some more.
As a side note, I have been asked about Sumatras and their mysterious absence on our list right now. There has been a lack of cup quality on the arrival samples I have cupped lately, so we have pulled it from the list. We have a shipment leaving Medan within a couple weeks, so that is still about 6 weeks from arrival. But we should have a nice wet-hulled SumatraIndonesians are available as a unique wet-hulled or dry-hulled (washed) coffees. Giling Basah is the name for the wet-hulling process in Bahasa language, and will have more body and often more of the "character" that before then, based on some recent samples I have been cupping here.  -Tom