Nov. 1, 2018
Sign up for our tasting event on Friday, Nov. 16th and taste a selection of Sweet Maria's coffees. Julio, our lead roaster will be selecting, roasting and brewing some of our current offerings. Please note that this will be a tasting and not a cupping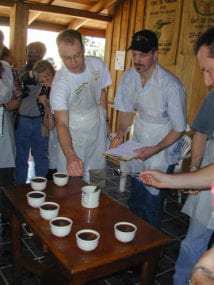 Cupping is a method of tasting coffee by steeping grounds in separate cups for discrete amounts of ground coffee, to reveal good flavors and defects to their fullest. It has formal elements and methodology in since cupping this many coffees with a large group can get a little messy. Also, tasting coffee drip brewed compared to coffee from a cupping bowl can give you flavors a bit closer to what you might get at home. Sweet Maria's staff will be on hand for questions or random coffee conversations.
This is a free event but you must sign up to attend. Space is limited.
Email [email protected] to sign up.
Friday, November 16, 2018
1pm – 1:45pm
Sweet Maria's Coffee
2823 Adeline St.
Oakland, CA 94608
This is an in-person event at our brick and mortar location in Oakland, CA. We will be producing more online events for everyone that doesn't live in the SF Bay Area in the future.