The last destination on our 3-part December 2009 journey was Sidamo and Yirga Cheffe areas of South Ethiopia.
We were hoping to get to Moredocofe in the Gjui area near Shakisso, but there are local problems between the farmers and gold miners in the area. If they mistook us Faranji (foreigner) as gold miners, we might be in trouble, so we ahd to re-route. We focused on visiting cooperatives (Unions) in Yirga Cheffe and Sidamo.
This was a harvest trip, not a cupping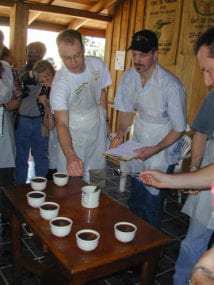 Cupping is a method of tasting coffee by steeping grounds in separate cups for discrete amounts of ground coffee, to reveal good flavors and defects to their fullest. It has formal elements and methodology in trip, a time of the crop cycle to see the picking of cherry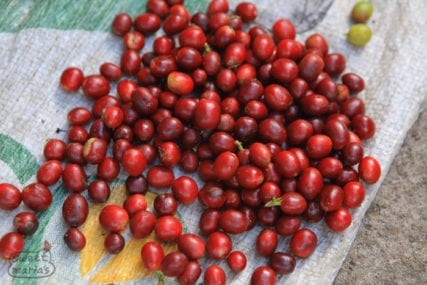 Either a flavor in the coffee, or referring to the fruit of the coffee tree, which somewhat resembles a red cherry.: Either a flavor in the coffee, or referring to the fruit of the coffee and processingThe removal of the cherry and parchment from the coffee seed.: Coffee is either wet-processed (also called washed or wet-milled) or dry-processed (also called wild, natural or natural dry, and we abbreviate it DP sometimes)., whereas if you come in April it's great for cupping stocklots from the warehouse, but there is no coffee production going on.
I was with Jeremy, and we met Aleco Chigounis and his dad Tony Chigounis in Addis. Aleco is with Stumptown, his dad with old school Lacas Coffee in Philly … a rare thing when 2 generations are in coffee in the US.
Wim van Kooten of Trabocca pulled it all together and kept things sane, somewhat. Of course getting stuck in the mud after a downpour on a distant road near Hache was not in the plans, nor was the missing airplane that was supposed to get us to Addis from KenyaKenya is the East African powerhouse of the coffee world. Both in the cup, and the way they run their trade, everything is topnotch.: Kenya is the East African powerhouse of the coffee world. Both in the first place, but it just adds a bit of spice to any coffee sourcing trip. I mean, it was going way too smoothly up until then. -Tom
Here's the multitude of images from the Ethiopia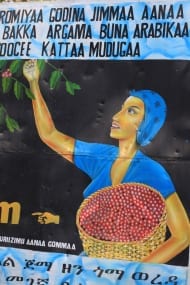 Ethiopia is the birthplace of coffee: it is in the forests of the Kaffa region that coffee arabica grew wild. Coffee is "Bun" or "Buna" in Ethiopia, so Coffee Bean is quite possibly a poor Harvest Trek in December: