Oct. 23, 2015
We are sponsoring a coffee roasterA machine for roasting coffee. Or the person operating it! The basic requirements for a coffee roaster are a heating element that gets suitably hot and a mechanism for agitating the beans.: A mechanism for design contest. Well, it's a contest, and also a community of engineers/product developers that are passionate about creating a new appliance that roasts coffee in a new way. We are excited because the rules state contestants must submit designs that will work inside a convectionTransfer of heat through the bulk movement of a fluid. In the case of coffee roasting, we discuss convection in the context of heated air moving as a fluid through a roast chamber. oven. Traditionally ovens have been a very tricky tool to roast coffee with so it's wonderful that there are great minds out there thinking about how to make oven roasting easier.
So far, most contestants are teams of young folks that we hope continue creating appliances with coffee roasting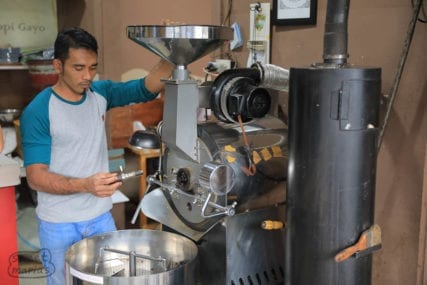 The application of heat to green coffee seeds (beans) to create palatable material for brewing a great cup!: Coffee roasting is a chemical process induced by heat, by which aromatics, acids, and other flavor components in mind.
Thank you to Justin at FirstBuild for putting together this awesome brain-powered collaboration. We look forward to helping out with the judging process next month.
Learn more about this contest by clicking here.
Does this get your creative juices flowing? We are always very interested in your homegrown roaster designs. Want to share? Send us photos plus a short description of that crazy machine you roast with or that Franken-roaster you are working on and we'll compile a blog post with everyone's DIY roasters. Email your photos to us at [email protected] with "my roaster" as the subject line.