Gaggia has made espressoA small coffee beverage, about 20 ml, prepared on an espresso machine where pressurized hot water extracted through compressed coffee.: In its most stripped-down, basic form, this is... ...more equipment since forever … in fact modern pump espresso machines were a Gaggia invention!
(This is a vintage support page for the Gaggia espresso machines we used to carry. We are maintaining it so those looking for Gaggia part information can find what they are looking for, but we don't support this equipment any more.)
I started pondering the merits of the Gaggia home equipment when I checked over their machines at the Specialty Coffee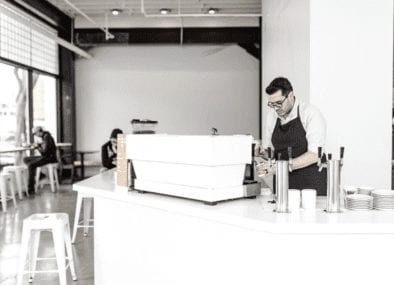 Specialty coffee was a term devised to mean higher levels of green coffee quality than average "industrial coffee" or "commercial coffee". At this point, the term is of... ...more Association of America trade show (in fact I had been eyeballing the machines for years at the shows).
What made me start to test them in my lab was the fact that their "low end" machines, starting at just $229, had a no-gimmick full-size commercial coffee handle, a pump that produced 17+ bars of pressure, and could make true 2 ounce double espresso with bucket-loads of crema. (Gaggia discontinued their low-end machine in fall 2007.)
I could also get a fine ristretto from the machine modifying tamp and grind. And I had heard good things from our home-roasting customers who own a Gaggia, and their merits for those people who don't have $1300 for an Andreja!
So I ordered and tested the Espresso, the New Coffee, the Baby and the Classic (Models have since changed – again since fall 2008). All the machines have a solid basic unit – the Baby and the Classic have notable features but you pay for the upgrades. Let's look at the Gaggia components, then …
Gaggia: 63 Years of Coffee History
In 1938 Achilles Gaggia patented the process to outfit an electric pump on an espresso machine, revolutionizing the the espresso extractionRefers to the process of infusing coffee with hot water. Hot water releases or "extracts" the flavor from the roasted, ground coffee. The term is used mostly with... ...more process.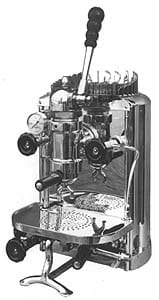 In motorcycles and espresso machines, vintage singles are very cool …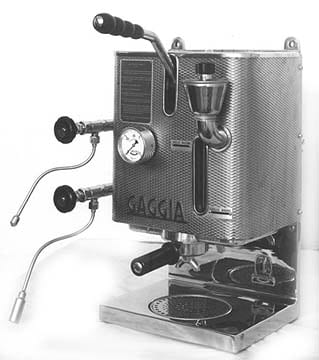 … here are two vintage Gaggia commercial single-group machines. No, we don't have these for sale (I wish we did)!

All Gaggia models have the same commercial-sized 58mm chrome-plated brass portafilterThe part of an espresso machine which holds the filter basket, into which coffee grounds are placed.: The part of an espresso machine which holds the filter basket,... ...more handle. I wish the grip was a little rounder, but that's just me being fussy. A heavy, brass coffeehandle is very important since it needs to hold heat (to prevent heat loss during espresso extraction). This puppy is 16 ounces in weight.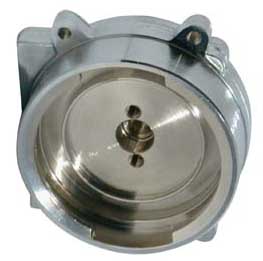 The Gaggias all have the same forged, marine-chromed, solid-brass group head, another example of having good metal mass to store heat for proper good espresso results.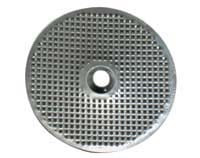 Gaggias have an easy to replace shower head that screws into the group head, just as your commercial machines have. It's easy to change and to remove for cleaning purposes.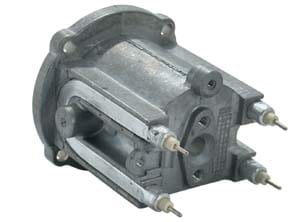 All Gaggias have the same high-capacity boiler. The machine is ready to go in 5 minutes or less. With the heating elements outside of the water tank, corrosion and calcium buildup are prevented. Dual heating elements are rated at 1370 watts, one of the highest among home machines. The only maintenance is to use a descaler in the aluminum tank periodically. The Gaggia design is a smaller tank with a powerful boiler. This means it gets water up to temperature fast if you use a lot in a short amount of time, and there's less water to flush through the system for cleaning. It makes it a better machine for home, for making a few espresso, and not for a shop. But if you are buying a Gaggia, you probably aren't needing 12 espresso in 5 minutes, eh?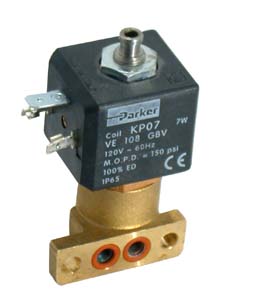 The : this does cost more. Do you need a 3-way valve to make perfect espresso? No! But it means the machine automatically releases high tank pressure so the "puck" is drier after extraction, and you can clean the machine by backflushingBackflushing is a process done to espresso machines to clean them, where water is forced back into the machine to flush out coffee residue.: Backflushing is a process... ...more. Note that Gaggia USA does not officially support backflushing because it may splash hot water out the release valve into the drip tray. This is a legal concern – you can backflush but you do it at your own risk.
Gaggias have a really nice quality, high-output 55 watt pump that produces over 17 bars of pressure. A good pump is why this small machine can use a commercial-sized 58mm, no-gimmick (no "cremaCrema is a dense foam that floats on top of a shot of espresso. It ranges in color from blond to reddish-brown to black. Blond crema may be... ...more enhancer") portafilter handle. According to Ernesto Illy, you need 9 bars to make great espresso, but you want to be using a machine capable of more, and these Gaggias are.Also: All models have manual milk frothing or a slip-on "turbo-froth adapter" for better steamed milk. All have cup-warming feature. All have removable water reservoirs for easy filling. All have lighted switches to indicate on-off and that the machine is at temperature to use.
Okay, so what do I think are the drawbacks of the Gaggia machines?
Well, they have aluminum boiler tanks, not brass. I think Gaggia's score a little low on initial impressions/appearances: I want to confess that I am a little underwhelmed when opening the box for the first time at the material surfaces. Even the incredibly functional coffee handle has a little rippling to the surface (it's cast/chromed brass) and the machine badges are sort of silk-screened on. This ain't no Pasquini, where every surface is mirror smooth. It's also not $1300! But I am being fussy in these complaints … in fact I always gripe when a coffee machine has put money into appearance and not function. Here we have solid, high-quality internal components, and a bit of cheapness on externals. But it's the quality of the espresso that we are after, not fetishizing the appearance of the machine. If you want a machine just to look at, buy a Francis Francis! I have read the online praise and criticism of Gaggia machines, and find it amazing that even those who have had to replace a pump, or after time upgrade to more expensive machines, still say that the Gaggia was solid and made great espresso! Our machines are backed by Gaggia-USA/Importika. In the past, there was not a single repair/parts/tech source backing these machines. Now that there is you can be assured that technical advice, parts and warranty service are close at hand http://gaggia-usa.com . . -Tom
Gaggia Espresso Machine Warranty Information Warranty: 2-year parts and labor through Importika. Any machines taken out of the United States are void of their warranty. 1st year warranty covers parts and labor; 2nd year covers parts only. A shipping and handling fee will be applied to all warranty repairs and replacement parts. Warranties do not extend to accessory parts or normal wear parts such as gaskets, portafilter handles, baskets, pannarello wands etc. Parts ordered through Importika by phone are final sales. Please have manual and part number ready. Please inspect packages immediately upon receiving. All claims must be issued within 5 business days. Please note most of the machines we sell are tested at the manufacturer and you may find residual coffee or water in/on new machines. Warranty questions can be directed to Importika at 1.888.389.4123.