We are participating in the 2015 Grounds for Health Roasters Challenge and we are hoping you can help too.
What is it and how can I help?
It's a friendly competition between coffee companies east and west of the Mississippi to see which coast can raise the most money for cervical cancer prevention in Ethiopia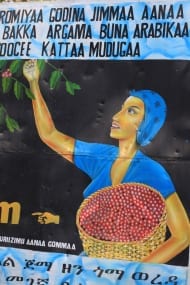 Ethiopia is the birthplace of coffee: it is in the forests of the Kaffa region that coffee arabica grew wild. Coffee is "Bun" or "Buna" in Ethiopia, so.... Donations will be matched dollar-for-dollar by the President's Emergency Plan for AIDS Relief (PEPFAR) in its support for Pink Ribbon Red Ribbon, a public-private partnership focused on reducing deaths from cervical and breast cancer in Latin America and Africa. We recently made our donation and we hope you can make a donation too. Of course, we really want the West Coast to win but we totally understand if you live on the East Coast and you want your donation to fund the East's donation. Either way, everyone wins.
CLICK HERE to learn more and donate.
The challenge ends on Mother's Day 2015 and the goal is $200,000.