Last week Aleco and I went to Chicago. This was the very first trip like this that we've taken as Shrub. A visit to an area where we really focused on expressing to a group of roasters in person what the shrub could do for them. It wasn't a straight out door to door sales call as much as it was responding to a growing roaster community. There are a number of new roasters who are coming up all over the place in this town, and there is a truly collaborative spirit amongst them.
I was a roaster in Chicago for a good long while and it is incredibly inspiring to me that there are so many roasters in town now. Not only did we want to go to Chicago so that we could speak with all these roasters about how Shrub could be of service to them, but we also very much wanted to get as many of these folks all into one room as possible in order to talk about the coffees on the table as well as to get us all talking about roasting in general. How lucky we were that so many of the roasters there were already closely involved in collaboration, cupping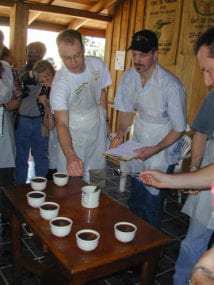 Cupping is a method of tasting coffee by steeping grounds in separate cups for discrete amounts of ground coffee, to reveal good flavors and defects to their fullest.... ...more regularly together, some even doing collaborative blends, or even playing in bands with each other. This is what really makes Chicago such a great coffee spot right now; not only are there a number of players who care about quality, but there is a real sense of community and support.
One of the other extremely interesting parts of all of this is that there is such a great diversity of machines, profiles, and approaches. There isn't a singular Chicago style that I could point to, or even a trend beyond thoughtful and involved coffee offerings. There are a number of different approaches and styles of roasting that are going on in town, and they all seem to have a pretty solid following. Even the much maligned air-roasting is well represented in a Willy Wonka's wonderland of roasting facilities, and the coffee from these roasters is sweet forward and intensely aromatic. I was really interested in checking out these air-roasters and Jesse Diaz of Dark Matter Coffee was much obliged to let us give it a go, even at 3am in the morning. Jesse also hosted our tasting event at their roastery on Western Ave where over 20 folks showed up in the freezing sleet and snow to check out some shrub coffees, representing over 8 different roasting companies.
It was a blast to go around and check out all of the cool new spaces, but I absolutely loved getting all of these roasters together in one room to talk about coffees, talk about the craft of roasting, and to celebrate that they're all there doing something that they care about. Cannot thank Jesse and Dark Matter enough for hosting and all of the roasters who came out for braving the elements. Also, I have to give a special shout out to Sean Capistrant at Metropolis Coffee for letting us use their vintage 1934 Gothot Sample Roaster, and to Christoper Oppenhuis of Halfwit and Gaslight Coffees for helping me organize our visit. Also, We were stoked to see a great crew from Stumptown and Intelligentsia show up at the tasting as well as Intelly hosting Aleco and myself at their roasting facility where the sageA flavor hint of sage found in coffee, either leafy sage, dried sage, or sage flower. This could indicate a more rustic cup quality, or even defect flavor... ...more Doug Palas gave us an amazing high mountain oolong tutorial.
It was so great to have Aleco there to talk about our sourcing and where we're putting our energies and also to talk about the coffees on the table and why they're special, and then for myself to be able to spend time with folks talking about roasting and what was possible with these coffees. We saw so much, and so clearly, all these things set in motion that we had put the Shrub together for in the first place. It was certainly gratifying for us, and I really hope that we can continue to build ties with the many roasters in this great city.
Chicago has been a great coffee town for a good many years. It doesn't surprise me in the least that what is going on there now is happening and growing. I only hope the Coffee Shrub can be a service to this awesome crowd and that we can help the roasters here continue to push at the boundaries of the expected.