The Nesco is easy to use, and has limited control of the roast.
Just choose from two pre-programmed roast profiles, "Medium" or "Dark," and the Nesco will take care of the rest – and it has an automated cool cycle. 
The Nesco is a simple machine for those wanting a straight-forward roaster that just turns green coffee into brown coffee. It has a small footprint, is easy to move in and out of a kitchen cabinet and is a great, low-mess, low-stress way to roast coffee.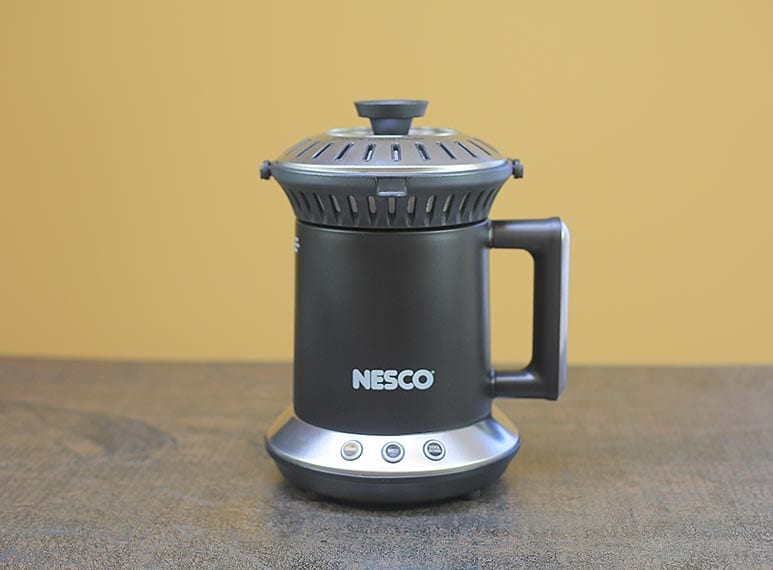 It roasts 4oz at a time. You can roast less, but not more. The chaff collector works great and will keep your kitchen counter free of chaff. Roasting coffee does produce smoke and you will have to roast in a space with good ventilation but roasting under a stove hood vent, near a window or fan will do the trick.
Those familiar with popper roasting will recognize the vents at the bottom of the roast chamber. The noticeable difference is the amount of agitation the Nesco does (or doesn't) provide to the coffee beans. Most popcorn poppers offer much more air velocity giving you a nice show when your coffee beans start to dance around as they lose weight during the roast. The Nesco's show is much less dramatic but the roasts come out nice and even.
See the Difference Between an Air Popper Roaster and a Nesco!
The Nesco Is Simple to a Fault
The controls are very simple. Three buttons…"dark", "medium" and "cool down". This means roasting with the Nesco will be very simple but at the same time, it offers you little to no control over adjusting your roast. If you are the type that likes to tweak recipes, adjust, customize and tinker, there are other machines that might fit your needs.
CLICK HERE to see the Nesco CR-04-13 Coffee Roaster in out web cart at Sweet Maria's!