A video and further information about our all-glass coffee brew set. It makes a great cup!
We are adding this small all-glass, low cost coffee brew set to Sweet Maria's site today, and I wanted to explain why I like it so much … basically because I have getting some great cups from it! It is small capacity, 350 ml is ideal (like 11.5 ounces). I use Hario V60 No 1 size, although the more standard No 2 size works fine too. But it brews a bit like a Chemex in a way, or hybrid of Chemex and V60. I explain how I fold the filters to a slight narrower angle, hence we call it a V50 filter brew (!?) Anyway, it is cheap and makes great coffee! Here is the link to the product: Glass Coffee Pour Over set for $19.90 !
This complete glass brewing kit includes a borosilicate glass dripper with matching carafe, and a pack of 100 Hario V60 filters. It's a great pour-over coffee brewing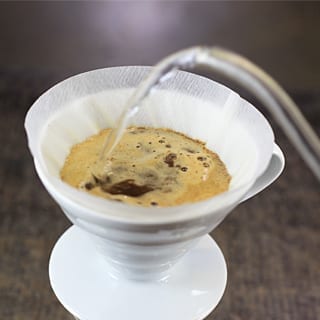 The process of making an infusion of water and roasted, ground coffee. In the most basic sense, hot water is added to coffee ground to produce a drink.... ...more set for a couple cups of coffee. We love the coffee we get from this dripper!
We know people prefer glass or ceramic for brewers, and with our high temperature borosilicate glass brew set, you coffee only touches glass! While the kit says it brews 400ml (13.5 oz), we thing 350ml (11.8 oz) is better.
I have brewed some great coffee with this dripper, but there is one unique thing I do: fold the V60 filter to a slightly narrower angle. 60  degrees is a little wide for this dripper. Let's call it a V50 brewer. (Scroll the photos above to show how it's best to fold the filter)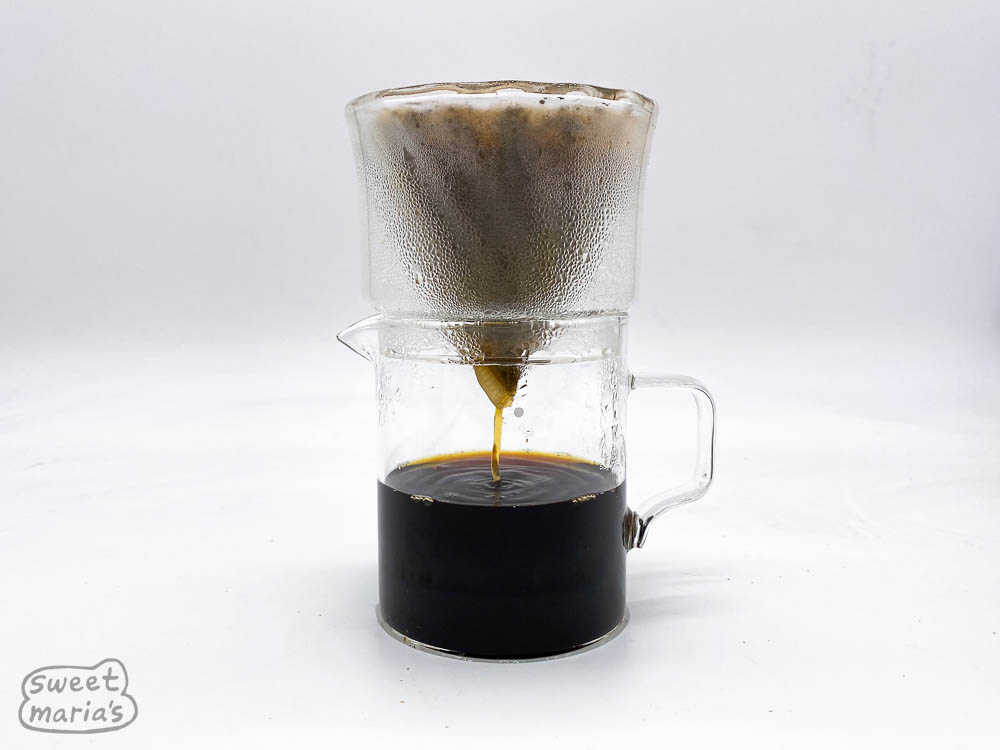 In a way, this brews a bit like a mini-chemex more than a Hario type brewer. The drainage is slowed by the way the filter sits against the side walls, and I think that's part of why everyone here at Sweet Maria's is loving the brew results from this little glass dripper kit. Some type of gooseneck kettle is needed to get the best results here, as with most pour over brews.
Hario V60 Filters in small #1 Size
We also have the Hario V60 Filters in No. 1 Size available as of today, if you want to buy them to go with the glass brew set.