Traveling in the coffee areas of Boquete, Volcan, Chiriqui way back in 2002
These were something I had uploaded way back in 2002 when I went to the panamaPanama coffee ranges from medium quality lower altitude farms to those at 1600 - 1800 meters centered in the area of Boquete in the Chirqui district near the border with Costa Rica. Some farms feature Coffee competition in Boquete.
I don't know why I uploaded all these photos! I had an ethic that I wanted to share everything I learned, because Coffee knowledge was so difficult to access, and because I was excited.
So here's a bunch of random 2002 pictures from Panama coffee travel.
The judging was Monday through Wednesday and the last of the judges arrived on Monday morning. There were 26 coffees entered in the competition and 1 had been disqualified for having a noticeable taint in the cup (rare among high quality Panamanian coffees).
There was a total of 16 judges and 6-12 cups were prepared from each sample …So there was a lot of slurping going on. There were 3 cupping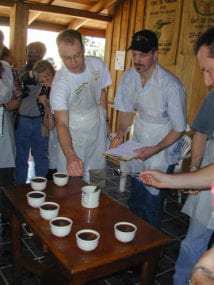 Cupping is a method of tasting coffee by steeping grounds in separate cups for discrete amounts of ground coffee, to reveal good flavors and defects to their fullest. It has formal elements and methodology in sessions, then a finalist session for the top scoring samples
The coffee trees were in beautiful shape and still blooming although it was late in the crop cycle for this.
If you have never smelled coffee flowers, they are sweet -like jasmine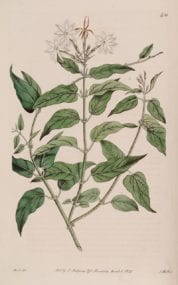 A very positive and intensely floral quality in coffee, usually with a strong aromatic component, reminiscent of jasmine flower or tea. There are many forms of jasmine; the common flowering vines, teas, potpourri, etc. Jasmine but not as overwhelming.
Some Links of Interest:
Cafe Ruiz -Coffee grower and roaster in Boquete
La Montana y El Valle – The Coffee Estate Inn
Boquenet.net a Spanish language site with information about Boquete.
www.cometoboquete.com a Boquete real estateA "coffee estate" is used to imply a farm that has its own processing facility, a wet-mill. In Spanish this is called an Hacienda. A Finca (farm) does not necessarily have a mill. (And Finca developer's site with selected information about his real estate, activities, hotels, restaurants and tours
PanamaInfo.com General Panama info including Boquete