Pasquini and the Livia machine are no longer offered here …
Since we started carrying the Andreja Premium espresso machine, the Pasquini started looking like an anachronism. We have decided not to continue stocking the Livia, or other Pasquini items. This page remains here as a snapshot of what we thought about the Livia (still, a very nice espresso machine!)  -Tom 6/05
---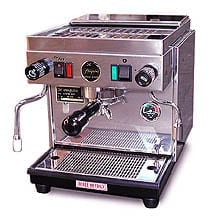 It's hard to know where to start the task of describing the Pasquini Livia 90 espresso machine. It's a compact commercial-quality espresso machine perfect for use in the home. Since commercial espresso machines are staggeringly expensive, and the Livia has topnotch internals, it follows that a home machine priced over a grand is in once sense … inexpensive! Most commercial machines are twice that much. But what am I saying? … that's a fortune to spend on a home espresso machine!
But, as they say, life is too short for bad espresso. And for the price of 2 good home machines that come close to commercial quality, but always have excuses and "yeah, buts" in the description, here's a machine to last a decade or two. Here's a machine that is ready to go in 7 minutes from flipping the on switch and can be left on, ready to make espresso, all day long. Here's a machine that needs no recharge time between shots, and the only one that can make espresso and steam milk at the same time. From the heavy-duty 1200 watt heating element to the quality electronics; from the all-copper boiler and "naval" brass (lead-free) components to the 16 Bar pressure from the pump, this is one solid chunk of metal. Speaking of metal, all chassis components are high-polished stainless steel or completely powder-coated for anti-rust protection. Livia Dimensions: 11.5 inches wide, 15 inches deep, 12.5 inches tall (16.5 inches with the lid open) Base adds 4 inches. The total unpacked weight without water in the tank is 36 Lbs.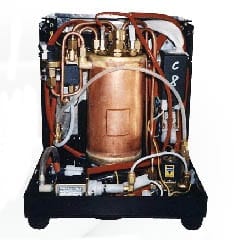 Internals: this is what you are truly paying for! The Livia is ETL listed for home and commercial use Power 120 V, 1200 W Pump pressure 15-16 bar max. The Boiler is 1.3 liters.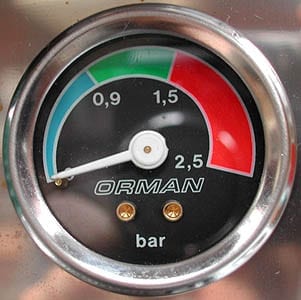 The Livia has a really nice, easy to read pressure gauge, and the factory setting is around 1.25 Bar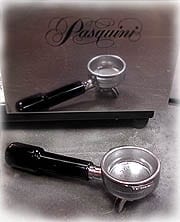 The Livia has a full-size commercial coffee handle with a 57 mm filter basket. This is the industry standard size for professional machines.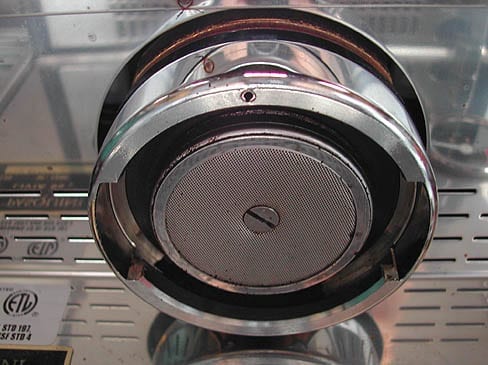 The group head is commercial quality, once a week you should clean the screen. The Livia group head does not have a problem with overheating when the machine is left on!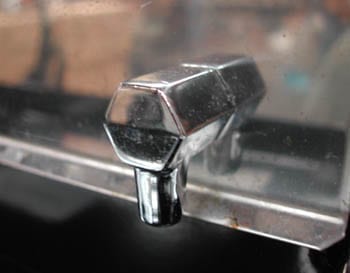 The Livia is a true back-flushing espresso machine, with a spigot to dispense back-pressured water into the drain tray
The two-piece drain tray just lifts out for cleaning.
The water reservoir holds 0.9 gallons (3.5 liters) and is removable for easy filling and cleaning. If the water level is low, the machine shuts down automatically. This my tester machine, so those are cup marks on top.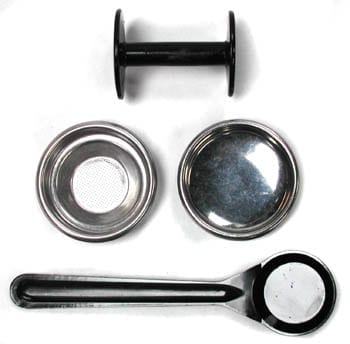 The Livia comes with two packets of accessories. Here we have the single espresso filter, the null filter for backflushing (cleaning), a dosing scoop, and a tamper (but we include our nice Italian Ergo Tamper for free with the Livia).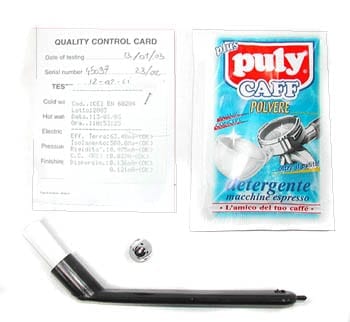 The second packet of accessories includes the Quality Control card from the factory (since each machine is individually tested and tuned), a packet of PulyCaff (equivalent of Cafiza from Urnex), a traditional Steam Wand Tip, and a Group Head Brush.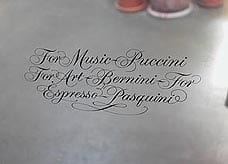 The Pasquini Motto on the side of the Livia 90
… it's so … Italian!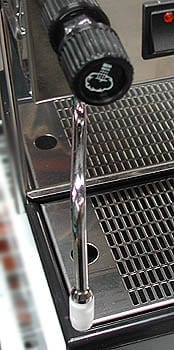 Steam control and wand. This machine makes steam like crazy.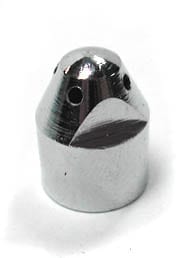 The machine comes with an easy-to-clean "Turbo Tip" for the steam wand. But for purists, they thoughtfully include a traditional steam tip too.
Here's my personal set-up: the Livia 90 S manual machine (my preferred model) with the ANFIM mill and the SS Pasquini 2-drawer base. I didn't take the white protective film off the base yet.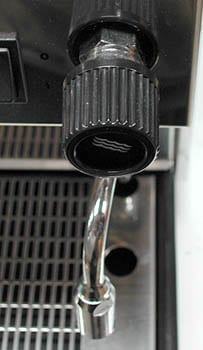 Hot water dispenser and knob -nice for quickly preheating cups too.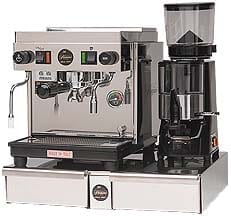 Here is the deluxe setup, the Livia 90 on the Pasquini 2 Drawer Base, with the Moka mill (same as Anfim)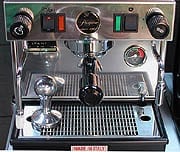 Pasquini Livia 90 S, Manual Model. We include in our price a set of Pasquini Espresso Cups (6 cups & saucers) or MokaBrown Cups (6 cups & saucers) and our 57.5 mm Italian Ergo Tamper and 1 Lb of our fresh Roastmaster Espresso (Roasted Coffee) $1379(+ 51 Lbs. shipping) No Longer Stocked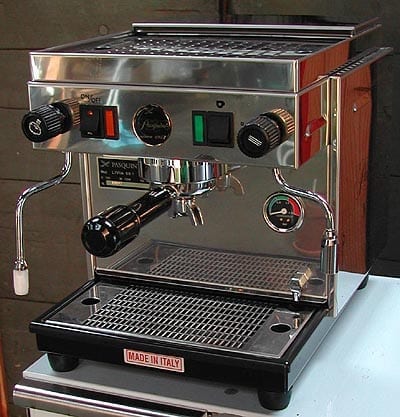 Pasquini Livia 90 Auto, Automatic Model -We drop-ship the fully Automatic model, and the cost is $1499(+ 45 Lbs. shipping). We think the semi-auto model does everything for less money (the guts of the machine are identical), but email us if you want the 90 Auto. It takes no longer to ship than the 90-S, which we keep in stock. No Longer Stocked
The Livia 2 Drawer Base is a real convenience. One drawer is a dedicated knock box for your espresso grinds, the other is a great, spacious storage space for accessories. It is especially handy to have such a hidden "cache" for spent coffee -it's not a nice thing to have exposed on a counter … and this is a very large knock box…

Pasquini Livia 2 Drawer Stainless Steel Base No Longer Stocked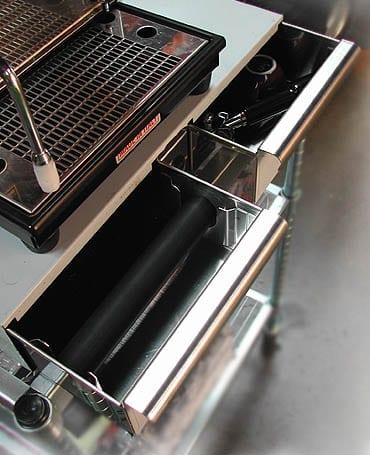 The base is all stainless steel construction, polished to a mirror finish. It ships with protective film on all the exposed sides (and in fact, I have the habit of leaving this film on, as you can see in the picture to the left!) Both drawers are extremely deep, and can be removed easily for cleaning. Most importantly, it provides solid footing for the espresso machine and grinder that rest upon it!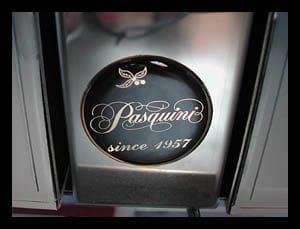 The 2 Drawer Base is 19 inches wide, 16 inches deep, and 4 inches tall.
Pasquini Livia 2 Drawer Base.
$199(+ 8 Lbs. shipping) No Longer Stocked
Pasquini makes a fine demitasse espresso cup, a 65 ML (about 2.6 oz.) thick-walled tazzina manufactured by the Italian firm IPA. It features the scripty Pasquini logo on one side and their motto on the other -molto italiano! It's a fine cup for a short shot, a short double, or even a single macchiato.
Pasquini Espresso Cup Set – 6 Cups & 6 Saucers
$79.00(+ 6 Lbs. shipping) No Longer Stocked