A two-part long-form video about features and functions of the new Popper coffee roaster.
Popper is made to be a simple, easy-to-use, adjustable air roaster. Seriously, these videos are overkill in terms of explaining the use of this home roasting machine!
But Tom discusses other aspects of air roasting in general, the intentions behind this moderately-priced roaster, and some favorite approaches to roasting on Popper.
Popper Coffee Roaster Demo Part 1 (16 min)
Part 1: Talking about features and function of Popper, the home coffee roasterA machine for roasting coffee. Or the person operating it! The basic requirements for a coffee roaster are a heating element that gets suitably hot and a mechanism.... This is part 1 of the long review of this new air coffee roasting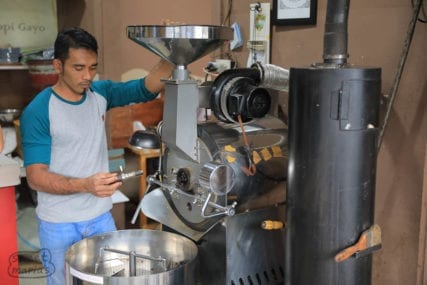 The application of heat to green coffee seeds (beans) to create palatable material for brewing a great cup!: Coffee roasting is a chemical process induced by heat, by... machine. Think of it as an air popcorn popper with added control features … nothing fancy but functional and intuitive. In a way, this long roasting demo isn't needed for such a straight-forward machine, but Tom touches on some other aspects of air roasting that might be useful too! The actual roast demo is in Part 2 FYI
Popper Coffee Roaster Demo Part 2 (20 min)
Part II: A roast from start to finishSimilar to aftertaste, but it refers to the impression as the coffee leaves the palate. Aftertaste is the sensations gathered after the coffee has left the mouth. We... on Popper, the coffee roaster. This is Part 2 of the long review of this new air coffee roasting machine. It took 4 tries over a week to get the audio to work ok, and it still kinda sucks. But … well I did my best. I repeat a few things here, like the roasts I like on Popper for espressoA small coffee beverage, about 20 ml, prepared on an espresso machine where pressurized hot water extracted through compressed coffee.: In its most stripped-down, basic form, this is... vs brewed coffeeBrewed Coffee refers to all coffee preparations produced by adding non-pressurized water to coffee grounds. Contrasted with espresso coffee, which is produced under pressure, brewed coffee is primarily.... The roast demo videos are way longer than they need to be, given that Popper is a very intuitive 100 gram capacity  air roaster. Overkill … it's what we do. 
By the way …. try "underkill" vs "overkill" …
Our short 2 minute video probably gives you all the need-to-know-basics!
And here is one thing you DO need to know to roast well on Popper or any air popcorn popper: