This past July held our first ever class here at Sweet Maria's. Classes were small – limited to 12 spots for each of the three times the class was offered.
Besides the fact that folks have asked us to offer classes for years, and we wanted to finally say we did it, our reasons for offering the sessions were pretty simple:
To get direct feedback from customers, hear their questions, come up with ideas about how to communicate better to customers;
To open up the business a bit, "crack

An audible popping sound heard during roasting. In coffee, one refers to "first crack" and "second crack," which come from two different classes of chemical reactions.: An audible popping sound heard during roasting. In coffee,

the door" on letting people see our process and interact a bit more;
To further educate people both about the coffee business and enhance their enjoyment of coffee.
To judge from the feedback we received, the classes were successful at explaining the process of cupping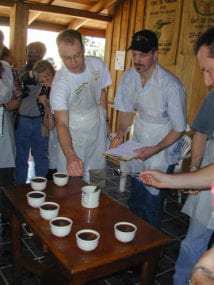 Cupping is a method of tasting coffee by steeping grounds in separate cups for discrete amounts of ground coffee, to reveal good flavors and defects to their fullest. It has formal elements and methodology in and a bit about flavor terms. We plan to have more simplified tastings in the future – since most folks who attended still seemed unsure of their to apply descriptive terms to what they sensing, and that is something that develops really through experience.
We have some photos below and I have attached pdf copies of the hand-outs so folks not in our area can get a sense of what transpired.
Introduction to Comparative Cupping Handouts:
Cupping by Tom Owen, 2008
Coffee Cupping Protocols
Cup of ExcellenceThe Cup of Excellence is a competition held yearly in many coffee-producing countries, designed to highlight the very best coffees from each origin.: The Cup of Excellence (COE) is a competition held more-or-less yearly in Cupping Form

setting up the cups

the classroom

Tom starts talking

mechanics of cupping

the hard work of tasting coffee

more tasting happening

preparing to expectorate

Tom in action
---