August 5, 2016
A little while back, we started selling a glass beaker that we think is great for a brewing into and serving from. The handle made it look like a mug but with a 2.5 cup capacity, only a true coffee chuggers would feel comfortable sipping from a vessel this big. This is why we decided to produce another glass beaker, only smaller, and still mug-like for better drinkability.
A size comparison between the two
It holds a little more than 400 mL (approx. 13.5 fl oz). The opening diameter is 3.25″ which makes a it a good size if you are into brewing with an Aeropress or other pour over drippers. It's made from sturdy lab quality borosilicate glass by Vermont-based Catamount Glass Company.
If you are keeping plastics out of your coffee brewing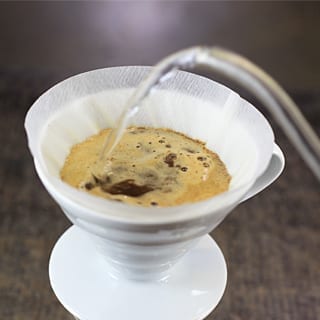 The process of making an infusion of water and roasted, ground coffee. In the most basic sense, hot water is added to coffee ground to produce a drink. Some brewing methods (espresso, turkish coffee) produce equipment collection, this glass beaker is a nice looking, multi-purpose piece to add.