A full length roasting demonstration video using the VKP stovetop popcorn popper to roast a pound of green coffee.
Roasting in a hand-cranking stovetop popcorn popper is still very popular for quite a few reasons. It's a fairly inexpensive way to start roasting your own coffee at home, it can roast a full pound batch of coffee, and you can roast darker than other methods, if that's your thing. It's also a decidedly low-tech, hands-on, sensory experience … no tech needed really.
Thompson roasts a full pound of BurundiBurundi coffee bears resemblance to neighboring Rwanda, in both cup character, but also the culture surrounding coffee. Burundi is a small landlocked country at the crossroads of East... ...more at home on a gas range, talking though the process and offering some pointers and other insights. This is a split screen video to show the roast on the stove better – not super attractive but it helps get the information across. This is the VKP Stovetop Popcorn Popper in the video, which can work on inductive electric burners too! It's advised to have a thermometer to check the warmup temperature before adding coffee, to prevent scorchingPatches of discolored burn marks on the coffee bean, due to a high-heat roast environment or other roast error.: Scorching refers to a roast error that can be... ...more.
There are various brands of these stove top popcorn poppers available. We used to offer the all-aluminum Whirley Pop but we prefer the one we currently sell, the VKP (aka Victorio) Stovetop Popper. It's a durable build, and can even work with an induction burner, as well as traditional electric or gas stove tops. Since stove top roasting produces smoke, some like to buy a small semi-portable burner and take their roaster outside.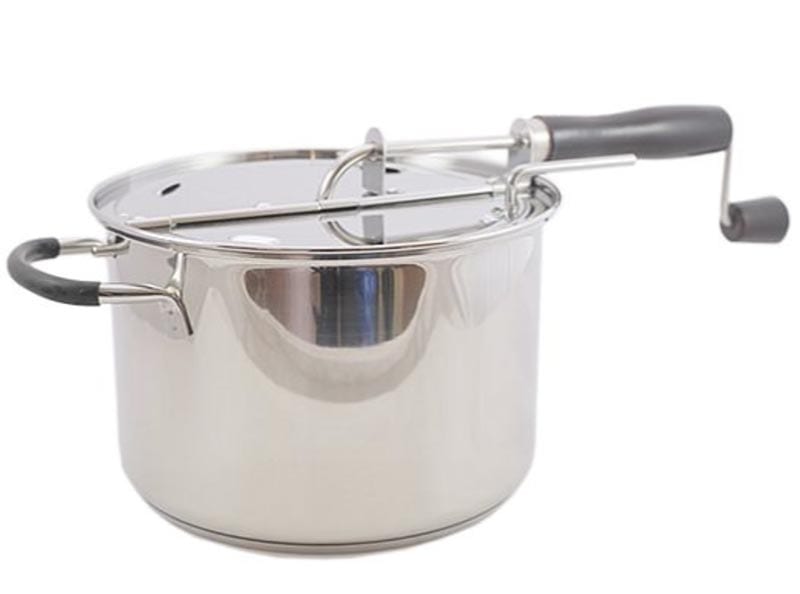 Download our printable Stovetop Popcorn Popper Tip Sheet:
---
Benefits of Stovetop Popper roasting:
You can roast more in one batch than air roasters and some expensive drum roasters! 8 oz to 1 pound batches are possible. This means you can probably roast enough for a week in one sitting with 1 or 2 batches.
You can get good roast results through the entire range, from City roasts to dark French roasts. Lighter roasts are a bit more difficult with this method, but all levels can be done well with a proper technique.
If you like doing things the "olde tyme way", you may enjoy this! There are no electronics to break. Completely Y1k compatible.
It's fairly quiet and with experience you should be able to hear the first crackFirst crack in one of two distinct heat-induced pyrolytic reactions in coffee. It is distinguished by a cracking or popping sound in the coffee, and occurs between 390... ...more and second crackAfter First Crack, a roast reaction around 440 to 450 degrees that is distinguished by a snapping sound. Second Crack is the second audible clue the roaster-operator receives... ...more easily.
You can have total control over the length of the roast, getting more of a "drum roast" profile, which some people prefer for espressoA small coffee beverage, about 20 ml, prepared on an espresso machine where pressurized hot water extracted through compressed coffee.: In its most stripped-down, basic form, this is... ...more.
You can go nuts and modify/customize the process endlessly. People have added spit motors or electric screwdrivers to power the agitator, bolted the roaster to camp stoves so it doesn't move around on them, installed thermometers of all sorts…
Problems with Stovetop Popper roasting:
Stovetop roasting produces a lot of smoke, mainly because you are roasting more coffee in each batch. You must have a hood over your stove that actually goes to the outside, or roast outdoors on a camp stove … or maybe you really like smoke..
This method requires some skill – you need to set the heat source so you don't roast too fast and scorch coffee, or too slow and bake it.
You need to be patient … to roast coffee well the process takes 8 to 15 minutes, and you need to stand there and slowly crank the roaster the whole time. Sometimes the popper doesn't crank easily and you need to overcome that …
… Stovetop poppers might require some adjustments and occasional repairs to keep working right. You are on your own, since you are using it for an unintended purpose you can't expect a warranty to cover you. Poppers are for DIY people (do-it-yourself). You may need to fix gears, replace rivets with screws, modify the stirring paddle, etc.
Some coffees don't get along with stovetop roasters and tend to jam them up … namely the Yemeni coffees and other small-bean types. PeaberryThe Spanish-language term for Peaberry is the same for "snail". See Peaberry for more information on the single bean fruit of the coffee tree. A peaberry is the... ...more coffees roast especially well because they "roll" in the popper.
VKP Popper jamming once it is heated up? The agitator tip assembly is supposed to have 1/4" free play on the shaft. See the instructions that came with the VKP Popper. You received a small hex head wrench, so just loosen the tiny bolt and adjust the free play. VKP Agitator not turning? The same little bolt might have come loose from the shaft. Use that hex head wrench and tighten it!
---
Stovetop roasting takes some practice. There are more variables than other methods since you set the heat and provide the agitation. But the results can be outstanding and the 8 oz batch is nice. It sometimes seems like a 3-handed act: before you start, try a dry-run by adding green coffee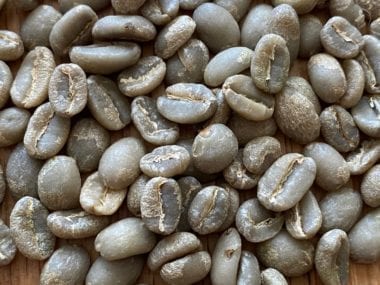 Green coffee refers to the processed seed of the coffee tree fruit. Coffee is a flowering shrub that produces fruit. The seeds of the fruit are processed, roasted,... ...more without any heat, and agitate it. In the course of the roast, agitation gets easier as the coffee loses weight and expands.
See the article below if you have any issues with the stirrer in the VKP StovePop: