(11/12/12)
…but some do. There's this tradition of adding cocoa powder to the top of milk drinks here. I am not sure why. But at least it precludes the fanciness of LatteAn espresso-based beverage with steamed silky milk on top, averaging 190-220 ml with 20 ml espresso, served in a ceramic cup or bowl, or a giant giant paper cup. art decorations.
In general the caliber of the espressoA small coffee beverage, about 20 ml, prepared on an espresso machine where pressurized hot water extracted through compressed coffee.: In its most stripped-down, basic form, this is a working definition for espresso: A small here, in particular from the shops we went to like Reuben Hills, Mecca, and Coffee Alchemy, is excellent. They really have the shots dialed in. We only had a few where I felt the roast was a little off.
But the green coffee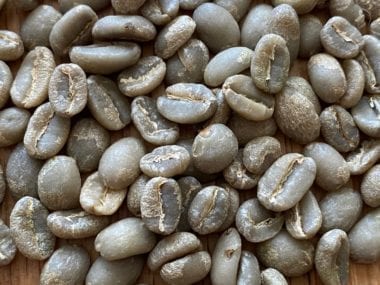 Green coffee refers to the processed seed of the coffee tree fruit. Coffee is a flowering shrub that produces fruit. The seeds of the fruit are processed, roasted, ground and prepared as an infusion.: Coffee scene here is where things are a bit sketchy. There just aren't the options we take for granted in the US. Oddly the access to Papua New GuineaPapua New Guinea (PNG) occupies the eastern half of the island it shares with the Indonesian province of Irian Jaya, part of Indonesia. The two primary areas for coffee production can be grouped roughly as doesn't seem to result in great PNG lots coming here. Then again we don't see great MexicoMexican coffee originates from South-central to Southern regions of the country. For that reason, coffees from Coatepec and Veracruz are much different from Oaxacan Plumas, which are in turn much different from the Southernmost region coffees much anymore in the US and they are a stones throw away.
Indonesian coffees are humdrum run of the mill types here. It's really a few Ethiopias and Central American coffees that are most prevalent in the better roasteries. Green coffee is very expensive here at the wholesale level. Well, everything is expensive here at any level.
Off to Melbourne and to sneak in a bit of surfing before more cuppings and cafe visits. I saw the Sydney opera house. It looked sadly small. But what a cool, vibrant place this is. -Thompson.