West Bend recently introduced a new Air Crazy popper (82418R) to its line of appliances. It shares the same name crazy name as the original version we carry (82416) but it's actually very different. We were excited to try one as a coffee roasterA machine for roasting coffee. Or the person operating it! The basic requirements for a coffee roaster are a heating element that gets suitably hot and a mechanism... ...more since it has a higher wattage. We were a bit disappointed to see that the hot air vent was at the bottom of the cylinder which in our experience is not good for coffee roasting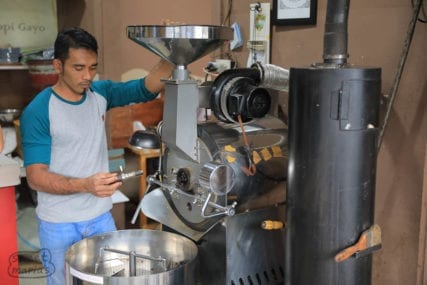 The application of heat to green coffee seeds (beans) to create palatable material for brewing a great cup!: Coffee roasting is a chemical process induced by heat, by... ...more since chaffChaff is paper-like skin that comes off the coffee in the roasting process. Chaff from roasting is part of the innermost skin (the silverskin) of the coffee fruit... ...more can get stuck under the screen and possibly cause a fire. We have heard of folks successfully using machines with "bottom screens" so we figured it wouldn't hurt to give it a shot.
Just so you don't have to keep reading to find out if it worked or not…It didn't work. Don't buy one for coffee roasting.
Still with us? Basically, this new machine just shoots a flume of hot air up the center of the bean mass, either ejecting raw beans or turning them black and oily in seconds. This is a recipe for a fire or at least a big mess. In no way is this a complaint aimed towards West Bend. They are a great company and aren't in the business of making coffee roasters so we should all consider ourselves lucky that they have, in the past, created machines that work well for roasting. These folks know their popcorn so this new device is probably excellent for popping fluffy, crispy corn.
Keep your fingers crossed that West Bend continues to produce the original Air Crazy. As far as we know it's the best hot air popper you can buy that works well for coffee roasting.
See the screen at the bottom of the metal cylinder? That's a sign that a popper is not good for roasting coffee.