(09/29/12)
I just did a whirlwind trip to and from the Sweet Maria's/Coffee Shrub compound in Oakland this week. It's always good to get together to talk about what things are most pressing and how we can make what we do work better for as many people possible. It's also a great time to do some recalibration cupping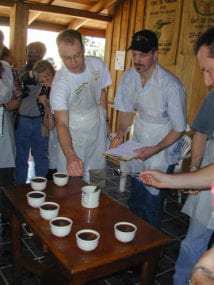 Cupping is a method of tasting coffee by steeping grounds in separate cups for discrete amounts of ground coffee, to reveal good flavors and defects to their fullest. It has formal elements and methodology in and make sure we're pretty much in line with each other on some different coffees. We're all very excited about these newly arrived Colombias, and I had many cups of various lots that just absolutely blew me away. We're talking a bit about looking at doing some cuppings in a few cities across the country, so stay posted for information about that.
One thing that we talked a great deal about in my short visit was how to best communicate what our services are and how they've evolved over the last 3 years. What's most important to convey is that we have done tireless work in our sourcing and think of our offerings as a carefully curated selection of interesting coffees. We also work diligently on keeping an eye on our coffees that are currently being offered, allowing for the coffees to change as long as that doesn't mean that they've developed any off characteristics. We embrace that the coffees change, and we are constantly interacting with these coffees and posting new comments about what we're currently seeing in the cups. This all means that there's not a bunch of less than interesting coffees to sift through, and we hope you see coffees that pique your curiosity.
One of the other key elements to our services is the volumes at which we sell coffee. Coffees are available in 50lb or 100lb shrub bags. As you may know, we recently upped this from 30lb and 60lb offerings in an attempt to better serve the needs of roasters as they grow, as well as maximize the savings and efficiency of shipping. After talking with some folks, it seems that there is maybe a lack of clarity about what this means. We want it to be very clear that we are happy to sell larger quantities of these 50-100 lb bags, whole pallet orders or even multiple pallet orders. I've heard comments from folks that felt that they had outgrown us, because they thought we only sold small amounts of coffee at a time and that we wouldn't be able to serve their needs as their roasting operations expanded. I urge any roaster who feels that they are in this category to reach out and contact us and talk to us about what you're looking for and how we can best support you. There are too many phenomenal coffees that we're bringing in to miss, and we are adamant about putting these coffees in the hands of passionate roasters.
There was also a lot of work that we just weren't able to get to due to the continued harassment of Oakland Scooter Hooligans. If you see these jerks, tell them to buzz off!