Sumatra Lake Toba 19+ Screen is a unique, large bean and foresty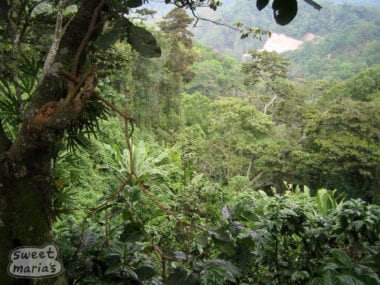 A flavor found in rustic Indonesia coffees, wet-hulled types from Sulawesi and Sumatra in particular, reminiscent of a walk in the woods.: A flavor found in rustic Indonesia... ...more lot, tons of pine, dark herbs and leather.
Yemen Mokha Matari is an intense cup with dark-fruited bittersweetness, allow 72 hours rest.
Espresso Workshop #25 – Saludos de Aleco is the first blend developed by the newest member of the Sweet Maria's family, expect a creamyCreamy is a mouthfeel description indicating thickness and soft, rounded texture. See also buttery. ...more shot with ripe stone fruits and a wild honeyIn coffee, honey-like sweetness is often found, but we use terms such as refined honey (highly filtered and processed) as opposed to raw honey rustic honey sweetness. This... ...more finishSimilar to aftertaste, but it refers to the impression as the coffee leaves the palate. Aftertaste is the sensations gathered after the coffee has left the mouth. We... ...more.