The Very Latest: Sweet Maria's Coffee is now 11 years old, and we still continue focusing our giving on those organizations that are active in coffee producing areas (among other areas) in an effort to help the people who grow and process coffee in originIn coffee talk, it refers to a coffee-producing region or country; such as, "I was just at origin." Of course "Origin" for most product we use is not... ...more countries. In addition to continuing to offer Fair TradeFair trade is an organized social movement and market-based approach to empowering developing country producers and promoting sustainability.: Fair trade is an organized social movement and market-based approach... ...more and OrganicGrown without the use of artificial fertilizers, herbicides, etc.: Organic coffee has been grown according to organic farming techniques, typically without the use of artificial fertilizers. Some farms... ...more certified coffees – we have started our own tiny effort at direct tradeA term used by coffee sellers to indicate that the coffee was purchased through a direct relationship with the farmer. Unlike Fair Trade and Organic certifications, Direct Trade... ...more – we are calling it Farm GateFarm Gate Coffee is the name we give to our direct trade coffee buying program. Farm Gate pricing means that we have negotiated a price directly with the... ...more coffees. You can read more about that here.
The Latest: See our note below about the excellent OXFAM International report on the abysmal world coffee prices and suggestions for a course of action.
---
Sweet Maria's is an very small business, scratching to make ends meet and working like nuts to keep up with demand. But after 4.5 years of running the show here and 12 years in the coffee business I realize that it is important to take a more active role in providing for the people who grow coffee worldwide, some of the poorest in the world, especially when disaster strikes. We make small donations whenever we can to the following relief agencies. When possible we target the donations to a particular area (as of this writing we have 2 coffees that we send .25 cents per Lb to Coffee Kids, and one that we send .20 cents per Lb.: BoliviaBolivia has always been a coffee origin with great potential, the potential to have a unique Specialty coffee offering with unique cup character.: There's no better way to... ...more Caranavi , PeruPeruvian coffees have Central American brightness but in a South American coffee flavor package overall. The good organic lots do have more of a "rustic" coffee character.: Organic... ...more Norte and Nicaragua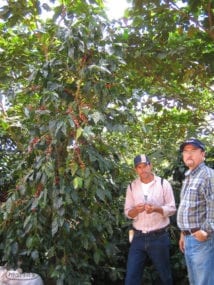 Nicaraguan coffees from the Segovia, Jinotega, Ocotal and Matagalpa regions are nice balanced cups. They often possess interesting cup character along with body and balance, outperforming many other... ...more San Martin!). We also offer Fair Trade coffees
One ArabicaArabica refers to Coffea Arabica, the taxonomic species name of the genus responsible for around 75% of the worlds commercial coffee crop.: Arabica refers to Coffea Arabica, the... ...more coffee tree produces just 1 pound of coffee per year! Every bean in that pound of specialty coffee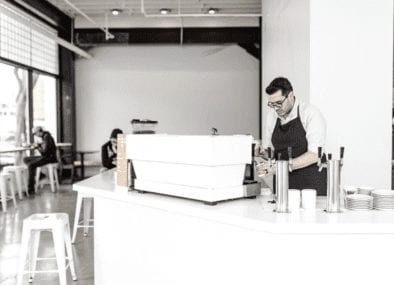 Specialty coffee was a term devised to mean higher levels of green coffee quality than average "industrial coffee" or "commercial coffee". At this point, the term is of... ...more has been meticulously picked, processed and sorted by hand … for the amount of care and labor that coffee farmers invest in the beverage we enjoy, the money we pay for it is astonishingly low! I would like to give something back to them beyond the price I pay for the coffee after it has passed through the middlemen. And especially in time of need. I wish I could give my time and work to these great organizations, but I can't right now. And our donations seem so small in the scheme of things… but I think it means a lot to simply take time to be aware of what others are doing (Doctors Without Borders for example, or the Red Cross in Timor) and honor and support their commitment to people in need
| | |
| --- | --- |
| | Mugged: Poverty in Your Coffee Cup. The recent Oxfam International report on the world coffee market and the effect of abysimal prices paid to farmers is the first study to make an accurate survey of the situation and suggest a course of action. To read their press release, click here. But you really need to download the full report (a PDF file) to adequately understand the situation. Also, take time to read Kraft and Nestle's responses to the indictments against the "big 4" coffee companies…they also make some good points. |
The recent coffee market : As you may know, the coffee market is at a record low, and it is hurting the farmers. Sweet Maria's is paying fixed prices far above the market price for most coffees, but we have bought a couple excellent quality coffees this year, and honestly felt that the coffee was worth more.
---
Fair Trade Certified Coffee at Sweet Maria's

One approach to making the coffee trade more equitable for farmers, to provide for a better standard of living in an unstable market and to ensure the future of quality coffee production, is to offer Fair Trade coffee. Sweet Maria's offers some Fair Trade coffees certified by TransFair USA. We attempt to offer as many Fair Trade coffees as we possibly can, based on our blind cuppingCupping is a method of tasting coffee by steeping grounds in separate cups for discrete amounts of ground coffee, to reveal good flavors and defects to their fullest.... ...more tests. The availability of these coffees is getting better each year, as more roasters and brokers sign on, but there are times when our selection is slim. I apologize about that. -Tom

What is Fair Trade? Fair trade is a concept that connects producers and consumers in more equitable, more meaningful and more sustainable ways. It happens through the development of consumer interest and the creation/cultivation of socially responsible importers. It is both values and market driven. With respect to the values upon which fair trade is based, find below the seven principles of the Fair Trade Federation (FTF), the largest association of fair trade organizations.

Fair wages

Paying fair wages does not necessarily mean that products cost the consumer more. Since Fair Trade Organizations bypass exploitative middlemen and work directly with producers, they are able to cut costs and return a greater percentage of the retail price to the producers.

Cooperative workplaces

Fair Trade Organizations work primarily with small businesses, worker owned and democratically run cooperatives and associations which bring significant benefits to workers and their communities.

Consumer Education

Fair Trade Organizations educate consumers about the importance of purchasing fairly traded products which support living wages and healthy working conditions.

Environmental Sustainability

Fair Trade Organizations encourage producers to engage in environmentally friendly practices which manage and use local resources sustainably.

Financial and Technical Support

Small-scale farmers and artisans in the developing world lack access to affordable financing, impeding their profitability. FTF members that buy products directly from producers often provide financial assistance either through direct loans, prepayment or by linking producers with sources of financing.

Respect for cultural identity

Fair Trade Organizations encourage the production and development of products based on producers' cultural traditions adapted for Western markets.

Public Accountability

FTF members' finances, management policies, and business practices are open to the public and monitoring by the Fair Trade Federation.

Copyright © TransFair USA. To read more visit the TransFair USA web site
---
These web sites provide up-to-date information about the quality of life in many of the regions our coffee comes from … If you have a minute, click on the emblems to visit their web sites!