A "sciency" look at the fruit of the coffee shrub, and the endosperm AKA "coffee bean" we so love to roast.
I created these images from macro photos I took. It is a cross section cut of a coffee cherryOriginally coffee literature referred to the fruit of the tree as a "berry" but in time it became a cherry. It is of course neither. Nor is the... ...more, with information gleaned from the article Coffee Bean Physiology that we have in our academic coffee article archives.
I find it really informative to look at the coffee plant, the fruit and the seed from this perspective. We are producing this imagery as a postcard, one we ship out with orders for the coming month.
The "coffee bean" we roast is a food supply for the nascent embryo of the coffee plant. It's not about us and our love of aroma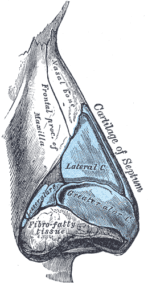 Aroma refers to sensations perceived by the olfactory bulb and conveyed to the brain; whether through the nose or "retro-nasally": The aromatics of a coffee greatly influence its... ...more, flavor and caffeineAn alkaloidal compound that has a physiological effect on humans, and a bittering taste. It is found throughout the coffee plant but is more concentrated in the seed... ...more! Caffeine functions for the plant to ward off insects and fungus, and the seed is just a "food reserve" to support the embryonic plant since the embryo itself cannot store it's own.
You can click on these to see the larger image size:
The "bean" of the arabicaArabica refers to Coffea Arabica, the taxonomic species name of the genus responsible for around 75% of the worlds commercial coffee crop.: Arabica refers to Coffea Arabica, the... ...more coffee cherry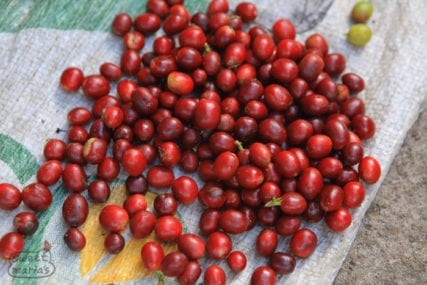 Either a flavor in the coffee, or referring to the fruit of the coffee tree, which somewhat resembles a red cherry.: Either a flavor in the coffee, or... ...more is a seed from this flowering tree, but given that we call a peanut a nut, and a tomato a vegetable, I suppose it's par for the course. In fact, the coffee fruit was most often called a berry in early literature, and now it is most commonly called a cherry, which it is also not.
The wikipedia states "the coffee fruit is also a so-called stone fruit," which does not sync with my understanding of a stone fruit as having a single "pit" / stone/ seed. Other sites define it as a drupe, which essentially means the same thing: stone fruit.
"In botany, a drupe (or stone fruit) is an indehiscent fruit in which an outer fleshy part (exocarp, or skin, and mesocarp, or flesh) surrounds a single shell (the pit, stone, or pyrene) of hardened endocarp with a seed (kernel) inside.
Coffee doesn't seem to conform entirely to this definition as it has almost no flesh and has 2 seeds that are not encapsulated in a single shell,nor is that shell "hardened". I would be interested in other opinions on this (comment below please). I am no botanist … just very interested in coffee. -Thompson