(08/20/10)
"Ever get a craving for something that's so persistent, you obsess over it for months? For the last six months, I would have given my right arm for a blueberry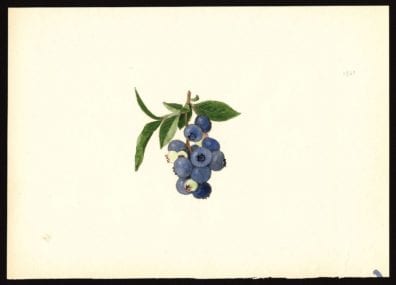 Blueberry flavors in coffee take different forms. Dried blueberry was something we first encountered in natural Harar coffee from Ethiopia. It seemed to be most potent in fresh new crop coffees and would fade in waffle. I know, it would have been easy enough to pop in an Eggo, but they're just not the same. And the blueberry waffles at Bob Evans are awful." That's from a Columbus, OH foodblog and I thought it a fitting introduction to my breakfast this morning, our newest offering:
http://www.coffeeshrub.com/shrub/coffee/ethiopia-dry-process-jimma-nigus…
But there's so much more going on here than one fruit flavor. I woke the entire warehouse up on this foggy Friday by brewing a pot from a batch Tom roasted for cupping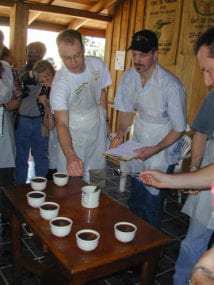 Cupping is a method of tasting coffee by steeping grounds in separate cups for discrete amounts of ground coffee, to reveal good flavors and defects to their fullest. It has formal elements and methodology in (City+City+ roast is an ideal roast level that occurs roughly between 425 and 435 degrees Fahrenheit in many coffee roasters with a responsive bean probe where First Crack starts in the 395 to 405 degree at most)…gotta love the advantage of being able to taste a cupping level roast in a TechnivormThe Technivorm is a Dutch-made electric drip brewer for the home that is known for it's good design, and good results. You can find them for sale on our site, the only standard electric drip. So potent and puckering, I'm not usually the guy who sits around waiting for the dry processDry process coffee is a method for taking the fruit from the tree to an exportable green bean. The whole intact coffee cherry is dried in the sun with the green bean inside. Later it Ethiopia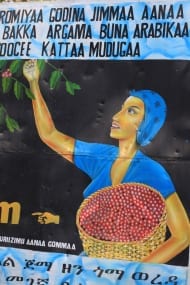 Ethiopia is the birthplace of coffee: it is in the forests of the Kaffa region that coffee arabica grew wild. Coffee is "Bun" or "Buna" in Ethiopia, so Coffee Bean is quite possibly a poor bandwagon but I'm jumping on the back of this fruityIn some coffee taster's lexicon, "fruity" means the coffee is tainted with fruit, and "fruited" means a coffee is graced by positive fruit notes. We don't exactly see the difference in terms of these two truck!