ProcessingThe removal of the cherry and parchment from the coffee seed.: Coffee is either wet-processed (also called washed or wet-milled) or dry-processed (also called wild, natural or natural... ...more and Roasting Cacao into Hot Chocolate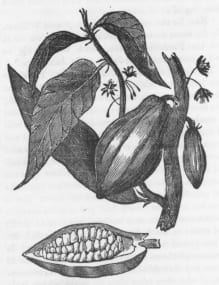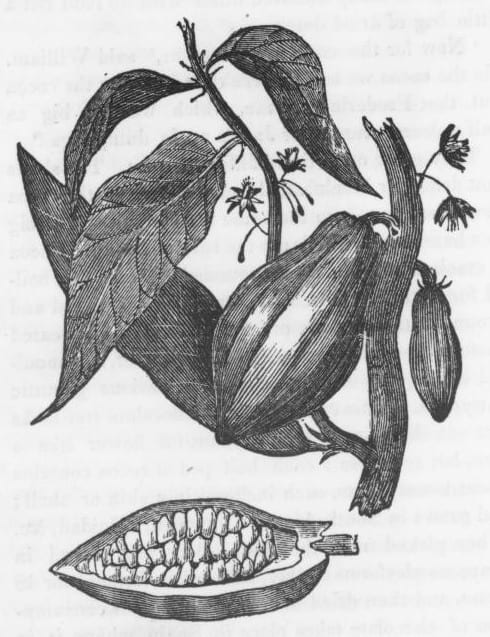 A general flavor or aroma term reminiscent of chocolate. But what type? Usually described with more specifics.: Chocolate is a broad, general flavor or aroma term reminiscent of... ...more
– a brief overview contributed by Regis Hanna
Living in PanamaPanama coffee ranges from medium quality lower altitude farms to those at 1600 - 1800 meters centered in the area of Boquete in the Chirqui district near the... ...more, where cacao grows, and having a family of chocoholics, it was only a matter of time before I ran into a cacao fruit and tried to do something with it.
Bought the fruit for $0.50 a piece, 4 of them, and brought them home and cut them open. Scooped out the beans, dried them on a tray in the oven for about 30 minutes and ground them in the blender. Tried to cook them up with milk, sugar and lecithin. The end product tasted like mint with a faint hint of chocolate. Not a good beginning.
So I consulted with the locals and the internet and learned.
1) You need to be sure the chocolate beans have been fermentedAs a defect flavor, a fruit quality in a coffee that is excessively ripe, toward rotten. Fermented flavor can be the result of poor wet-processing, over-ripe cherry, or... ...more. You can put them under banana leaves for aobut a week in the shade in the tropics, or just soak them in water for 4 days, and then (in either case) dry them in the hot sun for a day.

2) Roasting–at about 350 degrees for 15 to 20 minutes–until the popping stops. Be careful not to overdue it!

3) Clean the papery shells off the beans–can be done by hand, the beans are not that hot!

4) Right away grind it up in your blender as best you can.

5) Boil it up in water for 3-5 minutes, until the chocolate smell begins to fade. You can add some lecithin if you want, and a dollop of vanillaVanilla notes in coffee are often related to caramelization notes, as butter and vanilla can be found in flavors and aromatics of roast reactions from reducing of sugars. ...more, and pour through a tea strainer.
Add sugar and milk, and you have a not too bad tasting cup of hot chocolate that you made yourself and is reasonably chemical free! It«s alot of work, but if you have kids at home, it is an education.
I should add that perhaps due to the fact that my blender does not grind the beans very fine, I can re-use the mixture quite a few times. I am finding that I can get 4-5 pretty good tasting cups of hot chocolate out of two heaping tablespoons full of bean grindings.
To make a tasty treat, you can put the ground stuff in a pan and add sugar and milk and vanilla and keep stirring, add some more milk, and keep stiring, and keep it going for 10 minutes or so, and the sugar and milk will caramelize with the chocolate and you have a nice gooey treat for the kids. (Your dentist will appreciate this one alot, so be sure the kids brush well afterwards.