Last Saturday, March 8th, Sweet Maria's/Coffee Shrub taught a class in the Food Craft Institute's Coffee Bar 101 course series. The students were all in the beginning stages of opening cafes and/or roasteries. They had spent previous weeks learning about different business aspects like financing and business training, as well as understanding the different stages of the roast process.
Our course continued the focus on roasting process, and in particular the importance of sample roasting, cupping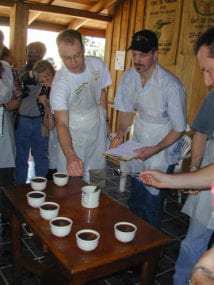 Cupping is a method of tasting coffee by steeping grounds in separate cups for discrete amounts of ground coffee, to reveal good flavors and defects to their fullest. It has formal elements and methodology in, and how roast interacts with a cupper's ability to make sound purchasing decisions. Many hadn't ever roasted before, so for us it was a great opportunity to provide hands on training with some good old fashioned (well, not really 'old fashioned') home roasters as well as a Quest M3 sample roaster (though we seemed to be experiencing power issues in the room, and never quite got the M3 off the ground!).
The class started with a tasting of Ethiopia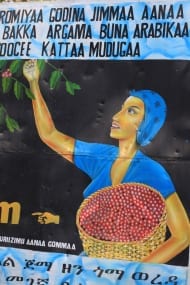 Ethiopia is the birthplace of coffee: it is in the forests of the Kaffa region that coffee arabica grew wild. Coffee is "Bun" or "Buna" in Ethiopia, so Coffee Bean is quite possibly a poor Yirga Cheffe Gedeo roasted to light and dark levels to illustrate the effect of roast level on originIn coffee talk, it refers to a coffee-producing region or country; such as, "I was just at origin." Of course "Origin" for most product we use is not a beautiful farm in a temperate climate, characteristics. At the end, we threw some of the students' roasts on the cupping table to compare and discuss the results.
All in all we had a great time interacting with folks, and were excited to once again be included as a part of FCI's series on the coffee industry!
Dan explaining the Quest M3 roaster